TV
Dae-ho Lee, "I decided to marry my wife when I was earning 20 million won a year and saw her receiving a urinal."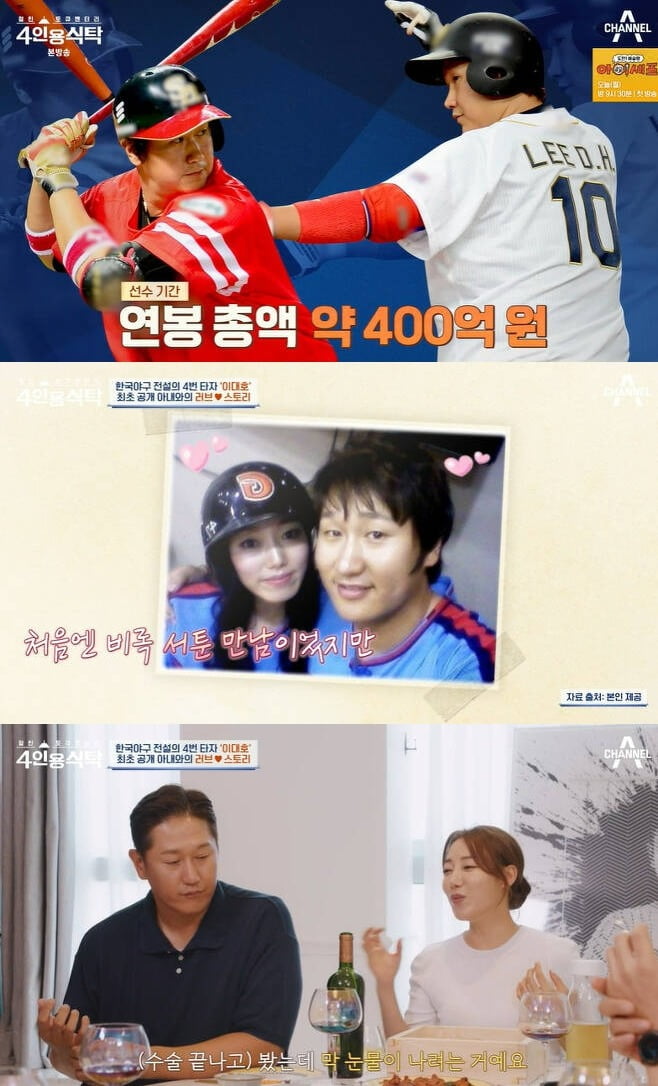 Former baseball player Lee Dae-ho revealed his love story with his wife.
Lee Dae-ho's episode was aired on Channel A's 'Best Friends Tocumentary Table for 4' (hereinafter referred to as 'Table for 4'), which aired on the 18th. Lee Dae-ho's best friends include Jeong Geun-woo, Lee Woo-min, and trot singers Park Gu-yoon and Shin Yu.
Lee Dae-ho is a professional baseball legend who set a new world record with 'home runs' in 9 consecutive games. He advanced to Japan and the United States and achieved a total annual salary of 40 billion won.
On this day's broadcast, Lee Dae-ho's house in Busan was revealed. The spacious living room, cozy kitchen reminiscent of a studio, and the Haeundae ocean view outside the window caught the eye.
Lee Dae-ho's best friends included Jeong Geun-woo and Lee Woo-min, as well as trot singers Park Gu-yoon and Shin Yu. Lee Woo-min said that he connected Dae-ho Lee with his wife, and said, "My wife attended a club event, and Dae-ho said, 'I like that guy.' I also received his contact information after asking around and arranged a place for him. My wife hates Dae-ho. "I did it," he said.
Lee Dae-ho's wife explained, "He was very aggressive from the beginning. We needed to get to know each other a little bit, but since he said 'I like you' and 'let's date' so much from the beginning, it was burdensome. He was so big." He added, "I heard later that he had changed his strategy. He said we should remain friends and then become closer. I think he understood me. It naturally developed into a romantic relationship."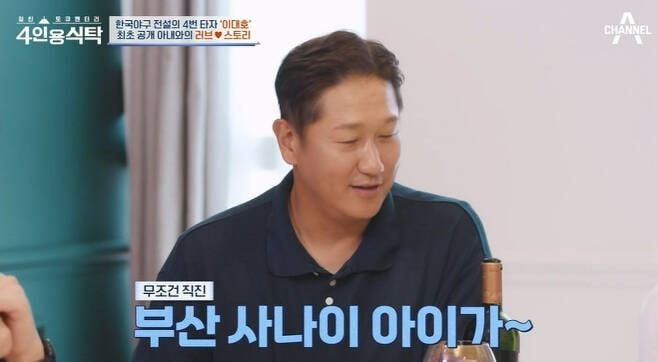 Lee Dae-ho recalled the time when he had knee surgery at the age of 21 and said, "Surgery, even a small one, is difficult. It is reassuring to know that someone is waiting by my side." The wife said, "I felt sorry. I had to have surgery, but isn't surgery risky for a player? The future is uncertain, and I knew my husband's family situation, so I didn't know what to do, but I wanted to at least be by his side. I told my parents, and they readily agreed. He said, "I went up to Seoul and waited for the surgery. At first, I was planning to stay for a day and come back, but I couldn't come down. While I was there, I even received a urine container for the first time."
Lee Dae-ho revealed the reason why he decided to get married, saying, "From there, as a man, everything went away. I thought I had to make this woman happy and not make her cry for the rest of her life."
Lee Dae-ho, who was in a relationship for 8 years, confessed, "The relationship got longer. I wanted to get married, but how can I get married when my annual salary is 20 million won? I thought I had to become successful and get married."
Taeyuna, Ten Asia Reporter youyou@tenasia.co.kr