TV
'Expedition gamble' Hwang Ki-sun "Hope in the phrase 'Don't die, but come back alive'"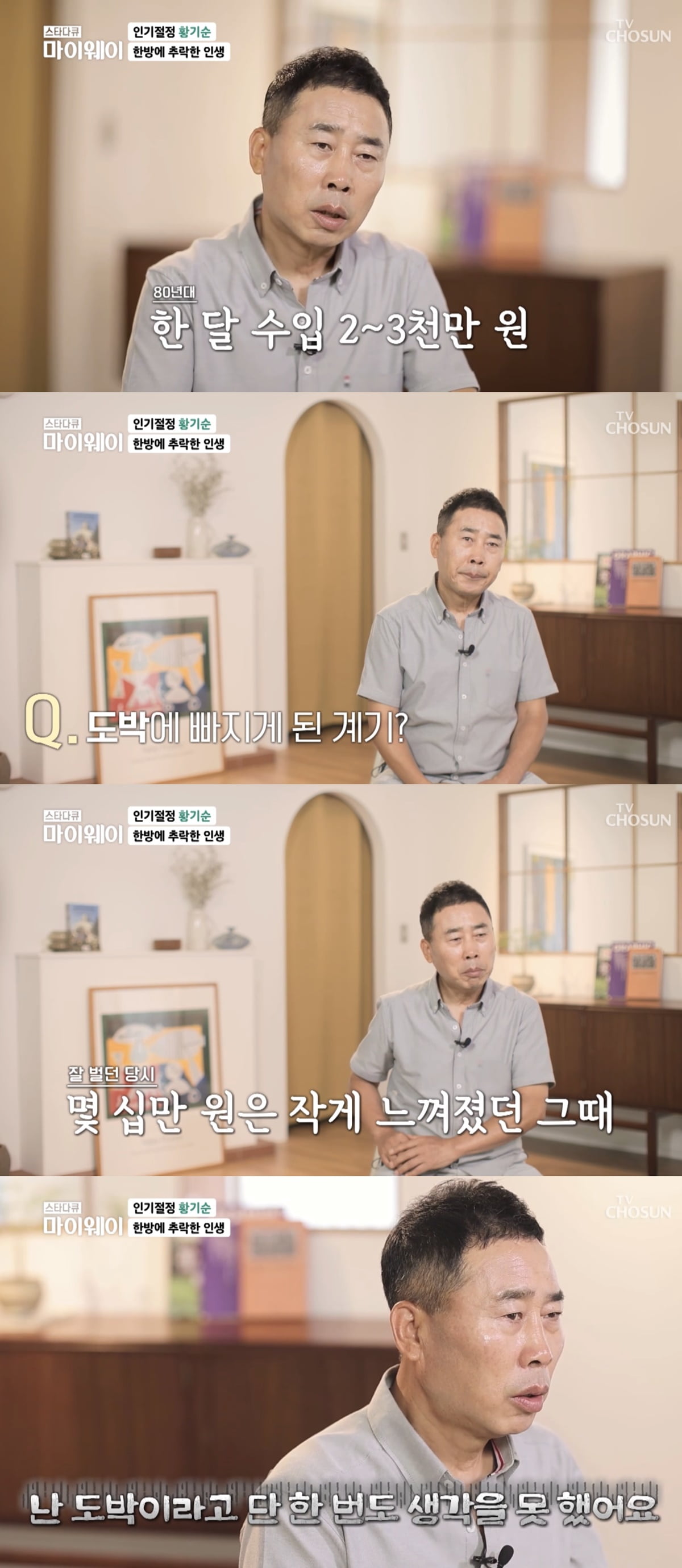 Comedian Hwang Ki-soon talked about his past addiction to gambling.
Comedian Hwang Ki-soon appeared on TV Chosun's 'Star Documentary My Way' broadcast on the 10th and told his life story.
On this day's broadcast, Hwang Ki-soon debuted in the entertainment industry by winning the gold medal in the second round of the MBC Comedy Contest at the age of 19. He gained popularity with the catchphrase, "If you look, you will understand." Hwang Ki-sun said, "(In the 1980s), my monthly income was 20 to 30 million won. That's a huge amount of money. When I think about it now, I feel so sorry if I had saved even half of that money."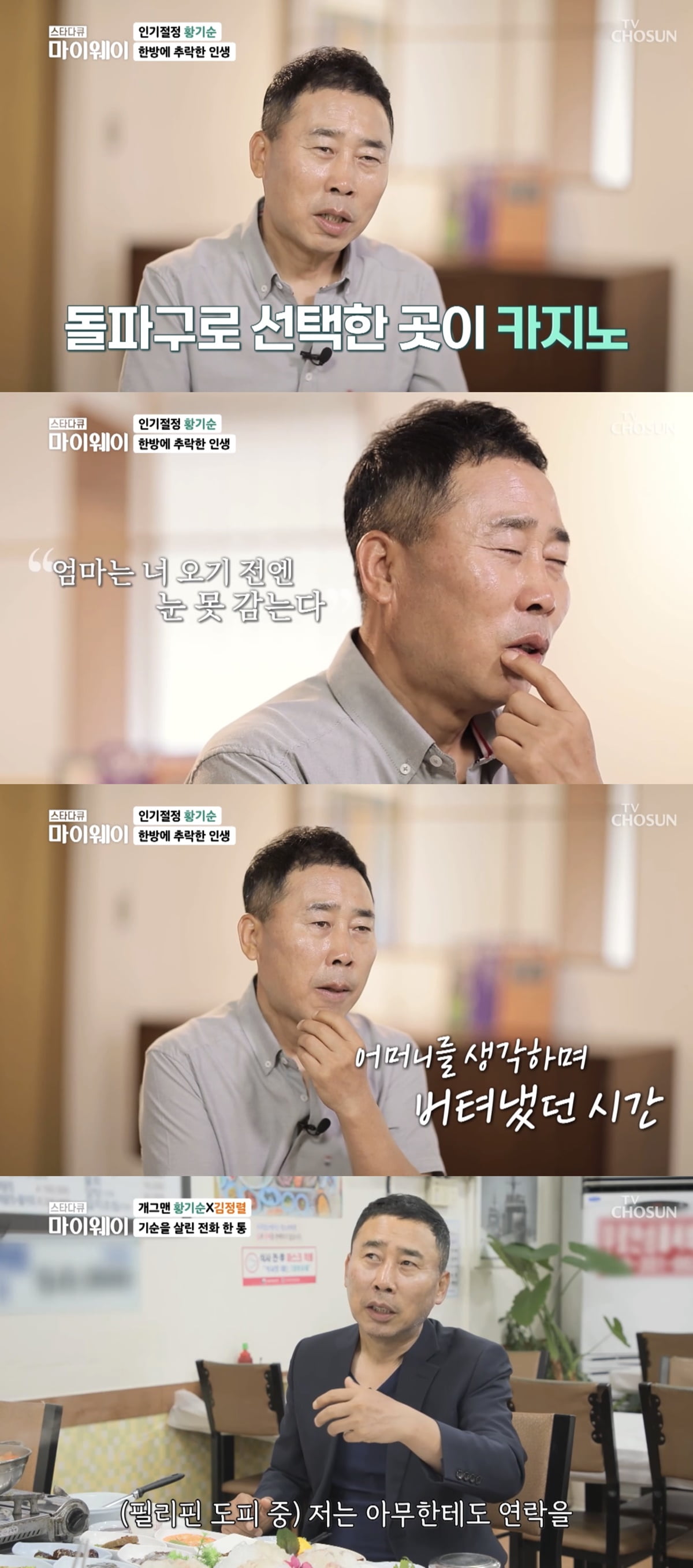 Hwang Ki-soon, who was enjoying his prime as a comedian, fell into gambling. He said, "It was fun to go to a family event where I was the only one participating. If I hit Go-Stop, I had a lot of income, so even if I lost 100,000 won, 200,000 won, 300,000 won, 500,000 won, so-called money, I had fun and went home. I thought I shouldn't do that. "But when I was in that mood, I felt like I was getting my money's worth. I never once thought of it as gambling. It was just to get my money's worth," he explained.
Ki-sun Hwang said that the place he chose when things were bad was the casino. He said, "They say you have to live, not die. I heard that my mom couldn't close her eyes before you came. It's always imprinted on me." Then, it became known through the news that he was involved in an overseas gambling incident.
Ki-sun Hwang said, "The moment I heard that it was on the news, even though I had my eyes open, it felt like a stage curtain was coming down. I felt like my body was sinking, and I resigned myself. 'I can't believe this is happening to me. I have to die.' 'How do you die?' "At this time, whenever I got a chance to eat, I had to hold on until my stomach exploded, so I just stuffed it in," he explained.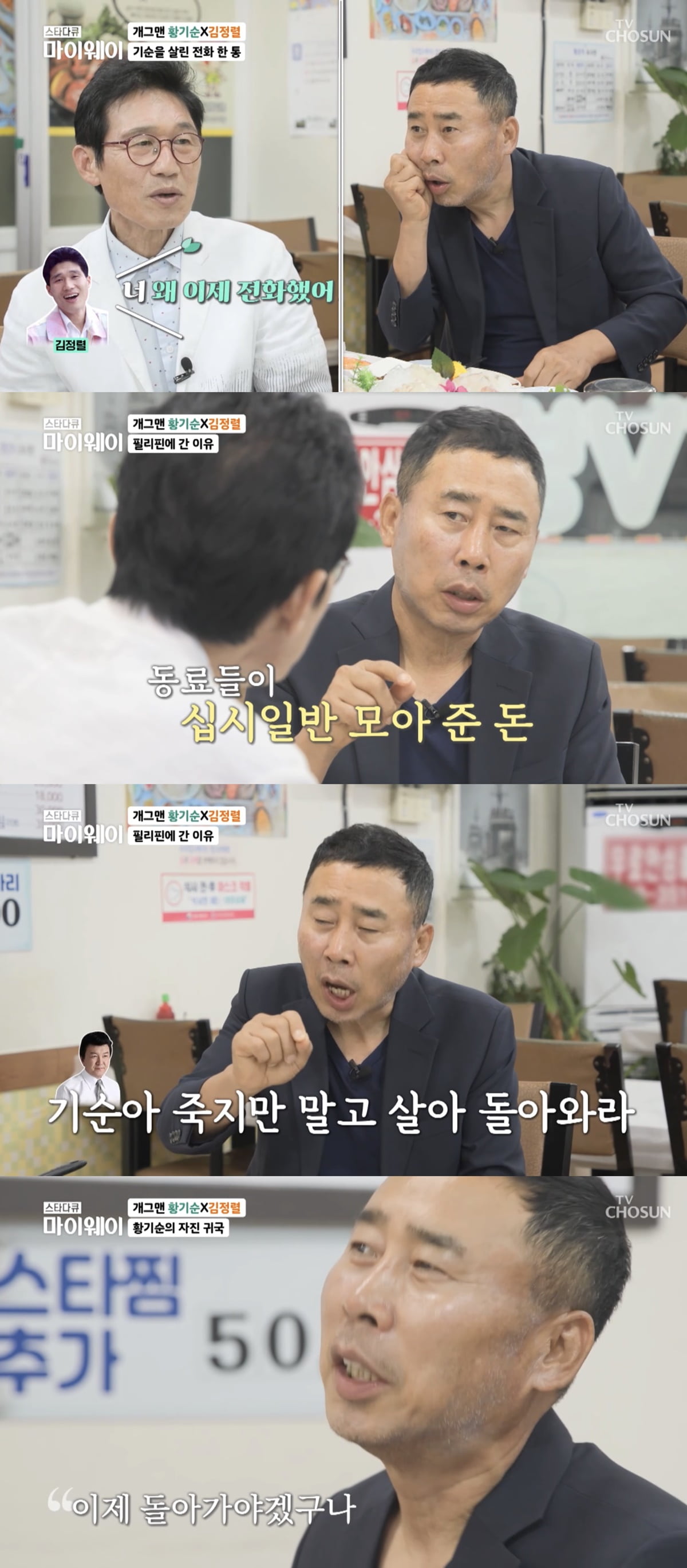 Ki-soon Hwang said, "(While fleeing the Philippines), I was told that I was in a position where I could not contact anyone, but I chose to die as a wise path. During this difficult time, I contacted my brother (Kim Jeong-ryeol) through toll-free, prepared to be criticized. My brother asked, 'Why are you doing this now? "When I said, 'I called you,' all I had been holding in came pouring out." Kim Jeong-ryeol also visited the Philippines to meet Hwang Ki-sun.
Ki-sun Hwang said, "I put about 15,000 pesos in Philippine money in an envelope and there was a phrase that said, 'Kisun, don't die, but come back alive.' That was a big hit. My brother came and did that, but he was someone who cared about me instead of pointing fingers at me and neglecting me. He expressed his affection by saying, "It was hope that there was this. My brother gave me strength. Instead of weakening my will, he built my will to give up."
Ki-soon Hwang said, "There was a reporting program on a certain broadcasting station. To put it simply, it was a program that did research, and after covering me and going on air, my brother's first words to me on the phone were, 'You can come in now. I thought I was going to cry and die.' "Still, I felt like I had to go in. At that time, they said it was a period for those who had fled abroad to surrender. There was a system that said if you surrendered, you would receive a legal discount. So, I gained more courage and came."
Kang Min-kyung, Ten Asia reporter kkk39@tenasia.co.kr