TV
BTS V's reason for choosing Kim Jong-guk as the 2nd person who looks like him: "He has a pretty nose."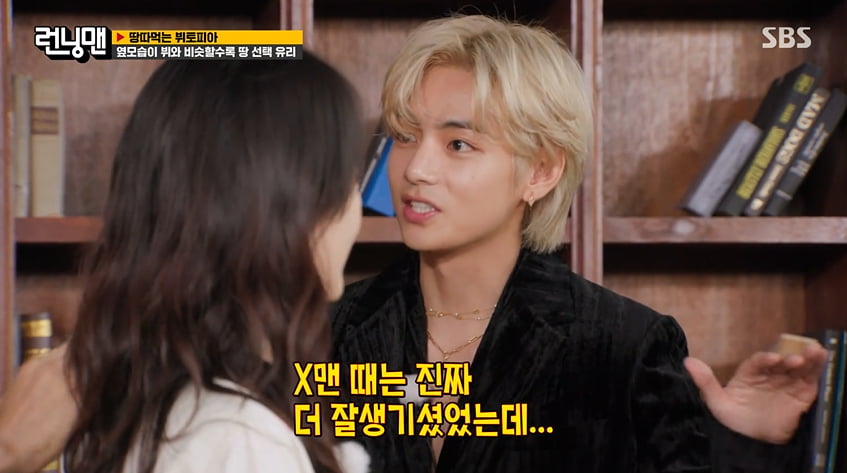 BTS V chose Kim Jong-kook as the second person who resembles him.
V of BTS (Bulletproof Boys) appeared as a guest on the SBS entertainment program 'Running Man', which aired on the 10th.
On this day, V revealed that he was a fan of 'Running Man' and shared his thoughts on appearing on the show. V said, "I always watch TV when I eat, but I only watch 'Running Man'," and Yang Se-chan replied, "We are eating together. We were friends." Yoo Jae-seok was also thrilled, saying, "We didn't know, but V always ate with us."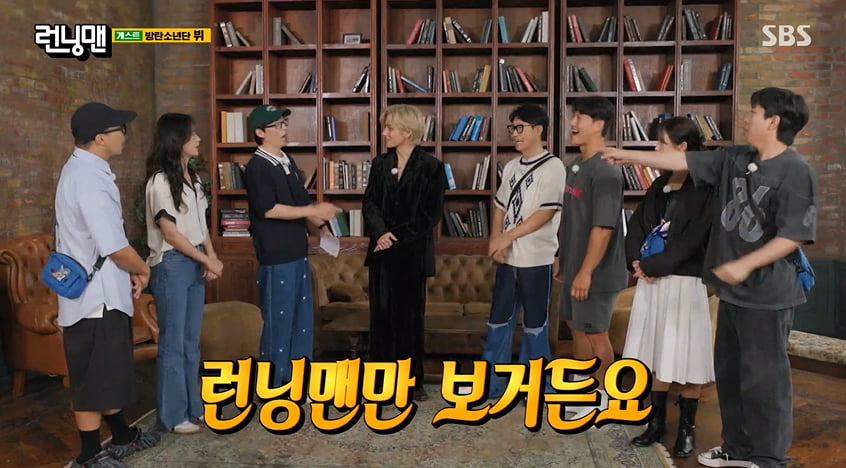 V, who came wearing a neat suit, explained, "I watched 'Running Man' a lot, so I prepared a lot to dress casually, but they told me to dress like a rich man." After hearing this, Yoo Jae-seok said, "Tae-hyung, you're just rich," making everyone laugh.
Among the 'Running Man' members, V chose Haha as the person he wanted to see the most. Yoo Jae-seok said, "But Haha likes V the most among BTS." Haha expressed his affection, saying, "I have written V in the lyrics of my song. V is looking at me and talking to me, and I am so excited. I have a hard time making eye contact."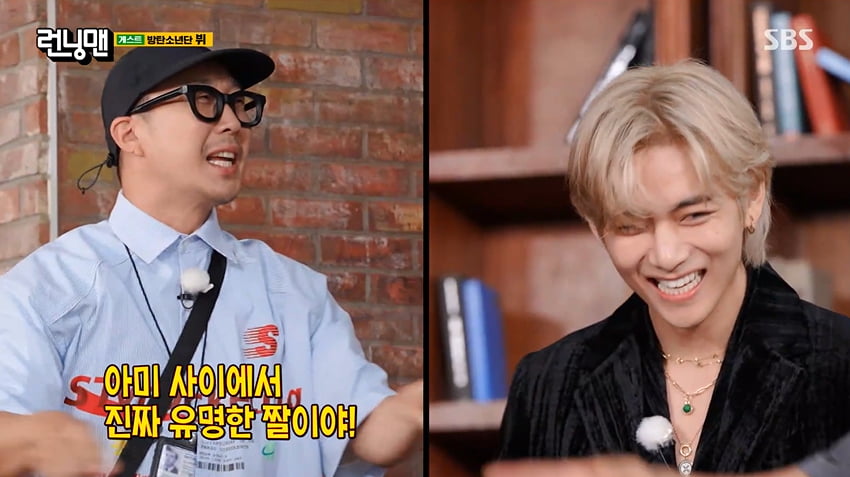 Suddenly, V whispered to Ji Seok-jin, and Ji Seok-jin said, "If you have something to say, say it. It's okay." V, who noticed that Ji Seok-jin's nose hair was sticking out, tried to tell him secretly. Kim Jong-kook praised V, saying, "V is really kind," and Ji Seok-jin joked, "This was the moment when V and I became very close. Isn't he taking care of my nose hair?"
V introduced the title song 'Slow Dancing' of his solo album 'Layover'. He revealed the story behind the song, saying, "My personality is very slow. This is a song that expresses my personality and tendencies." When Yoo Jae-seok asked if he was usually very relaxed, V said, "People get more frustrated than I thought. I'm not a quiet person, but I'm very slow when explaining something. I'm talking really fast now. About 1.5 times faster than usual."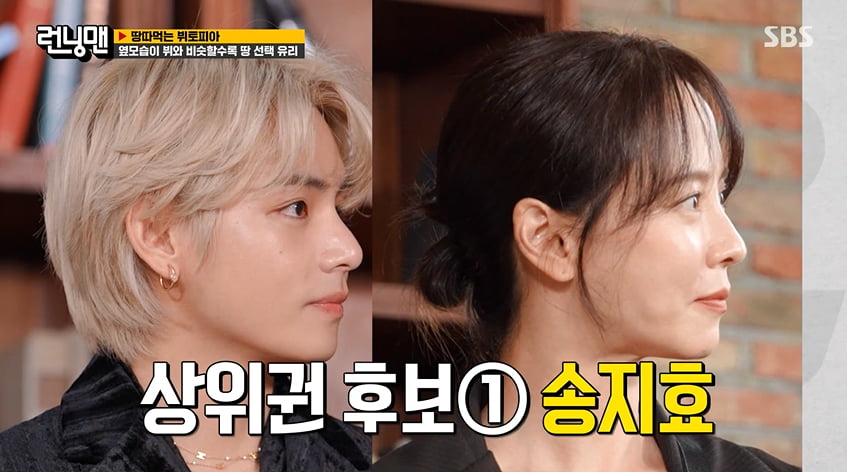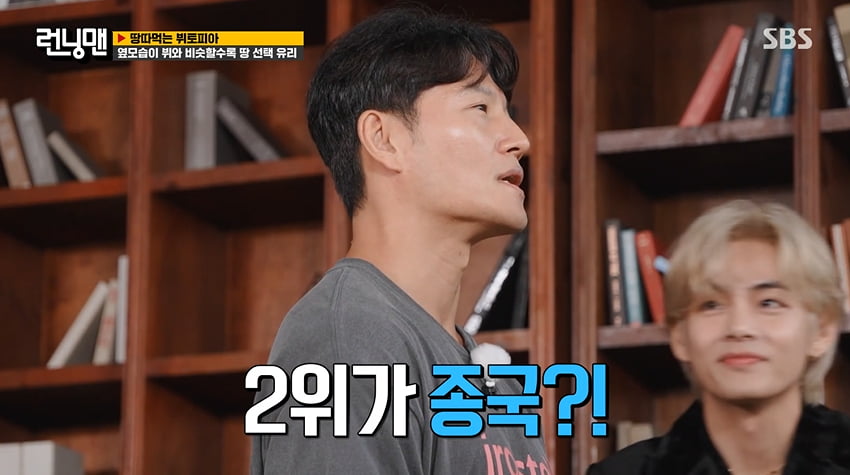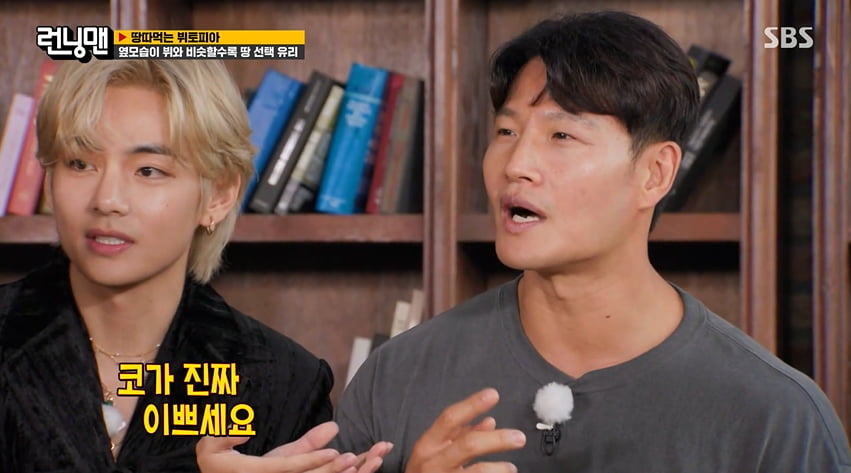 The 'Running Man' broadcast, which was decorated with the 'Land-Eating V Topia' race, showed V, who became a land rich in the running country, and members of small farmers competing for ownership of the land. The members can only acquire the land they want if they are chosen by V. The rule is that V, who is famous for his golden ratio face, looks at the profile of the members and ranks which face he thinks is closest to his own, and the members select the ground in that order.
V chose Song Ji-hyo as the person who most resembles him in first place, and Kim Jong-kook as second place. The members protested strongly, but V explained, "Your nose is really pretty. And you were really more handsome during 'X-Men.'" When Yoo Jae-seok was selected in third place, the members said, "We knew V's taste."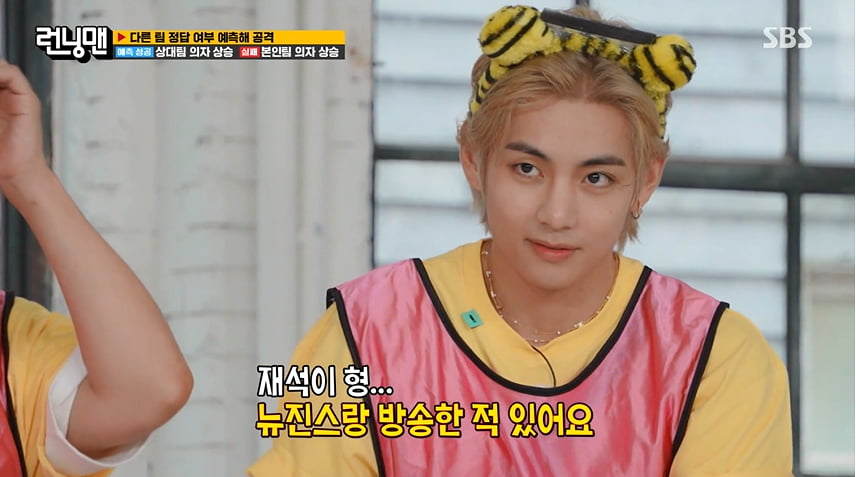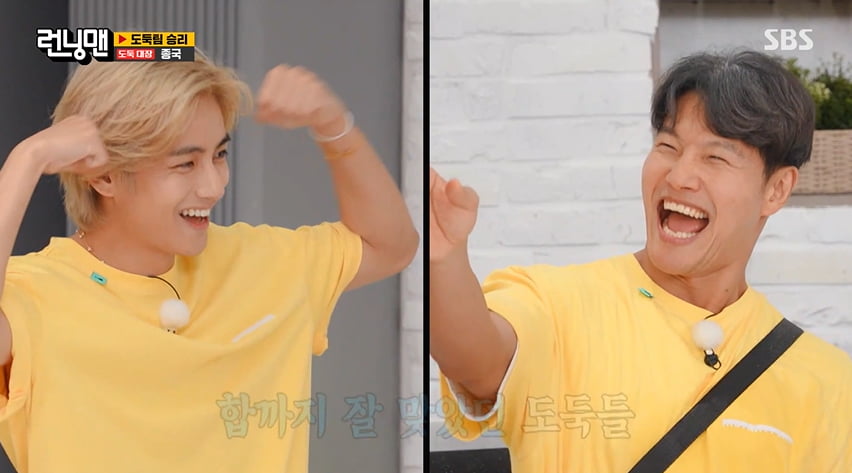 Afterwards, V and the members started selecting teams, and Ji Seok-jin and V ended up on the same team. V said honestly, "Jin told me not to touch Seokjin. It's not my place." In the end, V chose a team again and ended up on the same team as Haha.
On this day, V transformed into 'Detective V' and played a guessing game. A game where you must either succeed or fail a mission while hiding your role as a farmer or a thief. V, who was doubted by the members, said, "I'm a guest, so shouldn't I be protected?"
However, V took first place, and his real identity was a thief. The members highly praised V's reasoning skills, saying, "Please come out one more time." In response, V said, "It feels so good to be able to come to the scene and film in person, and I feel like I've fulfilled a bucket list item. To me, I'm a celebrity. I had so much fun, and I really want to come again next time."
Reporter Ha-neul Lee, Ten Asia greenworld@tenasia.co.kr