TV
'Possible target' Gian 84, Jeon Hyun-moo "Are you so urgent that you follow me?"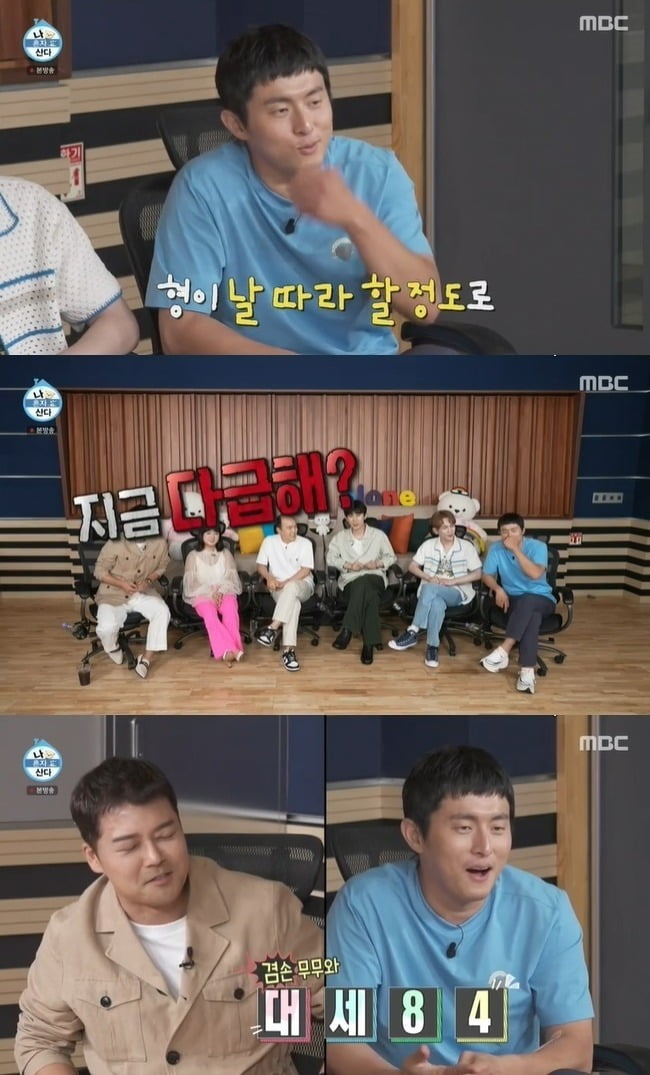 During Jeon Hyun-moo's impromptu trip with 'Muka', he raised tension with a fantastic sunset and steamed clam mukbang, but failed to make 'Tanghulu', a popular dessert among the MZ generation, which was an ambitious challenge, causing a lot of laughter.
In the MBC entertainment show 'I Live Alone' that aired on the 8th, the daily life of Jeon Hyun-moo, who enjoys impromptu camping at a sunset restaurant with 'Prince of Palm Oil' Lee Jang-woo and Mooka, who attempted detox by fasting for 3 days to eat better, was revealed.
The 'prince of palm oil' Lee Jang-woo was revealed to be fasting for three days to eat better, drinking only water and salt water. He expressed his feelings of betrayal by Jeon Hyun-moo and Park Na-rae, who recently succeeded in dieting, and showed his will to take on this fasting challenge.
Lee Jang-woo, who succeeded in losing 10 kg before throwing the first pitch, weighed 94 kg after 34 hours of fasting, an increase of about 3 kg. Lee Jang-woo expressed vicarious satisfaction and envy while watching the mukbang on 'Live Tonight' starring Kim Dae-ho. I also appeased my hunger by ordering meat in advance to eat after fasting.
Lee Jang-woo then headed to Daemosan Mountain, where a mineral spring is located, to get good water. Here, he discovered bamboo, the favorite of the panda 'Fu Bao', tasted it and activated his research instinct as 'Jang Bao (Lee Jang-woo + Fu Bao)'. Next, while enjoying barefoot forest bathing, I was shocked to see a sign saying 'drinking is not allowed' at the mineral spring I climbed. In the end, Lee Jang-woo's quick giving up after realizing the truth that "water is a water purification base" brought laughter.
Lee Jang-woo went to the traditional market, a food paradise, to buy salt that had just run out. I was faced with a crisis, sobbing at the temptation of a shiny pig's tail, but I overcame it with strong will. Lee Jang-woo spread the 'sea salt ripening theory' to Rainbow members and flexed 20 kg of sea salt.
Lee Jang-woo's weight change after returning home also attracted attention. I weighed 92.2kg, 2kg less than in the morning. Lee Jang-woo felt the reward of fasting and expressed his determination, "I will hold on until tomorrow and show you a new side of myself." Lee Jang-woo's weight was also revealed after the 72-hour fast ended. He was impressed by the successful detox, recording a weight of 90.9kg from 94kg.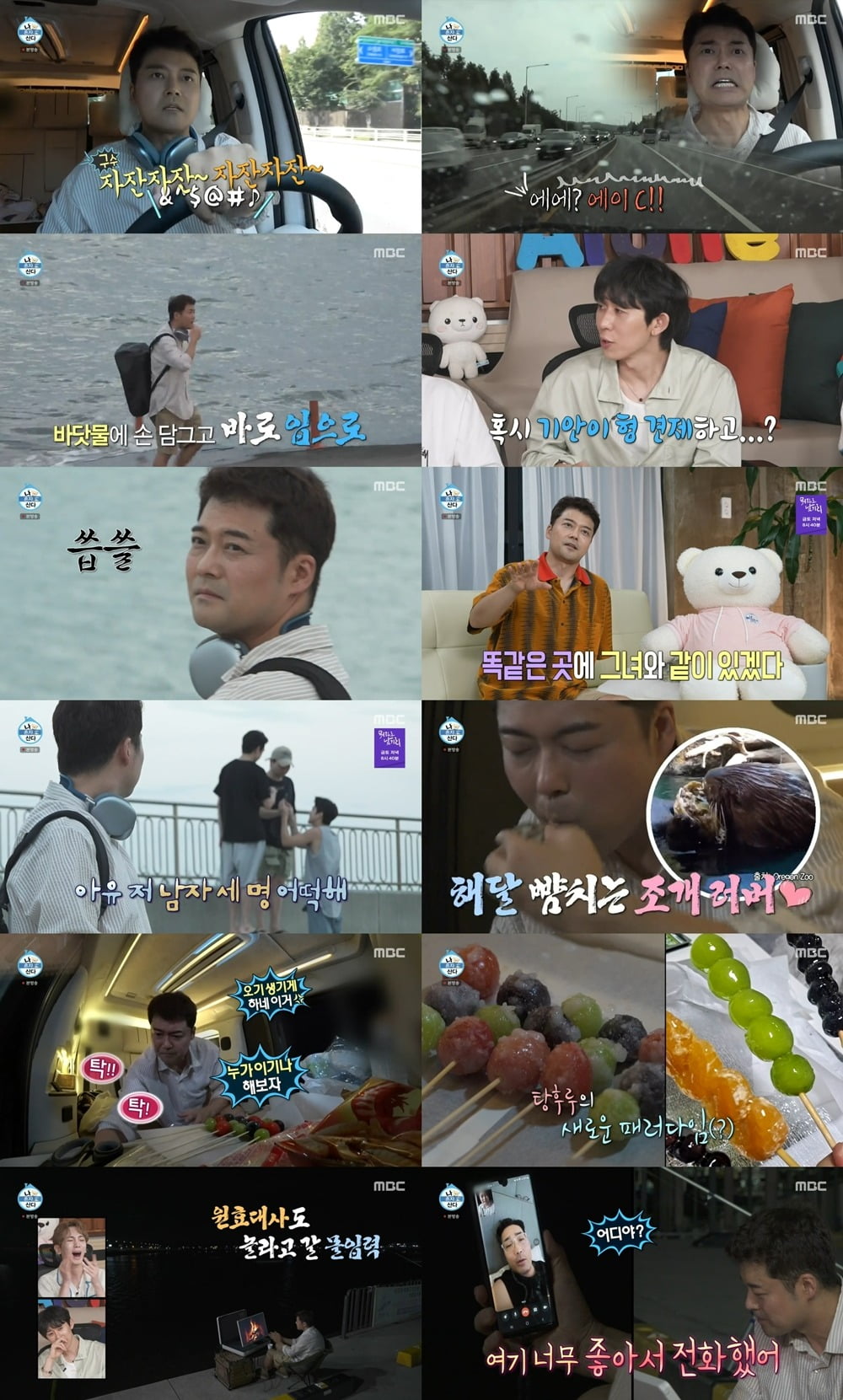 'Captain Palm Oil' Jeon Hyun-moo returned with 'Muka' after about 7 months. After washing his car for the first time, he felt anxious about just going home and went on an impromptu trip. Jeon Hyun-moo, who headed to Tando Port, a sunset restaurant recommended by 'Jjinchin' Oh Sang-jin, caused an earthquake in his pupil due to the sudden rain and traffic jam. Jeon Hyun-moo, who barely arrived in time for the sunset, was so overwhelmed by the fantastic sunset scenery at Tando Port that he repeatedly shouted "I'm crazy."
In the unrealistic seascape, he dipped his hand into the seawater and tasted it. Cocoon, who saw this, asked, "Are you trying to keep Kian in check?" Kim Gwang-gyu then joined in criticizing Jeon Hyun-moo, saying, "If Kian wanted to win, he should have eaten with his hands," and Park Na-rae said, "He should have gone in as a muka." When Kian84 asked, "Are you so desperate right now that you want to follow me?" Jeon Hyun-moo responded, "That's the extent of your position," causing laughter.
This is where a romantic scene between Lee Jun-ho and Lim Yoon-ah was filmed in the drama 'King the Land.' Jeon Hyun-moo couldn't leave because he was disappointed and said, "I could have been Jun-ho if he had come earlier." To make matters worse, I felt lonely seeing couples and couples traveling together. He expressed his friendliness to young people who enjoy friendship trips, saying, "Me and Gian are like cocoons."
As Jeon Hyun-moo felt hungry, he packed steamed clams from the raw fish center and enjoyed a romantic dinner at Muca. Jeon Hyun-moo's miraculous logic of "It's all protein" while inhaling steamed clams made people laugh.
He took on the challenge of making 'Tanghulu', a popular dessert among the MZ generation. While watching the recipe video, I put water mixed with stevia instead of sugar in the microwave, but no matter how much I heated it, I couldn't get the desired result, so I was embarrassed and laughed. Jeon Hyun-moo laughed at the taste of Tanghulu, which was completed after waiting, saying, "Buy and eat Tanghulu."
Afterwards, we set up a camping table and chairs in the night sea and enjoyed MZ-style water and fire pits. As silence came, Jeon Hyun-moo made video calls to his acquaintances. Following Oh Sang-jin, who introduced Tando Port, we shared a 'true vibe' with actor Ha Do-kwon, and then made a camping appointment. However, when no one answered the phone except the two people, Jeon Hyun-moo felt bitter but said, "I will do it until you answer," making everyone laugh.
Next week, Kian84 and Lee Joo-seung's 'Bizarre Mystery', who gathered to uncover the mystery, and Infinite's Sunggyu, who is in his 10th year of traces, 'Traces is a Passion' were announced, raising expectations.
Taeyuna, Ten Asia Reporter youyou@tenasia.co.kr