TV
Jeon Hyun-moo hosted Shim Hyung-tak's wedding after cutting off contact with him.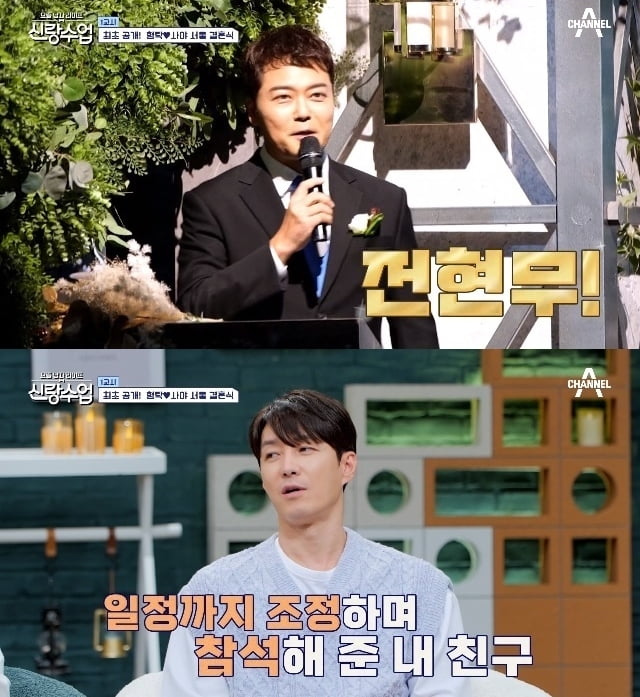 Jeon Hyun-moo showed extraordinary loyalty to Shim Hyung-tak.
In the 79th episode of Channel A's entertainment program 'Men's Life These Days - Groom's Class' (hereinafter referred to as 'Groom's Class'), which aired on the 6th, the day of the Korean wedding of Shim Hyung-tak and Saya was included.
On this day, Shim Hyung-tak's wife, Saya, captured everyone's attention by wearing a fancy dress and holding a lily of the valley bouquet, unlike at the Japanese wedding where she wore a simple dress. Saya's mother also wore a hanbok, typical of a Korean wedding.
Shim Hyung-tak was absorbed in welcoming the guests. From his best friends Lee Sang-woo and Lee Sang-yoon to his same-age friend Jeon Hyun-moo, who became close friends through the broadcast, Hyung-tak Shim expressed his gratitude over and over again with tears in his eyes. I said thank you to Kim Kook-jin at a 90 degree angle. In response, Shim Hyung-tak explained, "I cut off contact with many people, and it was great to see them again after a long time."
Guests attending included Kim Tae-gyun, Lee Seung-cheol, Moon Se-yoon, Shin Seong, Jang Young-ran and couple Han Chang, Choi Soo-jong and Ha Hee-ra, Ahn Jae-wook, Kim Ji-hoon, Lee Min-woo, Park Soo-hong and Kim Da-ye, Oh Jeong-se, Sean, Kim Jae-joong and Lee Dong-wook.
Shim Hyung-tak said of Lee Dong-wook, "I stopped contacting him after filming the drama ('Touch the Truth') with him. This time, he answered my phone and said, 'I'll go.' There are people who said 'I'll go' but didn't come, but Dong-wook just came and came alone. He expressed his gratitude, saying, "Please keep your seat. I was so grateful."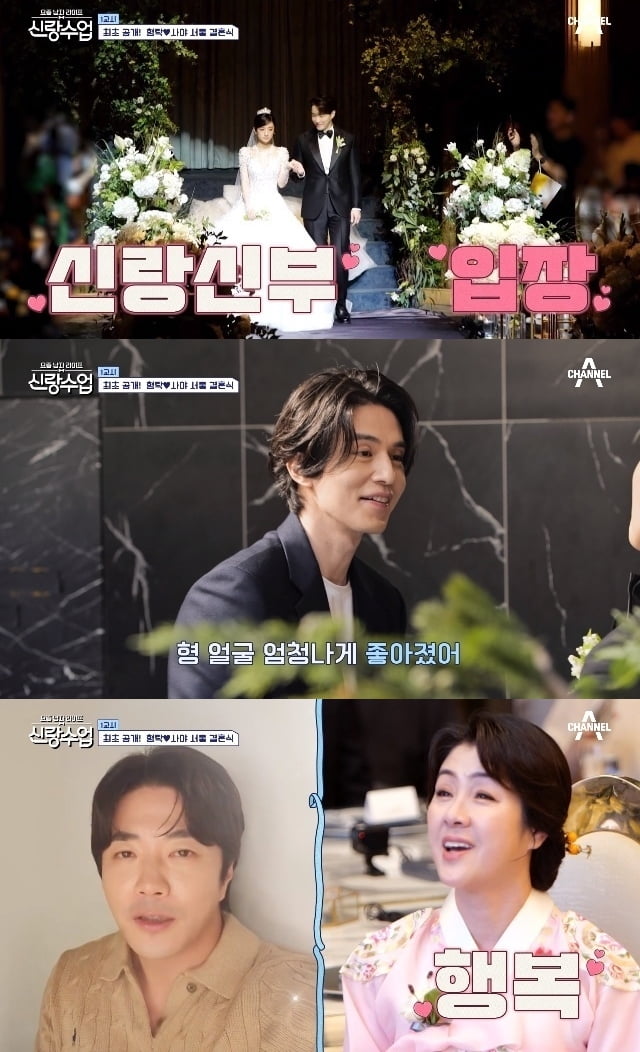 The wedding ceremony was hosted by Jeon Hyun-moo. Shim Hyung-tak said, "Hyun-moo helped me a lot while filming (entertainment shows). When I was immature, he said, 'Hyung-tak, there aren't many people of the same age as us.' I also lost contact with Hyun-moo. I called him this time and he said, 'I want to do it for you. Move the schedule forward.' "I came to host the wedding," he said, breaking down in tears. Jeon Hyun-moo consoled Shim Hyung-tak, saying, "I've sorted everything out," and "Don't cry today."
Following Soo-jong Choi and Sean, the congratulatory address was given by Go-eun Han, a friend of 22 years. Han Go-eun said, "Hyung-tak was a grateful younger brother and a polite friend, but he seemed lonely, so he was a colleague who always remained in my heart. One day, he brightly told me that he was getting married. The girl he introduced was really like a doll, white, small, but strong. "It was a person," he said.
He then expressed his sincerity, saying, "It was so nice to have someone by my side who would hug Hyung-tak warmly and gently. From now on, I hope Hyung-tak can live a happy life without worrying about anything and only thinking about being happy."
My mother-in-law's favorite actor, Kwon Sang-woo, sent a congratulatory message from the United States. He said, "Saya's mother said she has been watching my work for a long time. I will get a very trustworthy Korean son-in-law and make her daughter happy in the future, so don't worry. I will support your health and happiness," which brought her mother-in-law to tears.
Afterwards, Shim Hyung-tak sobbed as he passionately sang the congratulatory song 'There is no one else like him,' which he had previously prepared with the help of Lee Seung-cheol.
Taeyuna, Ten Asia Reporter youyou@tenasia.co.kr