TV
BTS V, "No matter what performance I did, there was nothing new or exciting, and there were many times when I was scared to perform on stage."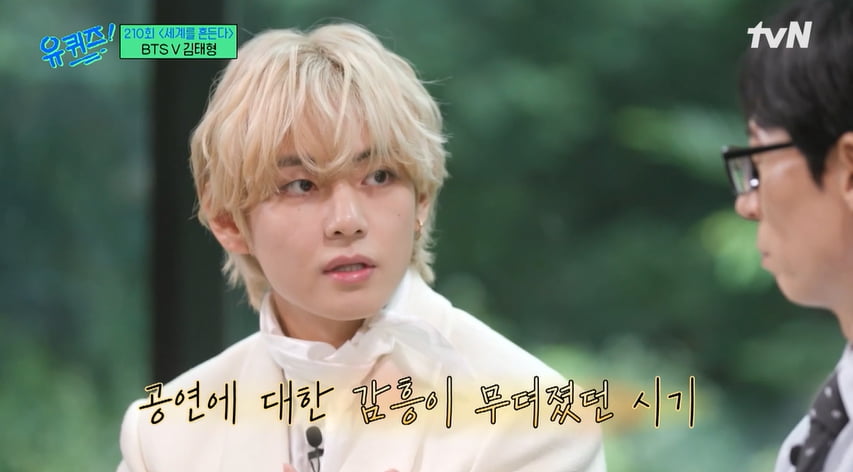 BTS' V honestly confessed about the moments when he felt dull or tired as he celebrated his 10th debut anniversary.
BTS's V appeared as a guest on tvN's 'You Quiz on the Block' (hereinafter referred to as 'You Quiz'), which aired on the 6th.
On this day, V said he wanted to appear on You Quiz again, saying, "I enjoyed it during my break, and I thought it would be well-received by ARMY (fan club). Also, my father really liked it. 'I'm so proud, and I go around to my friends with my shoulders squared. My son did a good job farming.' "He said so," he said.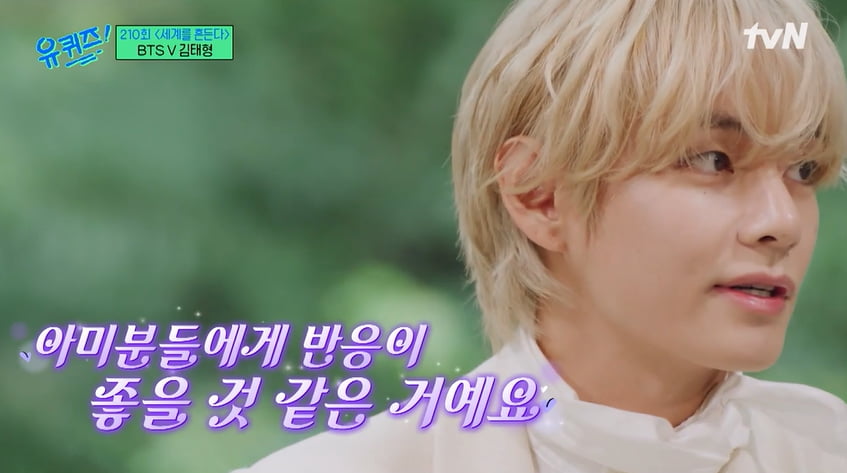 Yoo Jae-seok said, "There are more than one thing to celebrate. V has already celebrated his 10th debut anniversary. I was surprised. Two years ago, he topped the Billboard Hot 100 with 'Dynamite' and appeared on 'You Quiz', and since then, he has won five "I added more songs," he said in surprise. He continued, "Over the past 10 years, BTS has become a group that is writing history in music history around the world," and mentioned the achievements that BTS has achieved so far.
BTS has created an incredible record by being nominated for consecutive Grammy Awards and being selected as the artist with the most number one songs on Billboard. V said, "At the beginning of our debut, we did a lot of content. At first, we opened the K-P0P concert in the U.S. Since it was our first time performing in the U.S., we said, 'Let's try really hard.' I think the local response was good. The response was good. "I can now go to the United States and perform there again," he said.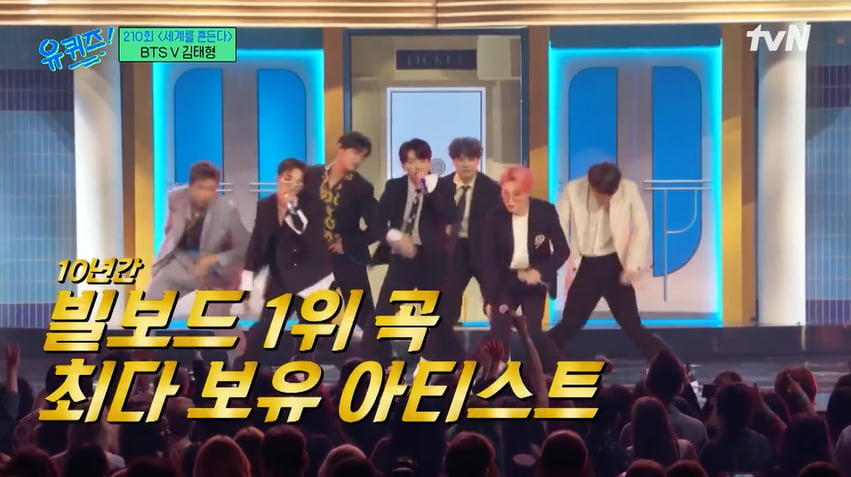 Regarding the reasons for BTS's success, Yoo Jae-seok said, "I thought that attempts and actions that no one looked back on might have had a special charm," and asked what V's goal was in the past. V said, "It was my dream to become a trainee. I lived in the countryside, but I think I thought that people who went to Seoul were successful people. Luckily, when I moved to Seoul after being accepted to Hive, I think I had no greed because I had already achieved all my dreams. As the water flows, time goes by. "I lived with the flow and ended up in the debut group."
He continued, "My personality has changed a lot because of the members. In the past, when someone would throw a rock at me, it would be obvious that I was hurt and having a hard time alone. One day, I thought, 'I don't want to be broken by a small rock like that.'" explained.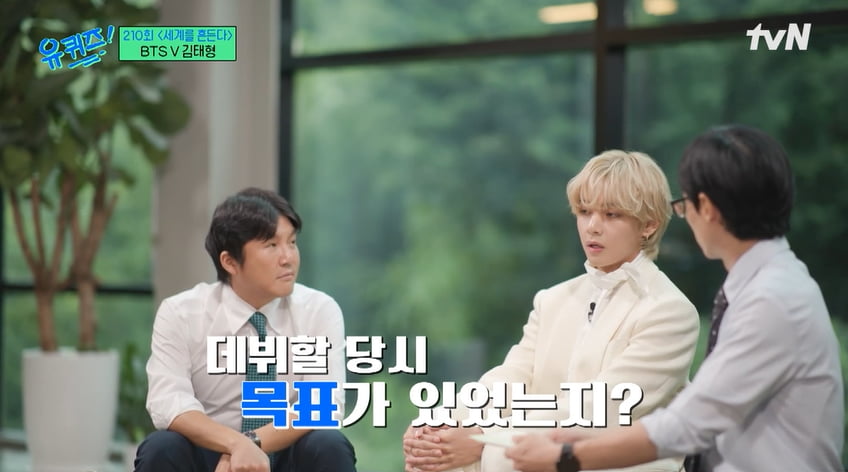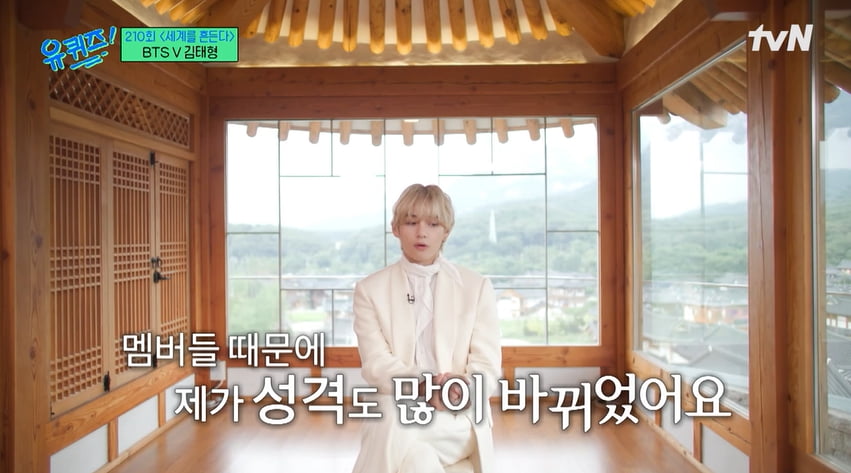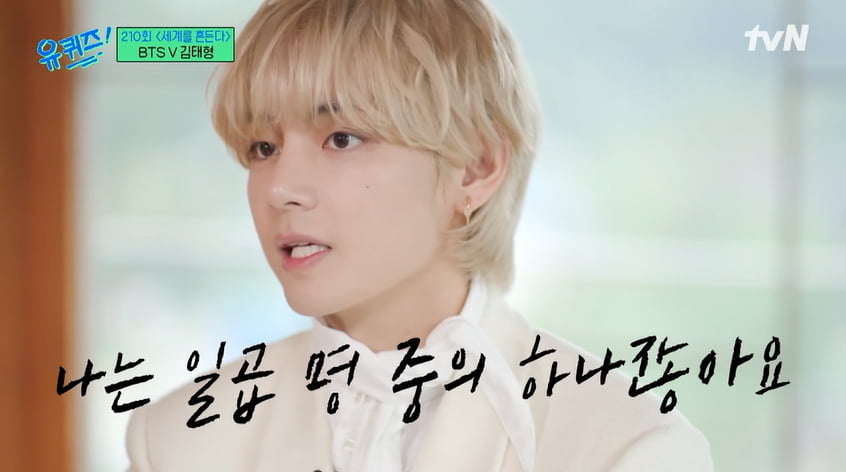 After hearing this, Yoo Jae-seok asked if he had ever had a hard time or been tired. In response, V honestly confessed, "The reason why I lost confidence in performing on stage was because no matter what stage I performed, there was always no newness, no excitement, and my heart rate was beating fast. There were many times when I was scared to perform on stage." He also pointed out, "When I received the award, I started to feel dull. I felt like I had forgotten the emotion, joy, and preciousness of the past. I thought, 'I can't do this. This is a big problem,' so I needed something new."
V, who released his first solo album 10 years after his debut, talked about collaborating with Min Hee-jin in this album. He revealed the behind-the-scenes story, "I asked for a meeting first. I used to like f(x)'s Pink Tape album a lot. I heard that CEO Min Hee-jin made that album. I said, 'I want to try it with this person.'"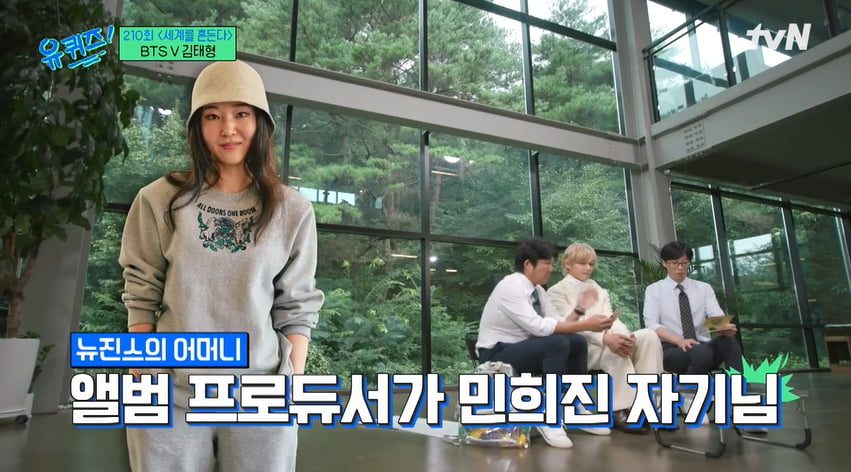 V said that he also received help from BTS members J-Hope and Jungkook while preparing the album, saying, "I have a busy schedule, so I haven't been able to see many people. I told it to J-Hope and Jungkook, who are currently serving in the military. 'It's very refreshing.' "It feels good to have found music that matches well with you.' Jungkook even recorded it at his house," he said.
V, who showed off his unexpected charm on the entertainment program 'Seojin's,' also revealed behind-the-scenes footage of the filming. V said, "There are no cuts. I wanted to go to Korea. But the PD had my passport." He then spoke about the 'Wooga Family', which includes Park Seo-joon, Choi Woo-sik, and Peakboy. "In the past, Seojun hyung said, 'This is what you pay for,' but these days, he says, 'It's sweet.' So far, Seojun has received so much from hyung that I actually pay for it, and we have a relationship where I can do it with fun and a smile." I burst out laughing.
Reporter Ha-neul Lee, Ten Asia greenworld@tenasia.co.kr