TV
'New Recruit 2' is only 10% original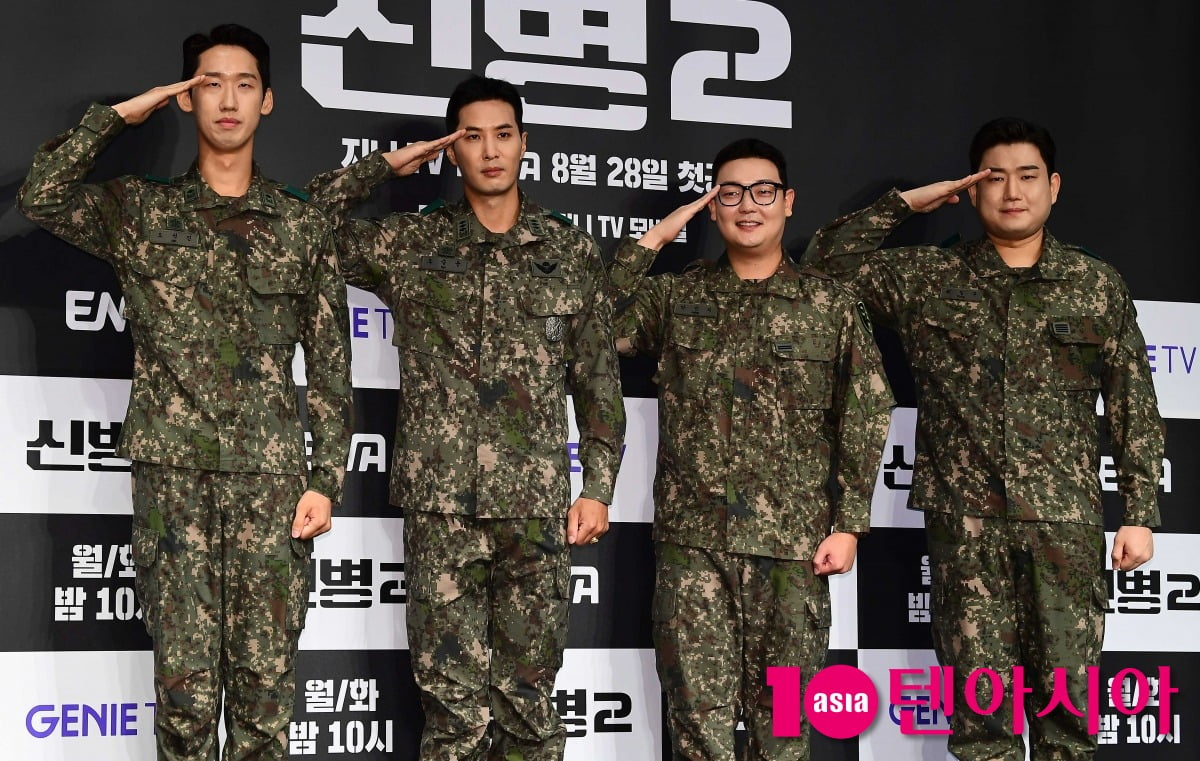 'New Recruit' returned to season 2 after a year with Kim Ji-seok's joining. In fact, as it was filmed harshly enough to carry heavy military equipment, it makes us look forward to more fun and realistic military episodes.
On the 28th, the production presentation of Genie TV's original 'New Recruit 2' was held at D Cube City in Sindorim, Seoul. Director Min Jin-ki and actors Kim Ji-seok, Kim Min-ho, Nam Tae-woo, and Lee Sang-jin attended the event.
'New Recruit 2' depicts the turbulent dormitory life that unfolds when company commander Oh Seung-yoon (Kim Ji-seok) takes office in front of Park Min-seok (Kim Min-ho), a new recruit who thought it would be easier to become a private soldier.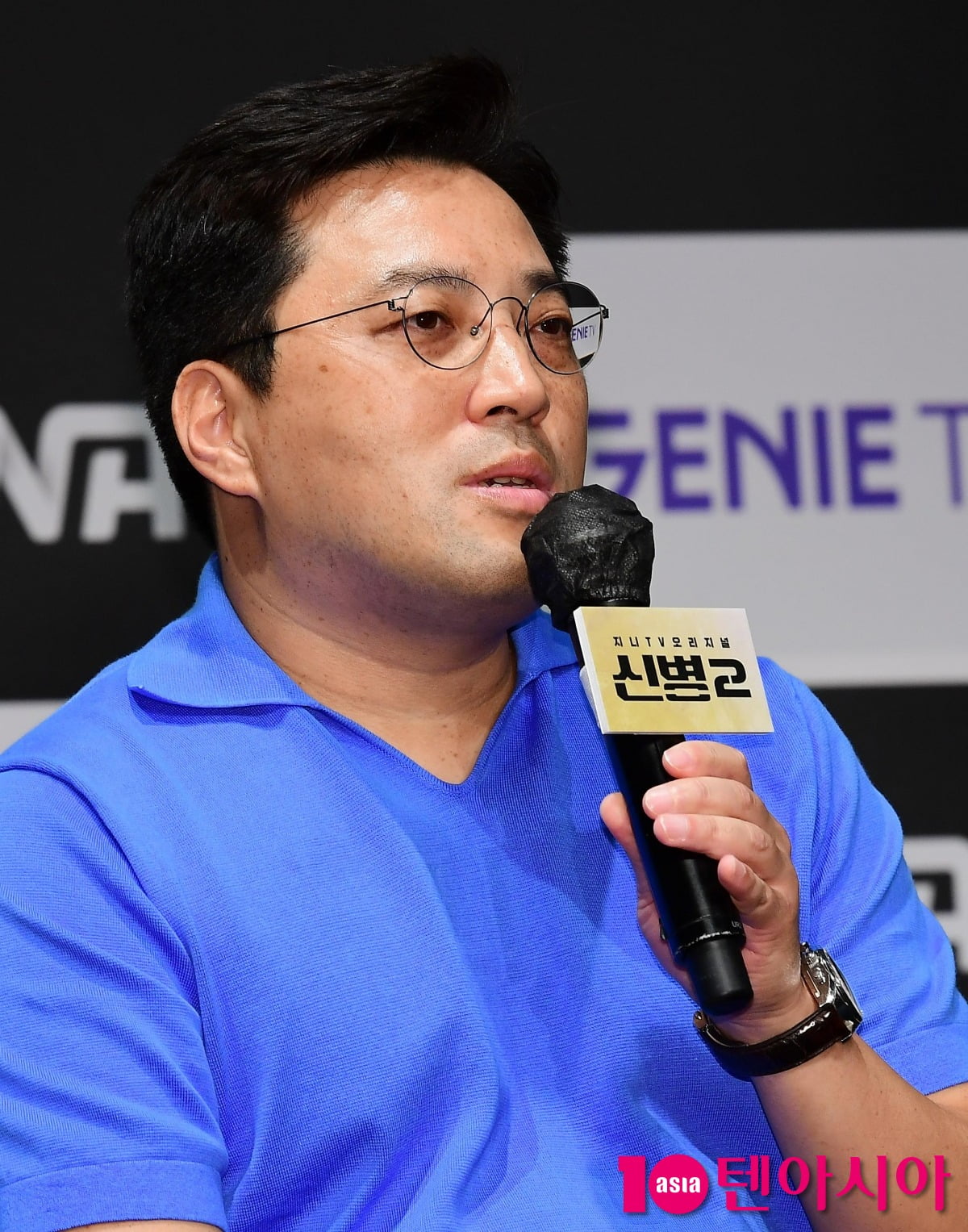 Regarding the fact that 'New Recruit 2' was produced in 6 episodes, director Min Jin-ki said, "Genie TV has 12 episodes. On the contrary, 2 episodes have increased compared to last season. The 2 episodes are in the form of 6 episodes with ENA. The story is richer than last season. I was grateful that I had an opportunity to tell the story I wanted to say to my heart's content because the number of episodes had increased."
Regarding the difference between Season 2, "Last season was filmed in fall and winter, but this season gave a sense of the season in spring and summer. Because of that point, I dealt with short-range training, which is the flower of training. I tried to make it feel outdoors rather than indoors. did," he said.
In addition, "Season 1 took the original episode and added a dramatic element. Season 2 is 90% original story and 10% original story." "he explained.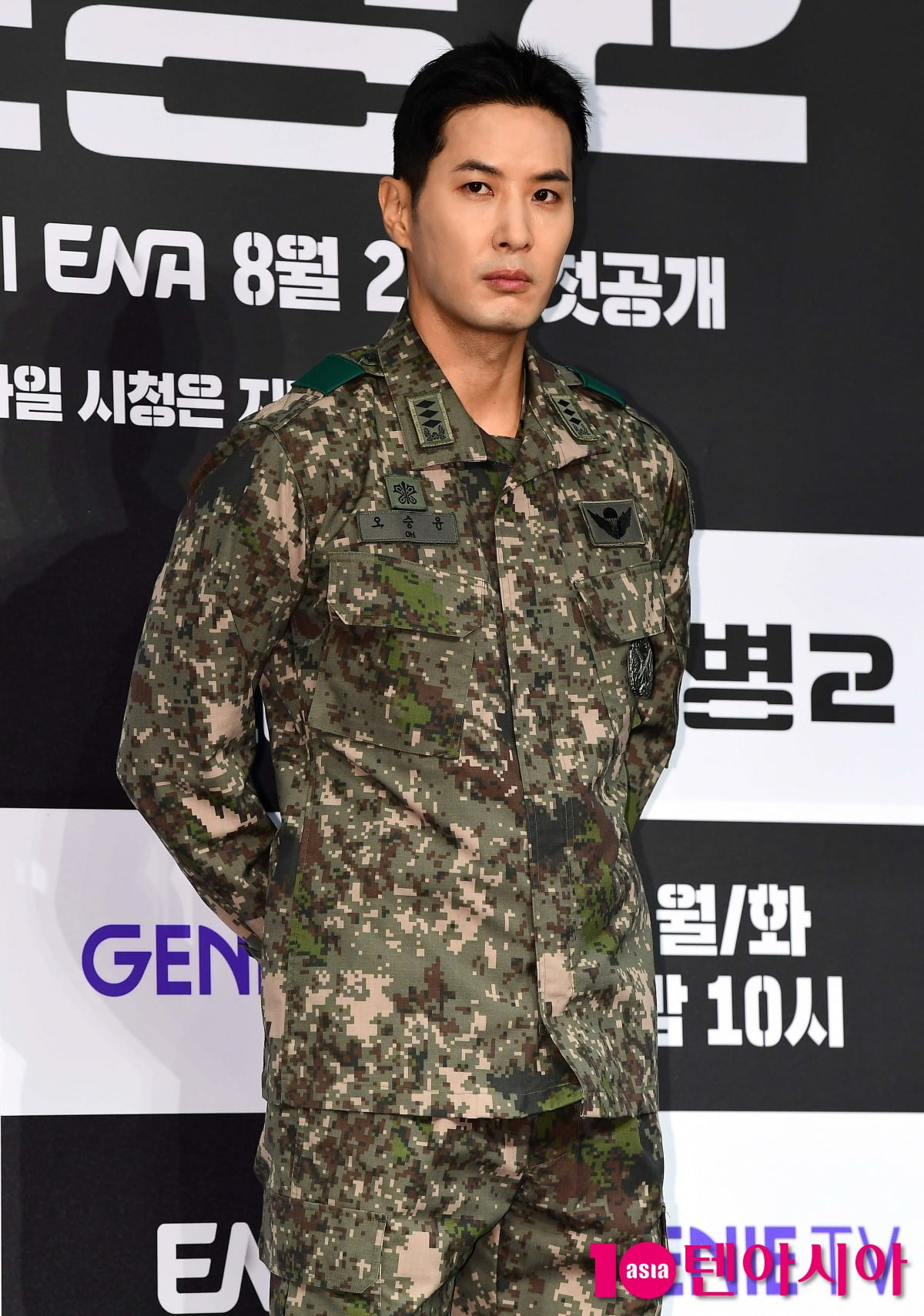 Oh Seung-yoon, played by Kim Ji-seok, is an elite officer from the army armed with FM from head to toe.
Kim Ji-seok said, "Since the existing actors made Season 1 successful, I wanted to get closer to them faster than anyone else. But the power that a rank insignia gives is amazing. Being called a company commander instead of an older brother, a strange atmosphere continued that seemed to be distant but not. Trying to get closer. After working hard, I tried to maintain this relationship for the sake of the drama."
In response, Kim Min-ho praised Kim Ji-seok, saying, "He took really good care of him on set. He was a warm company commander. Strawberry-flavored company commander." Lee Sang-jin said, "The company commander said rank was a problem, but I heard on a broadcast that hoarseness was a problem. We didn't know we were hoarse."
Kim Ji-seok revealed that he had been on a diet for three weeks prior to filming, hurriedly adjusting his diet. He said, "Originally, there was no scene of taking off the top in the play, but after the first script reading, the director said during a dinner party that the company commander would have to take off his top as well. That was three weeks before the first filming. did," he said. "If I had known, I would have worked hard from three months ago, but by my standards, my body in the video is not perfect," he regretted.
In response, director Min Jin-ki explained, "In a short moment, I remembered Kim Ji-seok's body from 'Top Star Yoo Baek-i' in the past. Although time was short, I said with anticipation that he could make the physical of that time."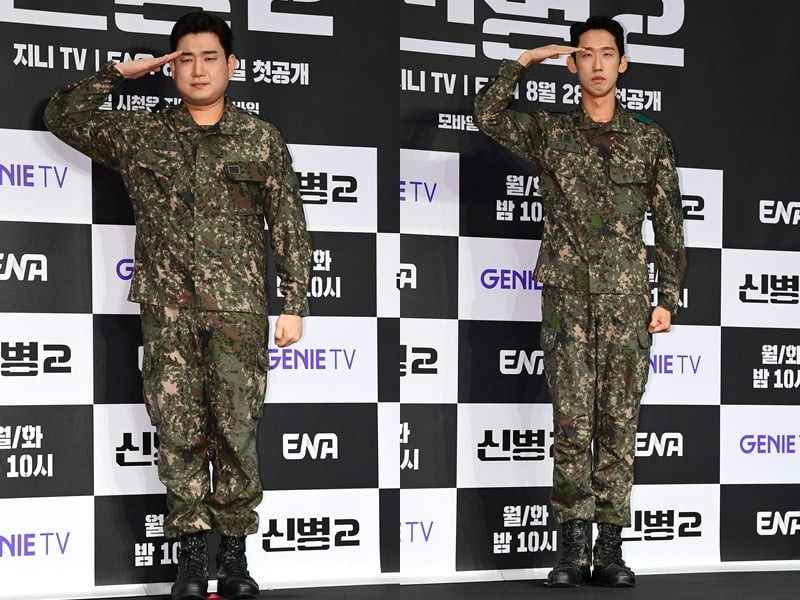 Nam Tae-woo, who plays the role of Choi Il-goo, a professional complainer squad leader, said, "If the annoyance and complaints in season 1 were 5, the annoyance and complaints in season 2 were 10. I think it would be a point to watch as the company commander comes in and sees the annoyance and complaints reach their peak."
Lee Sang-jin, who plays Oh Seok-jin, a platoon commander with zero flexibility who insists on principles, explained, "I learned a lot at military school, but it was a role that I couldn't apply in real life, but with the arrival of the company commander in Season 2, my growth accelerated."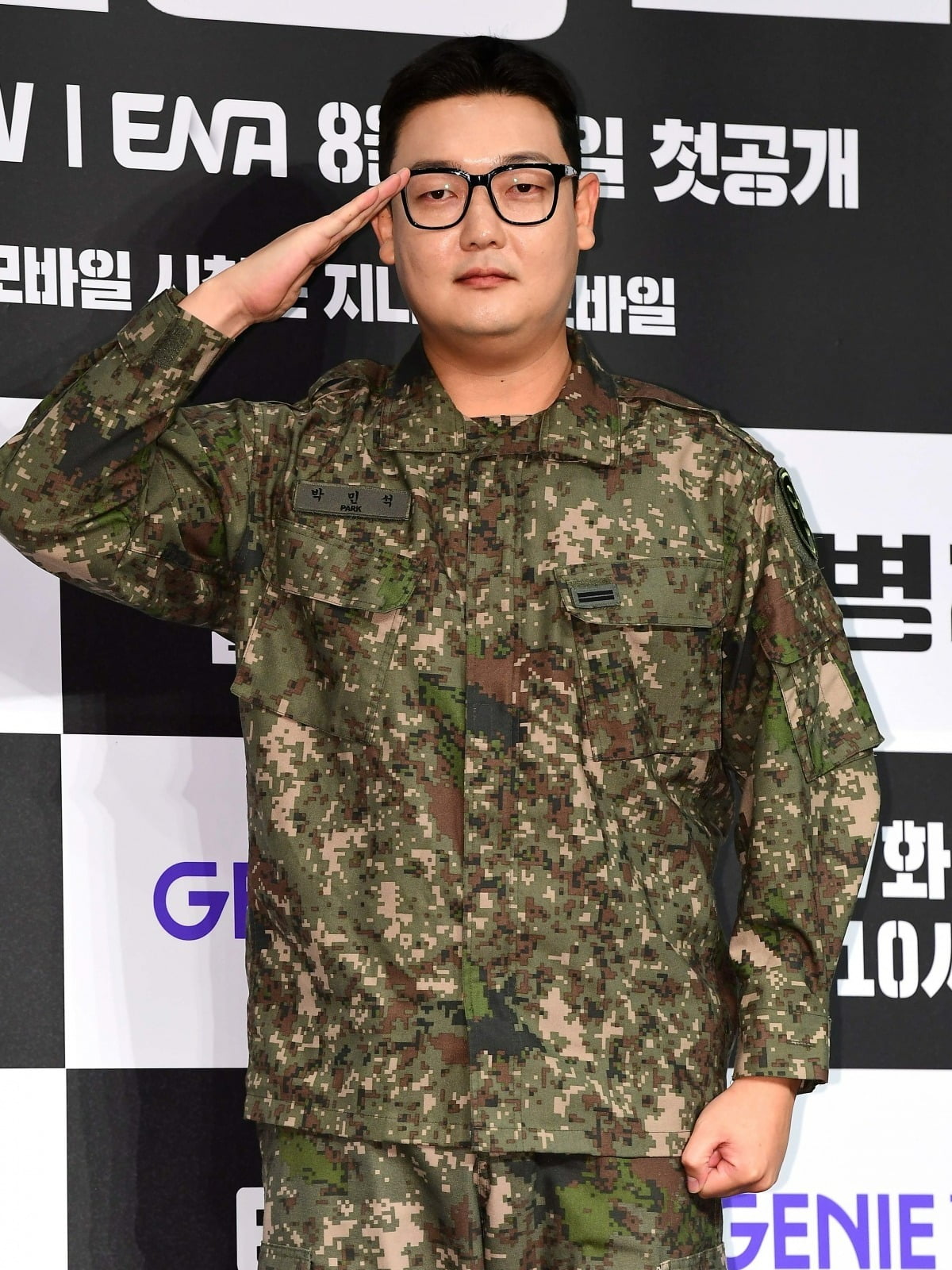 'New Recruit 2' actually made the military gear heavy during the marching episode. Kim Ji-seok revealed, "I put about 15 kg of weight in the marching uniform. The auxiliary performers put something light on, and the actors who had to act actually put weight on it. They actually tried to explode the Hwasaengbang."
In response, Kim Min-ho said, "Men who have served in the military will agree, but walking like a walk in the park and running in military uniform are really different. Wearing a military uniform and running in military boots sometimes gives the illusion that you are actually training. There were many times when we were shooting outdoors. But as we continued taking, the director started avoiding us." Lee Sang-jin said, "When the director first told me about the weight of the military uniform, I thought it was natural. Nam Tae-woo laughed, saying, "I'm a sergeant, and I lightly lifted the military commander with my hair. That was good."
Kim Ji-seok said, "I was a commanding officer, so the intensity of the training was low. I was sorry to see the other actors sweating hard and getting mud while filming on a hot summer day. I would like to take this opportunity to apologize."
Kim Ji-seok asked for attention, saying, "The company commander's first goal is to make all members of the squad into special class warriors. He continued, "Season 1 focused on the stories and lives of the soldiers, but in Season 2, there is another story of an executive who shakes it up. I think you'll enjoy it if you put a point on the tension between them."
Kim Min-ho said, "'New Recruit 2' is the military itself. The military is really like that," and Nam Tae-woo added, "There are no handsome men, but there are many good men."
'New Recruit 2' will be released for the first time on the 28th through Genie TV, Genie TV Mobile, and ENA.
Reporter Tae Yuna, Ten Asia youyou@tenasia.co.kr