TV
Jung Hae-in left with Im Si-wan, a 'planning type'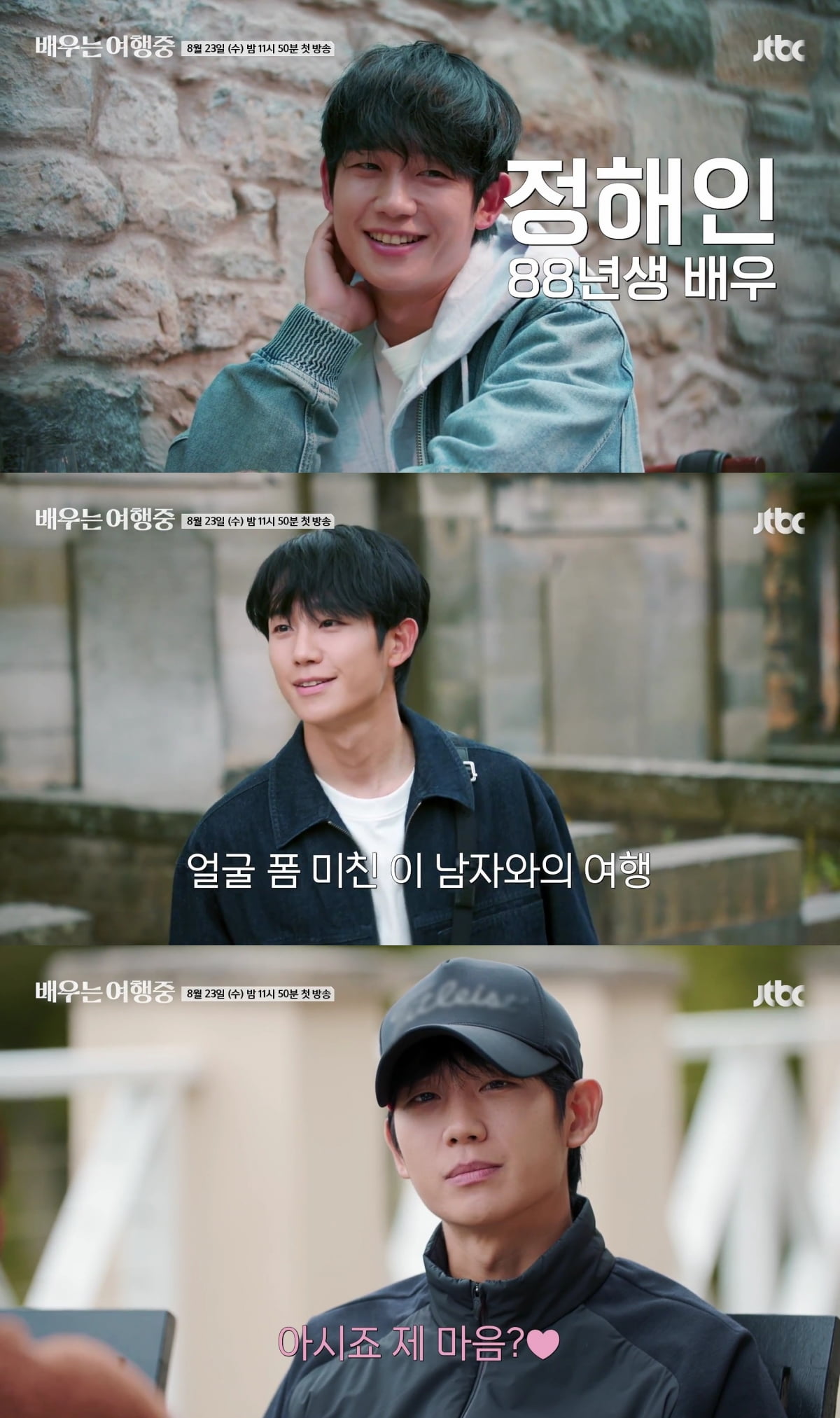 Actor Jung Hae-in played an active role as 'passionate Hae-in' in 'Learning on a Trip'.
In JTBC's 'Learning on a Trip', which was first broadcast on the 23rd, Jung Hae-in went on a trip with his friend Si-wan of the same age and worked hard from visual to mukbang.
On this day's broadcast, Jung Hae-in had a meeting with Im Si-wan prior to the full-scale trip, revealing his excitement for the first trip together. He presented several ideas under the theme of the number '8' associated with the two, arousing curiosity about how their trip will be filled.
Jung Hae-in mentioned Im Si-wan's MBTI. He said, "It's fortunate that (Im Si-wan) is J. I'm P, so I travel without plans. Im Siwan said, "I tend to make plans in advance."
After arriving in Edinburgh, Jung Hae-in showed his best condition despite the long flight time. Jung Hae-in, who headed to the dorm, was embarrassed when the door did not open, saying, "There is a problem." I managed to open the door, but I ran into another obstacle. There is no elevator so you have to carry heavy luggage up to the top floor. Jung Hae-in laughed at the series of stairs in hell, but he took the lead with Im Si-wan's burden and burned his passion.
Jung Hae-in, who started the day with stretching the next day, showed off his humiliating visuals in the morning, drawing admiration. After that, a colorful mukbang, which is indispensable when traveling, was held. Jung Hae-in, who said, "I enjoy eating a lot," showed off a storm eating show with an unexpected gluttony side, and added warmth by taking care of food from time to time.
Jung Hae-in revealed his bucket list as "going to a golf course in Scotland, the birthplace of golf." Then, when he realized his long-time dream, he expressed his excitement by saying, "It's like going on a picnic," and brought laughter with a cute situational drama to boast to golfers.
'Learning on a Trip' is a program in which Im Si-wan and Jung Hae-in, born in 1988, travel around Scotland with whiskey. Jung Hae-in recently took on the role of Ahn Joon-ho in the Netflix series 'DP' season 2, enhancing his immersion with heavy acting and digesting the high-level bare-body action, drawing favorable reviews from viewers around the world.
Reporter Kang Min-kyung, Ten Asia kkk39@tenasia.co.kr