TV
'I lost 17kg after a breakup' Lee Guk-joo "I gained 3kg on a one-night trip with my boyfriend recently"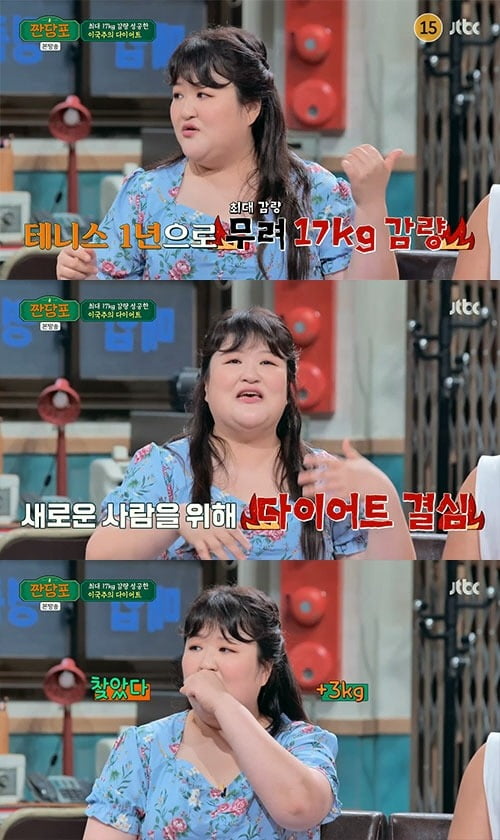 Comedian Lee Guk-joo revealed why she lost 17kg.
Lee Guk-joo, Kim Hae-joon, and Kwak Beom appeared as guests in the JTBC entertainment show 'Jjandangpo', which aired on the 22nd, as a special feature of 'Between Bonkae and Buchae'.
On this day, Lee Guk-joo revealed that he had lost up to 17 kg through tennis. He said, "At first, I lost about 6kg just by adjusting my diet. I started playing tennis and it was so much fun. So I went to play 4-5 times a week."
Next, Lee Guk-joo said, "At first, I was just going to hit the ball to relieve stress, but at some point, I was moving. Also, I heard a beep as my sneakers were being pushed, but I found myself very sexy. I played tennis for a year, and the most I lost was 17kg But I went on a trip a while ago and ate some, and I gained 3 kg."
When Tak Jae-hoon asked, "Is the (tennis) instructor male?" Lee Guk-joo replied, "You are a man." In response, Tak Jae-hun teased, "Somehow I go every day."
Regarding the reason for losing weight, Lee Guk-joo said, "Actually, I started losing weight after a breakup. After a breakup a year and a half ago, I started a diet. Actually, it's not because I read it, but because I have to meet the next person."
When asked about a recent thumb, Lee Guk-joo said, "I went camping in Gangwon-do a month ago." In response, Kwak Beom surprised Lee Guk-joo by pointing out, "I gained 3kg at that time."
Reporter Tae Yuna, Ten Asia youyou@tenasia.co.kr