TV
Lee Soo-geun and Seo Jang-hoon, angry at husbands cheating on minors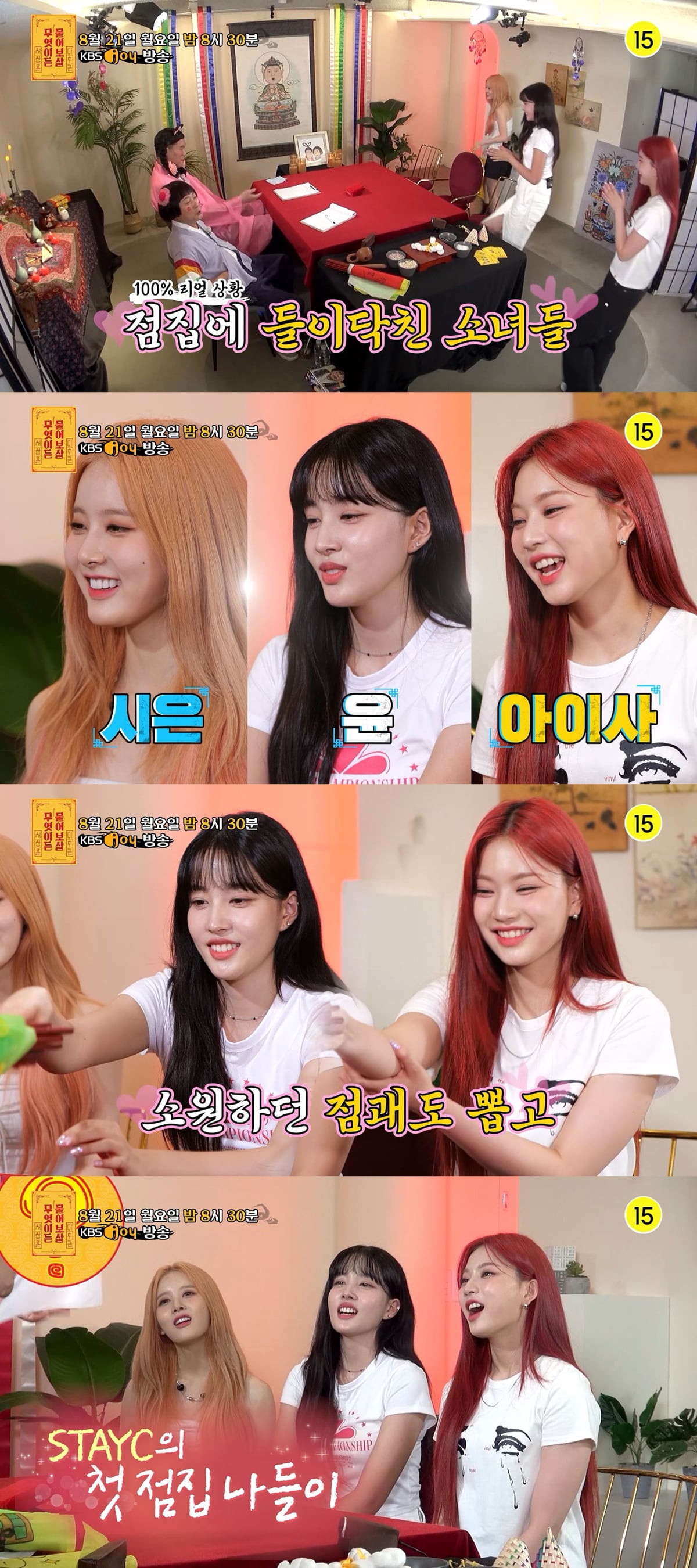 After filming near the recording site of 'Ask Anything', the girl group StayC suddenly came to the care house.
On KBS Joy's 'Ask Anything', which airs on the 21st, the girl group StayC, who shines just by being there, comes and invigorates them.
StayC members Sieun, Yoon, and Aisa, who showed unusual reactions from the moment they appeared, saying, "Wow, it's amazing," "It's mysterious from going up (the stairs)," and "I've never seen anything like this before."
To StayC's Sieun, Yoon, and Aisa who came to 'Ask Anything', Seo Jang-hoon and Dongja Lee Soo-geun seemed to end the consultation, saying, "We don't accept celebrity counseling." However, he happily continued the consultation, saying, "I came here by chance after passing by, so I'll give you a fortune."
To the StayC member Sieun, who was the first to receive counseling, Seo Jang-hoon continued to joke lightly, saying, "Are you not on good terms with your father?" Lee Soo-geun turned to Si-eun's father, singer Park Nam-jung, and said, "I was Park Nam-jung of Yangpyeong," singing Park Nam-jung's song. also did It is rumored that StayC members Yun and Aisa talked about their own worries and got life advice from Bodhisattva Seo Jang-hoon and Dongja Lee Soo-geun.
The warm consultation with the StayC members was short-lived, and with the appearance of a pensive mumul, the caregivers also became serious. Bodhisattva Seo Jang-hoon asked, "How old is your partner?", and the speaker said, "19 years old", embarrassing the scene.
After hearing the story of Mumuli, who is having a hard time with her cheating husband with a minor, Dongja Lee Soo-geun gets angry and says, "If you forgive me, you are the same person." It is regrettable that it was not possible.
Reporter Kang Min-kyung, Ten Asia kkk39@tenasia.co.kr