TV
Return match with Kim Se-jeong and Kim Hee-ra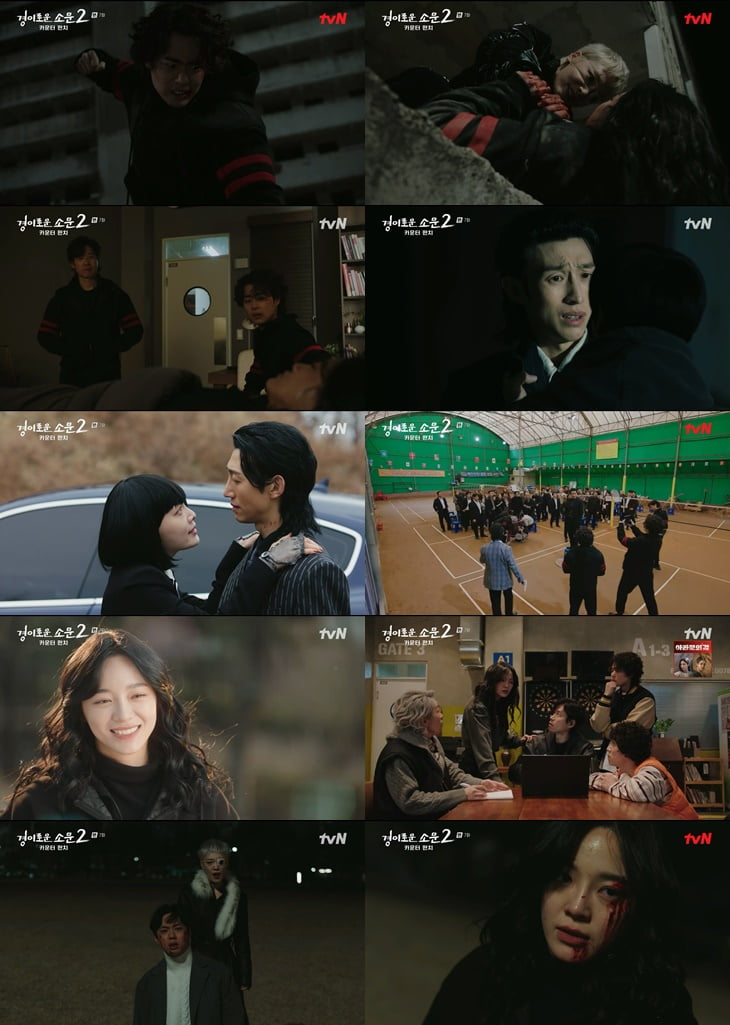 A rematch between counter Kim Se-jeong and demon Kim Hee-ra took place.
In the 7th episode of tvN's Saturday and Sunday drama 'Wonderful Rumors 2: Counter Punch', which aired on the 19th, Pil-gwang (played by Ki-young Kang) and Gelli (played by Hi-ara Kim) split and became enemies, and Counters canceled Baekdu Planning & Construction's illegal business briefing. A spectacular development unfolded that prevented the birth of the second seat (Jin Seon-gyu).
Rumors (played by Jo Byeong-gyu) exploded in anger at Ma Seok-seok, who ate the soul of Park Pro (played by Park Jeong-bok) and evolved into a third-level transcendent demon, and Ma Seok-seok said to his wife's death, "Now I've barely taken a step. I'll kill everyone." He went mad and continued an unpredictable fight. However, even this was Akguiz's ploy to stimulate Mazu-seok. Edited only the part where Gelli, the evil spirit, kills his wife, Min-ji, from Park Pro's memory. Rumors became even more enraged when they found out that Maju-seok had been played by Pil-gwang's lies. However, the moment the rumor was about to summon the evil demon, Pil-gwang said, "How about facing a benefactor who became a demon? It's a work I made," and disappeared with Mazu-seok.
At that time, Gelli blocked the fatally wounded Do Hana (played by Kim Se-jeong), raising tension. Gelli scolded Dohana, who had stolen one of her eyes, by throwing them at her wildly, and when Dohana, who was facing a desperate crisis, said, "Unlike you, I'm not alone," and made up her mind, Counters appeared and saved Dohana's life. Above all, Counters and Yung-in were afraid of the situation that would unfold when Ma Ma-seok, who later learned the truth, fought against Pil-gwang. Counterz had to summon the two demons as soon as possible, because if the two demons became one, they would become completely evil, accepting the power of the earth like a counter.
In the midst of this, Gamo-tak saw through the rumor that he was hesitant to summon the evil spirit, saying, "The reason you missed the masu-seok, was it that you were weak because you were a masu-seok?" In response, the rumor revealed the counter's concerns by raising the question, "If a good person can also become a demon, who are we looking for from whom?" Afterwards, Counters sold out Baekdu Planning Construction to prevent the birth of the second majusuk, just like the resolution, "We have to prevent fraudsters from making another majusuk. This work is as important to us as finding Lee Choong-jae (Kim Hyun-jun)." They came together to solve the fraud case and to wipe out the forces behind it. In particular, while chasing the whereabouts of Lee Choong-jae, who became the target of the demon Maju-seok, he broke down an illegal local housing association business briefing session, saved innocent people who were about to become the second Maju-seok, and hugged cool cider.
On the other hand, Pil-gwang abandoned his lover Gelli and joined hands with the demon Ma Ma-seok to raise a new board. The evil spirit of Mazu-seok advised Pil-gwang, "Maju-seok's will is still strong. You have to touch the man who will burn more fiercely, and the man who will become colder. You have to touch his anger. Only then can you move as you want," and formed a strategic partnership. Along with this, Pil-gwang said to Ma Seok-seok, who asked him to tell the truth about his wife's death, "Like you, I lost everything to Baekdu Engineering & Construction." With 120 billion won stolen from his blood and tears. If you don't believe it, check it out." Along with this, Gelli was furious that Pil-gwang had abandoned him and chose the majusuk, and eventually even took the life of his former partner Wong (Kim Hyun-wook). When Pil-gwang approaches again, Gelli warns, "You should have been prepared when you abandoned me and took me to the other side. amplified
At the end of the play, Gelli, who was eagerly seeking revenge against Do Hana, finally took Do Hana's only weakness, her first love, Do Hwi Park (played by Byeok-Jun Seo), and exploded tension. Do Hana decided to break up after experiencing conflicts due to the anxiety of not knowing when Park Do-hwi might be exposed to danger and hurt by the counter's mission, and visited the school that was the starting point of their relationship. However, Gelli appeared and threatened Dohwi Park, leading to an immediate crisis. Dohana was grazed by Gelli's sharp hand weapon, and in the end, Dohwi Park threw herself to save Dohana and was put in a desperate situation where she was fatally hit. Dohana began to soar in anger that was difficult to handle in an unbelievable situation. In the process of rescuing her first love Park Do-hwi, Do Hana even showed an upgraded telekinesis ability to blow away Gelli with telekinesis. Along with this, attention is paid to the rematch between Dohana and Gelli as the ending scene ends with Dohana, who has a venomous spirit, declaring war, "Look forward to it. It's my turn now" and extending her fist toward Gelli.
Reporter Kang Min-kyung, Ten Asia kkk39@tenasia.co.kr