TV
Han Seung-yeon, caught up in Dex flirting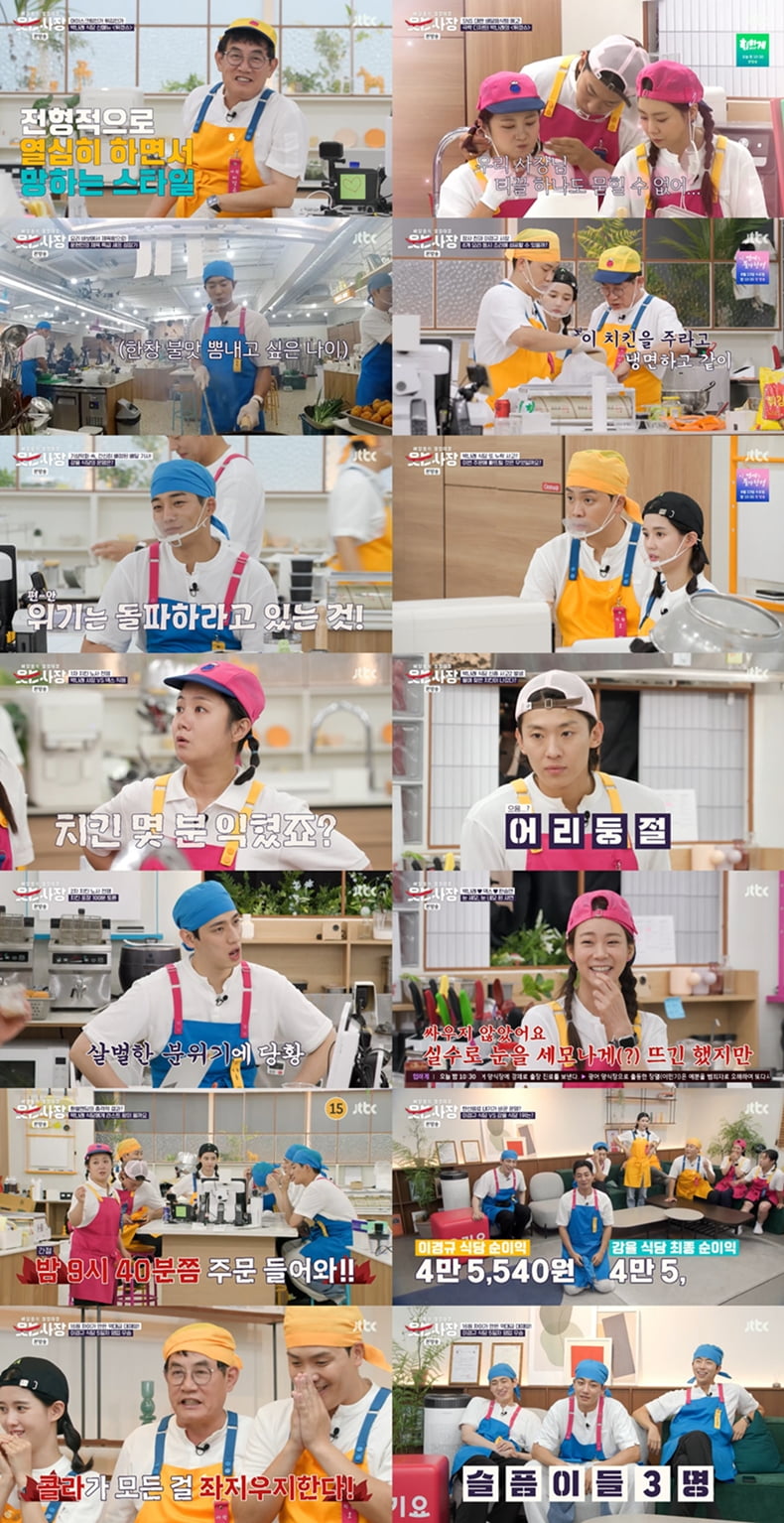 Despite all kinds of crises, the restaurant of the 'smiling boss', who left the first net profit, was born.
In the 8th episode of JTBC's 'Smiling President', which aired on the 13th, Gangyul Restaurant achieved over 300,000 won in lunch sales and took the lead. Lee Gyeong-gyu and Park Na-rae restaurants followed with 290,000 won and 210,000 won, respectively.
At the time of reorganization that came after the lunch break, Na-rae Park restaurant started a fried shoe test, a new dessert menu that can be eaten like ice cream by frying frozen cream puffs at high temperatures. Lee Kyung-gyu, who was watching the mess that didn't go according to plan, joked, saying, "It's a typical style to work hard and fail." However, he showed the charm of a tsundere by teaching the know-how of a bakery owner and demonstrating himself.
Seriously, even during the tasting test of the new menu, Dex's flirting continued. Dex made women's hearts flutter with kindness by wiping foreign substances from Na-rae Park's mouth and directly feeding food to other restaurant staff.
The dinner business announced a smooth start as all restaurants succeeded in fulfilling orders within 4 minutes of opening. Lee Kyung-gyu restaurant, where various menus such as chicken, mala kalguksu, and naengmyeon were ordered three times in a row, started cooking in perfect order. When the completion of the chicken was delayed, Lee Kyung-gyu showed off his sense of completing the delivery of the chicken made first with cold noodles, and aroused admiration from the staff, saying, "The boss is different, too."
Other restaurant staff looked at Gangyul restaurant, which was busy with many orders, with envious eyes, and Nam Bo-ra expressed jealousy as much as President Lee Kyung-gyu, saying, "Shared kitchens are cruel. It's so painful to see a house that goes well." On the other hand, Gangyul Restaurant continued to cancel delivery driver dispatches, and Park Na-rae Restaurant showed the realism of delivery business with variables caused by monsoon rain, such as receiving a call from a customer that the chicken had arrived soaked in rain and oil.
At Narae Park's restaurant, there was a conflict of opinion between Na-rae Park and Seung-yeon Han, an employee, about how to pack chicken. The atmosphere became cold due to the two's unusual argument, but after Dex's efforts to lighten the atmosphere, laughter was restored. Afterwards, Park Na-rae happily settled down, saying, "It was a slightly rough and passionate discussion that opened my eyes squarely and squarely."
In the announcement of the sales results on the 5th day, which recorded the highest order volume, Park Narae Restaurant almost recorded sales of 290,000 won with a refund of 19,000 won, but escaped the penalty with the last order of 18,500 won that came in with a buzzer beater. The results were thrilling.
A restaurant that left its first net profit in the 'smiling president', which had recorded a negative net profit, was born. The main character was Lee Kyung-gyu's restaurant, and Oking was delighted, saying, "I'll order two chickens after it's over." Lastly, ahead of the announcement of the net profit of Kangyul Restaurant, there was a sense of tension that made my hands sweat. Gangyul Restaurant, which seemed to be entering the first place with a net profit of about 52,000 won, lost its golden badge with a difference of only 16 won due to a rock-paper-scissors bet and generously spreading drinks to the production team. At this, President Kang Yul could not hold back his anger and was extremely angry.
Reporter Kang Min-kyung, Ten Asia kkk39@tenasia.co.kr