TV
Kang Joo-eun "Keanu Reeves seems to like me... ask for his contact number"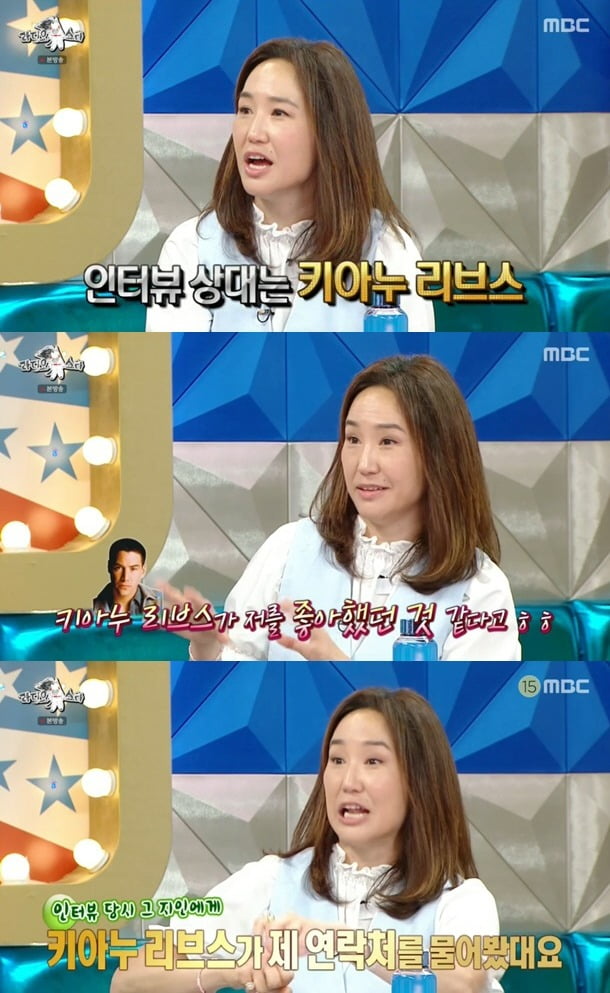 Actor Choi Min-soo's wife, Kang Joo-eun, revealed that she was flirted with Hollywood star Keanu Reeves.
On the MBC entertainment program 'Radio Star', which aired on the 19th, Kang Joo-eun, Son Mina, Fabian, and Hani appeared as guests.
On this day, Kang Joo-eun said, "I went to LA to interview Keanu Reeves. While I was waiting for the interview, Keanu Reeves seemed in a bad mood. But as soon as I entered, he got up and greeted me. After that, I was interviewed, but I was really awkward. It was because I had no experience in a professional interview. However, I did an interview comfortably in a free English conversation after a long time. Keanu Reeves also had a fun approach. "Then, since it was an interview scene to be broadcast in Korea, I said that my husband is a famous actor in Korea, and suddenly the atmosphere of the interview has completely subsided. The production crew also said that Keanu Reeves seemed to like me."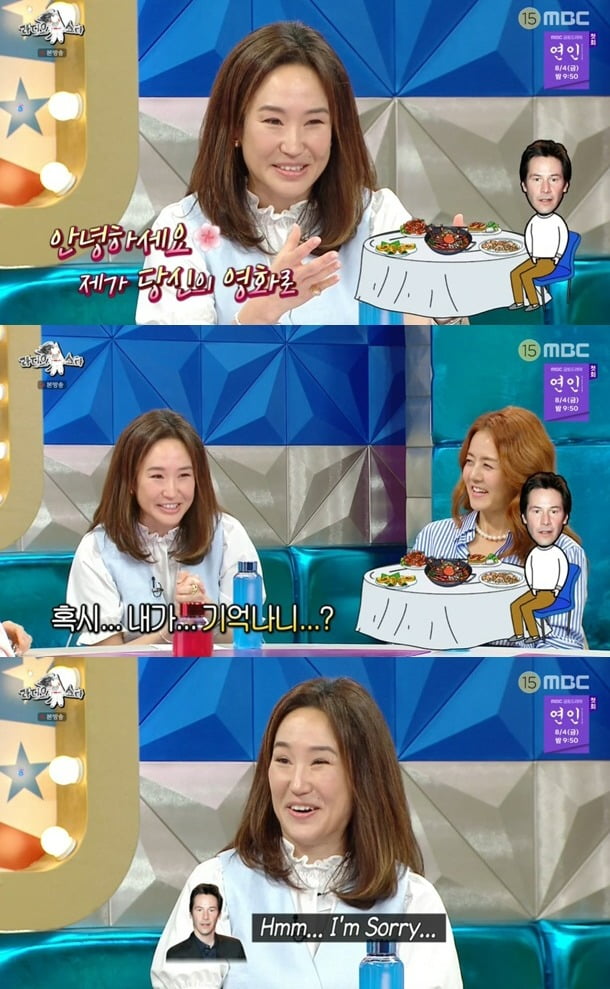 Then Kang Joo-eun said, "Eight years later, I was booking airline tickets over the phone, and the receptionist said that an acquaintance of mine had seen an interview with Keanu Reeves. But at that time, Keanu Reeves said that he asked for my contact information. I told my husband right away, and my husband I was angry and rather proud."
Afterwards, Kang Joo-eun had a fateful reunion with Keanu Reeves in Korea. Kang Joo-eun said, "Keanu Reeves came to Korea to promote a movie. An acquaintance told me where Keanu Reeves was having a meal with a group. An acquaintance said, 'If you come and say hello, wouldn't Keanu Reeves remember you?'. My husband will also remember you." They said it was the same," he said, heading to the dining room where he was to meet Keanu Reeves.
However, Keanu Reeves said he did not remember Kang Joo-eun. Kang Joo-eun said, "Everyone was quiet when I suddenly appeared. I was so embarrassed, but I didn't stop and continued to walk confidently and asked Keanu Reeves, 'I interviewed you in the past, do you remember me?' After saying 'have a good time and go', I came back."
Reporter Tae Yuna, Ten Asia youyou@tenasia.co.kr