TV
Shindong "Actually, I'm taking hair loss medicine... It's genetic" surprise confession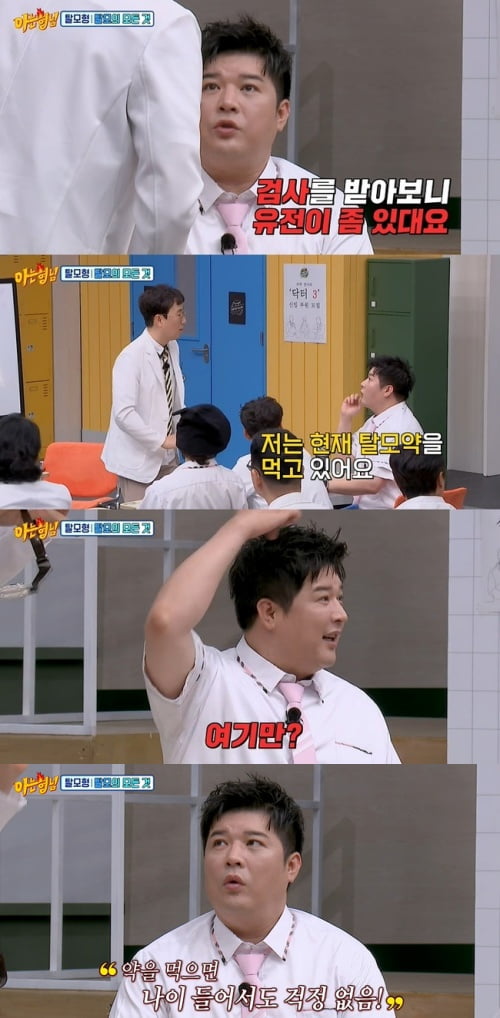 Super Junior's Shindong confessed that he was taking hair loss pills.
On the JTBC entertainment program 'Knowing Brother', which aired on the 22nd, Hong Seong-woo, the urology doctor, the 'twist type', the dentist, Kim Young-sam, the 'wisdom tooth type', and the hair loss specialist Han Sang-bo, the 'hair loss type', appeared as guests.
On this day, Shindong confessed, "I had a lot of (thick hair) when I was young, but when I got tested, it turned out that I had some genetics. I'm taking hair loss pills now."
In response, Han Sang-bo advised, "Hair loss occurs during ultra-fast diets. Excessive diets are not very good for hair loss." "It was a very good decision to take hair loss pills," he added.
In addition, after examining Shindong's hair, he said, "It's weak. This type of hair loss is called diffuse hair loss, but it's a bit unusual. It's usually M-shaped hair loss, but Shindong has a narrow forehead and the hairline doesn't fall out well. But the top of the crown falls out." "Fortunately, hair follicles do not die. They become thinner little by little," he diagnosed.
He added, "Prodigy doesn't show off that much. He's doing so well, he's very good at spreading hair loss. If he takes medicine, he doesn't have to worry about hair loss even when he's old."
Han Sang-bo checked Shin-dong's scalp with a scalp diagnostic device. Han Sang-bo advised, "The line is so good. You don't need surgery for this type, and you just need to take medicine."
Reporter Kim Se-ah, Ten Asia haesmik@tenasia.co.kr