TV
Im Yoon-ah and Lee Jun-ho's arranged marriage shock + betrayal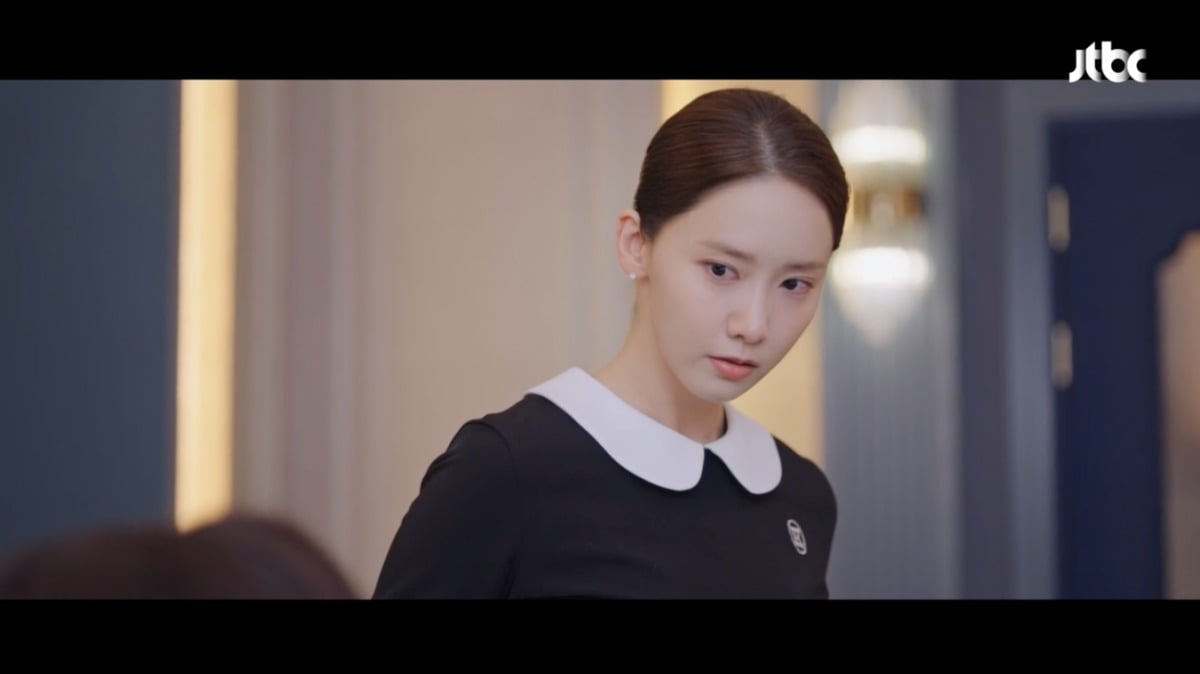 Im Yoon-ah, an actress from 'King the Land', couldn't hide her embarrassment when she heard that Lee Jun-ho was getting married within this year.
In the 12th episode of JTBC's Saturday and Sunday drama 'King the Land' (directed by Hyun-wook Lim, written by Rom Choi), which aired on the 23rd, Cheon-rang (played by Yoon-ah Lim) and Gu-won (played by Lee Jun-ho) were found out about their secret relationship by their friends.
Gu-gu and Cheon-rang secretly kissed at home, but their secret relationship was discovered by friends and colleagues. Upon entering the house, Oh Pyeong-hwa (Go Won-hee), Kang Da-eul (Kim Ga-eun), Noh Sang-sik (An Se-ha), and Yi Ro-un (Kim Jae-won) were shocked to see the two of them, and eventually their secret love ended.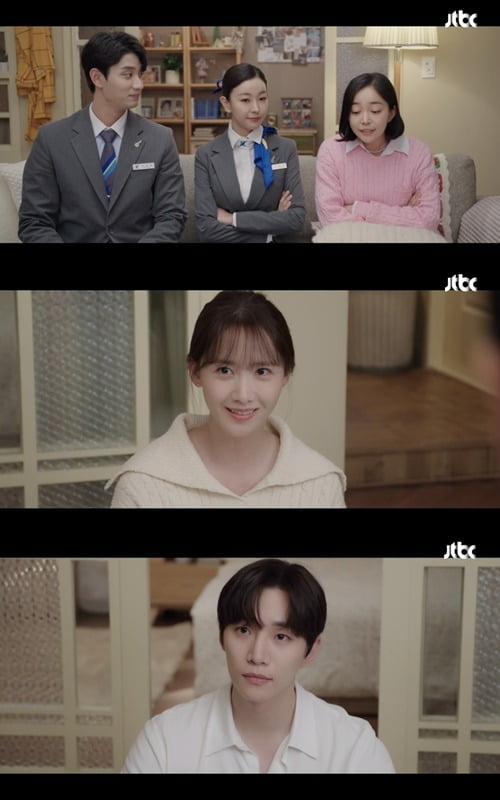 Oh Pyeong-hwa and Kang Da-eul asked Cheon-rang as if interrogating him, "Since when?" In response, the angel explained that it hadn't been long. Afterwards, Kang Da-eul asked if there was anything more deceiving, and Ku-sa said, "I didn't try to hide it, but I'll tell you the truth. Actually, I am not the president's hidden son. He is just a son." Surprised by the bombshell remarks of salvation, those who did not believe the truth. In particular, Oh Pyung-hwa was surprised, saying, "They say that the yellow parachute headquarters with the soles of those completely insane feet is sprouting." Angelang said, "I didn't tell you because I was afraid you would be like this," and made an excuse, not an excuse, seeing the surprised friends.
Angelang, who was left with his friends due to salvation, who was away for a while, asked if he was sad about the situation he hadn't told him about. Angelang expressed his infinite affection for Salvation, saying, "I've been thinking about it for a long time. You're a good person." "He is the person I wished for. The person who doesn't make me sad and is by my side whenever I need it," he added. Friends who heard Angela's candid heart gave words of support.
After returning to Kingdom, Guwon went into an emergency management meeting. He pointed out to his older sister, Hwa-Ran Koo (played by Sun-Young Kim), that emergency management would help. In addition, he dug into the system's flaws, saying, "Is that normal? Are you thinking about squeezing employees out of cost reduction?" Gu Il-hun (Son Byeong-ho), who was watching the two people, asked for a report containing future plans, saying, "Please write a report on what kind of company you will make the King Group until the next meeting." He showed an invitation to Kingdom to make it on his side.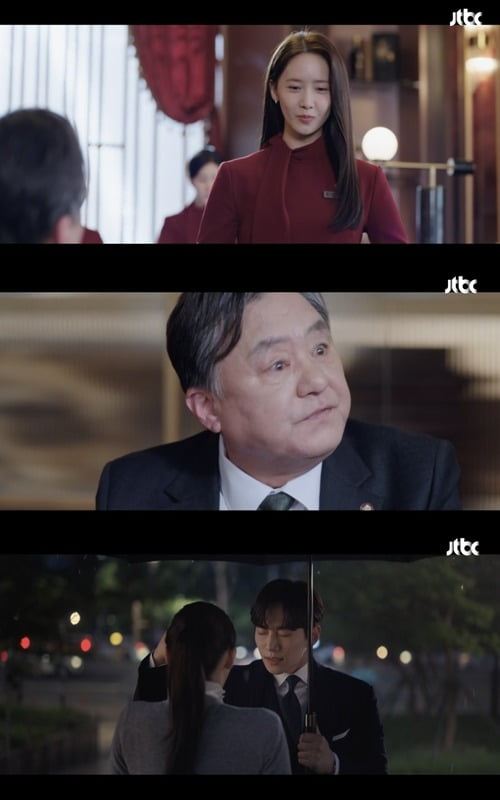 Congressman Park, who met Gu Hwa-ran at Kingdom Land and had a meal, showed off his anger at Cheon-rang. He got angry and said, "Why do you go back and forth while serving? Fire me", and Cheonrang explained the manual. However, Congressman Park, who heard Cheonrang's words, threw a handkerchief. At this time, salvation appeared and stopped Congressman Park's actions, saying, "You must not throw the handkerchief as it is an application for a duel." In response to the act of salvation, Congressman Park left the seat in anger, saying, "The King Hotel often makes big mistakes with me."
Ku Hwa-ran, who was dumbfounded by Guo's actions, questioned Guo, saying, "Don't you know how important Congressman Park is to us right now?" Guo replied, "That's not an employee. He's a valuable employee. As long as I'm in charge here, I'm in charge. People, I'll protect you." Goo Hwa-ran looked at Cheon-rang and sarcastically asked if he was just an employee.
Angelang Cheon, who attended the employee dinner, confided in his feelings to the team members who misunderstood him. When the team members said that they were dissatisfied with Cheon-rang's promotion, Cheon-rang said that he worked hard because he wanted to be recognized. When it rained outside after the dinner party, Cheonrang, who did not have an umbrella, covered her head with a bag and tried to run away.
The two of them went with an umbrella and their clothes got wet from the splashing rain. Because of that, salvation dried clothes at Cheonrang's house. Guo-won hurriedly came out to the living room while drying his clothes, and Cheon-rang was embarrassed. Gu-won petted the shy angel and kissed him.
Gu Hwa-ran called Sang-shik Noh separately and urged him to betray salvation. He gave a work order, "Report the every move of the old general manager," and Sang-sik Noh said something unexpected. He showed the behavior of asking, "Then how far can you lead me?"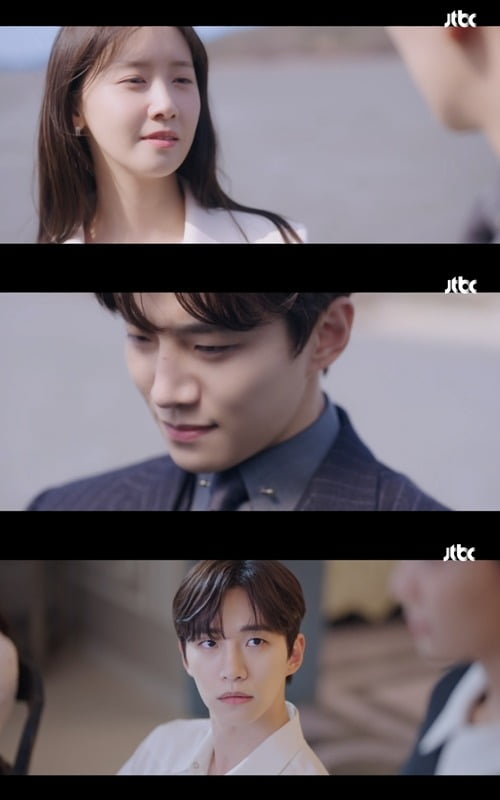 Angelang, who was curious about the mother of salvation, asked an old employee, and the employee said, "He was my friend. A person who is more beautiful than anyone else." With the angel who asked Guo on a date. He confessed an anecdote from his childhood, saying, "I came with my grandmother whenever I missed my mother." Guo-won, who heard the story, sympathized with Cheon-rang's words, saying that it was heartbreaking.
In response, Cheonarang handed the photo the employee had given him earlier to Guwon. He said, "If you go to Seoul, please meet and listen. I'm afraid you'll regret it like I did." He invited Gu-Gu to hear about his mother. Seeing the picture of his mother, Gu-Gu shed tears.
Angelang, who was selected as the dream team, was taken aback when he saw an unexpected uniform at the event. With an angel who soon got used to it. However, Cheon-rang, who witnessed Gu-won and his fiancé Yuri's (Lee Soo-bin) standing, couldn't hide his uncomfortable expression. Later, when Gu Il-hun told Gu-won to marry him within this year, Cheon-rang was startled and dropped the plate.
Reporter Lee Ha-neul, Ten Asia greenworld@tenasia.co.kr