TV
Hyori Lee made Mamamoo's Hwasa cry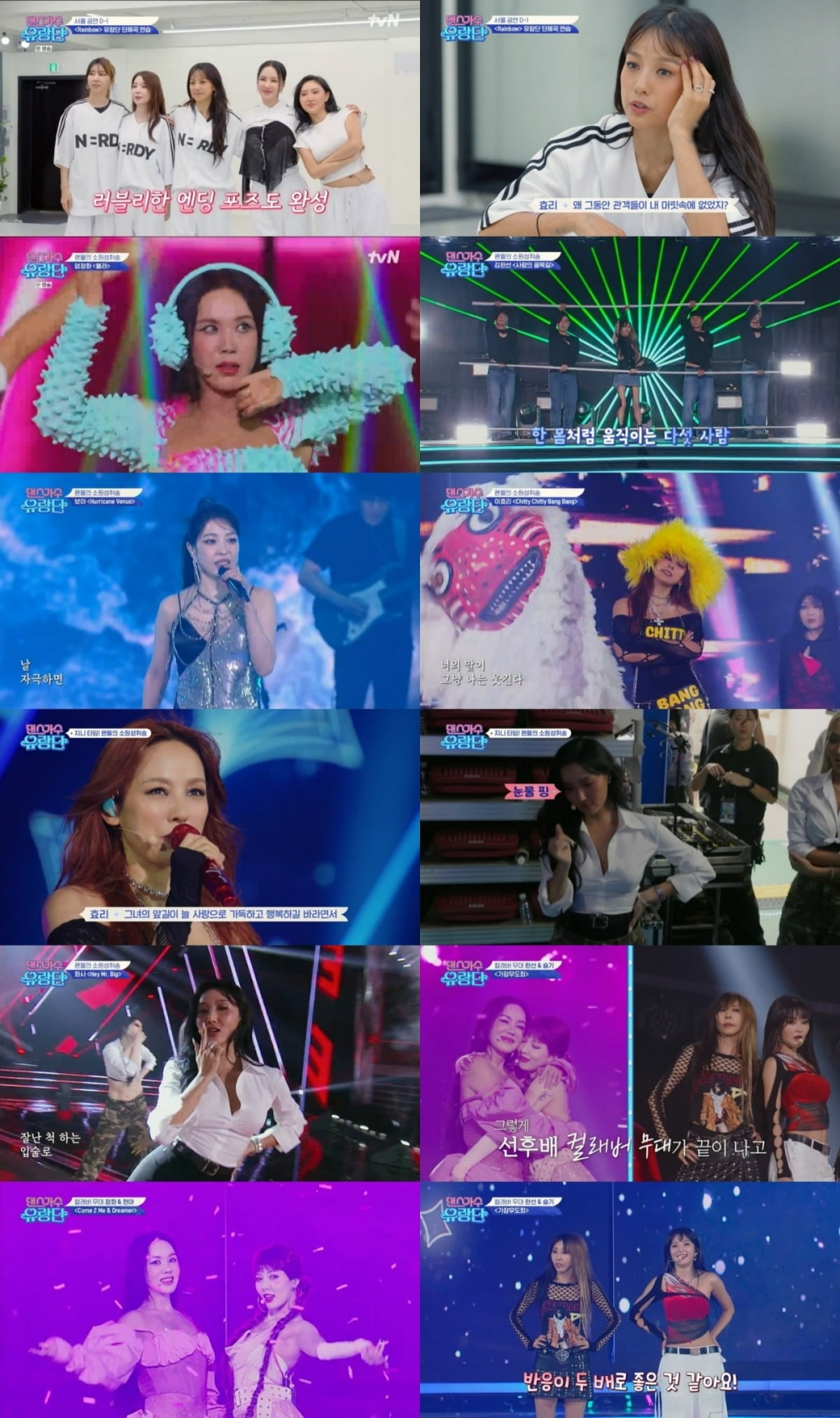 tvN's 'Dancing Queens on the Road' presented a legendary performance with the theme of fulfilling fans' wishes. Along with this, collaboration performances by senior and junior female dance singers of different generations harmonized in a hip way.
In the 11th episode of tvN's 'Dancing Queens on the Road', which aired on the 3rd, part 1 of the Seoul concert, the last wandering journey of Kim Wan-sun, Uhm Jung-hwa, Lee Hyori, Boa, and Hwasa, was revealed.
On this day's broadcast, the members started practicing the choreography of the group song 'Rainbow' to be released at the Seoul concert. The members, who even wore matching practice clothes, showed perfect chemistry, saying, "It seems like we have become a girl group." Hyo-ri Lee said, "Usually, when I was preparing for the stage, only thoughts about the stage were filled in my head, but I was sleeping yesterday and I felt the thrill of meeting the Seoul audience for the first time." He conveyed his feelings ahead of the Seoul concert.
Uhm Jung-hwa expressed her sincerity, saying, "It seems that all of us have grown little by little through this stage. It seems that we are filled with heart, courage, and love, and give and receive." In response, Kim Wan-seon also agreed, saying, "It seems that they are having a really good influence on each other."
Ahead of the concert in Seoul, Uhm Jung-hwa met Vince, a producer from The Black Label who worked on hits such as Taeyang and Blackpink's Jisoo. Vince played a demo of the new song 'Disco Energy' from the 2023 version of 'DISCO', saying, "I got permission from Teddy hyung to sample it." Uhm Jung-hwa was moved, saying, "The energy of now and the energy of 'DISCO' at that time overlap, and something makes me cry." In the feature of 'Disco Enegy', popular rapper Just This was together, raising expectations.
Kim Wan-seon also spent busy days preparing for a new song ahead of the Seoul performance. He also had his first meeting with Hyunseung Lee, composer of the new song 'LAST KISS'. Composer Lee Hyun-seung is a hit song maker who worked with Baek Ji-young, Davichi, and Ailee, and Kim Wan-sun said, "I really liked the title of 'LAST KISS.' In particular, when asked what kind of song I want to sing on the final stage of my life as a singer, I will sing the last new song I have ever released.It's been a while since I debuted, but I want to be seen as a singer who is currently active."
Before we knew it, the splendid curtain of the Seoul performance had risen. The members opened the opening by singing 'Like an Indian Doll' together. Then, MC Hong Hyun-hee joined. Hwasa shared her feelings about the last concert, "I didn't let each moment go by in vain. I think these precious memories will become fertilizing during my life as an artist." Appearing in a dress with a flat back, BoA said, "I'm wandering around, wearing heels and wearing a dress with a fine back."
The first theme of the Seoul concert titled 'Never Ending Credits' is the wish fulfillment song that fans want. Uhm Jung-hwa opened the stage with 'I don't know' and led a stormy response. Next, Kim Wan-seon presented the 2023 version of the 'Alley of Love' stage, which was famous for 'doll knife group dance'. Hyo-ri Lee put on an intense 'Chitty Chitty Bang Bang' stage with the practitioners of the Bongsan Talchum Preservation Association, an intangible cultural asset. Hyo-ri Lee explained the meaning of the stage, saying, "The Bongsan Talchum lion is said to ward off bad luck. I hope that all the hard work will disappear and you will always have a smile."
Hyo-ri Lee introduced her next stage and expressed her affection for Hwasa, saying, "She is a junior that I really cherish. She is a junior that I support and respect from the bottom of my heart. She dances even in the midst of a storm. I hope her future path will always be full of love and happiness." told Hwasa, who was listening to this from behind the stage, couldn't hide her emotional heart and even showed tears. But even for a while, Hwasa performed BoA's 'My Name' and Lee Hyo-ri's 'Hey Mr. He overwhelmed the stage by digesting the song 'Big' with his own color. Since the two songs were briefly performed at the first meeting of the wandering troupe, the fans' response has been pouring in. Accordingly, Hwasa prepared a full version stage for fans, and the reaction was explosive.
Uhm Jung-hwa prepared a collaboration stage for 'Come 2 Me & Dreamer' with Hyuna. The behind-the-scenes story of the two people who met in the practice room before the performance also drew attention. Uhm Jung-hwa thanked her, saying, "Didn't Hyuna post it on her social media during 'Ending Credits'? We've never met before, so I was very surprised and it gave me a lot of strength." In response, Hyuna gave warmth by saying, "For us, the presence of an older sister is a great source of strength. I get this feeling, 'Your sister is working hard, so I should too.'" Kim Wan-seon and Red Velvet's Seulgi gave thrills with a new concept dance battle stage. The two prepared the stage for 'Masquerade Ball' and created a transgenerational legend stage where the colors of the two people harmonized well.
The Seoul Wandering Performance, the final destination, will be broadcast next week. The stage of the group song of 'Dancing Queens on the Road' and new songs by Uhm Jung-hwa and Kim Wan-seon will be released for the first time.
Reporter Kim Ji-won, Ten Asia bella@tenasia.co.kr