TV
Yoo Hyeon-cheol and Kim Seul-gi, a fight broke out before remarriage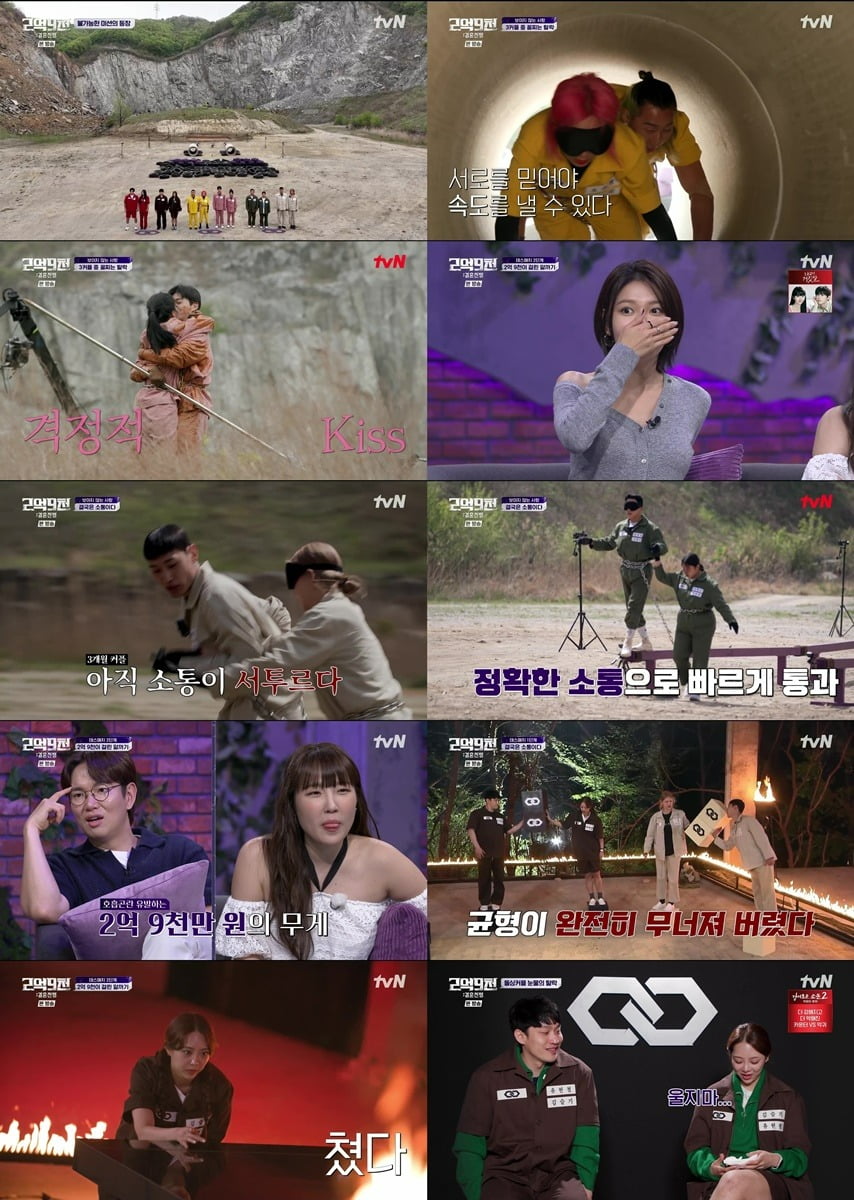 Kim Seul-gi and Yoo Hyeon-cheol were the first couples to be eliminated in a series of death matches.
In the 5th episode of tvN's entertainment program '290 Million', which aired on the 30th, the conflict between the couple reached its peak with the third mission 'Invisible Love' and the deathmatch 'Love Stop Line'.
'Invisible Love', which was released on the day, is a mission in which a couple must pass through a 100-meter obstacle course consisting of a tire field, a circular pipe, a balance beam, and a mud field. Above all, after tying each other's bodies with chains, one of the couples The person had to completely cover their eyes with an eye patch and carry out the mission while completely entrusting themselves to their partner. Previously, the 'couple of the same age' who was ranked as the number 1 man to marry, Seong Chi-hyeon and Kim Hae-ri made a match. The Seong Chi-hyeon-Kim Hae-ri couple formed a pair with Kim Tae-seok-Baek Ji-yoon and Yoo Hyeon-cheol-Kim Seul-gi, who were judged to be relatively weak.
The Kim Tae-seok-Baek Ji-yoon couple had a severe conflict with Baek Ji-yoon after Kim Tae-seok said, "Actually, Baek Ji-yoon's opposite image is his ideal type." However, the couple Kim Tae-seok and Baek Ji-yoon demonstrated teamwork in a twist, shed the stigma of being the weakest and took first place in the group ahead of the Sung Chi-hyun and Kim Hae-ri couple, becoming the protagonists of a cataclysmic event. The two said, "This is the first time we have won the first mission. I like it so much" and reconciled at the finish line, exchanging a deep kiss amidst joy.
The second group of 'Invisible Love' was a showdown between Choi Kwang-il and Shin Hye-sun of 'Reversal Couple', Bae Min-ki and Park A-ryun of '3 Month Couple', and Lee Sang-min and Oh Soo-hyun of '15 Year Couple'. Choi Kwang-il and Shin Hye-sun of the 'reversal couple' used a strategy in which Choi Kwang-il wore an eyepatch. Shin Hye-sun said, "I have no fear of getting hurt," and Choi Kwang-won said, "I am not afraid of anything," boosting morale. After the mission started, Shin Hye-sun grabbed Choi Kwang-il and moved forward at full speed. In particular, Jang Seong-gyu, who saw this, laughed when he expressed, "It's like a trainer training a large dog." There are couples who go straight ahead with such a firm belief in each other, and there are couples who are experiencing difficulties due to lack of communication. Bae Min-ki and Park A-ryun, the '3-month couple'. In particular, A-ryun Park was so afraid of the dark that she said, "I sleep with the light on because I'm scared." However, unlike Min-gi Bae, who decided to communicate with each obstacle, only his mind was ahead, and Ah-ryun Park had no choice but to be dragged around by Min-ki Bae.
In the deathmatch 'Jung Ji-seon of Love', Yoo Hyeon-chul and Kim Seul-gi, who arrived last in 'Invisible Love', and Bae Min-ki and Park A-ryun couple, and Hong Han-seok, an 'international couple' who ranked first as the man who did not want to marry and went straight to the death match - Mariam did it. Above all, the conflict between Yoo Hyeon-cheol and Kim Seul-gi before the deathmatch reached its peak, causing tension to soar. Kim Seul-gi's mentality began to crumble as she became the only couple to participate in a deathmatch twice in a row. Kim Seul-gi expressed her fear of dropping out and exhaustion to Yoo Hyun-cheol, the only one on her side, but Yoo Hyun-cheol also ran out of stamina due to successive missions. The two, who became so sensitive, ended up fighting an emotional battle scratching each other. "You can do it. Kim Seul-gi, who burst into tears, saying, "Even if no one can do it," and Yoo Hyeon-cheol's battle of nerves, saying, "How far should I accept it?" made the viewers hold their breath. In response, MC Choi Soo-young of the studio said, "It hurts my heart to see Seul-gi Kim crying. It's the first time I've seen it," he said, expressing regret, saying, "It would have been nice if Yoo Hyeon-chul put Kim Seul-gi on the right track this time, just as Kim Seul-gi did."
For the first time in history, a pre-mission was conducted for the death match 'Love Stop Line', which started in earnest. That is, two people each using only one arm to bear the weight of the cube box. A long-standing couple was able to decide the order of the Deathmatch matchups. If someone puts more power or less power, the balance is broken. It was a game where the balance of power between the two was important. The couple Seulgi Kim and Hyeoncheol Yoo, who started the game without recovering their feelings for each other, were at risk from the start. Choi Soo-young expressed her concern, saying, "Seul-gi is too emotional." However, in the end, Yoo Hyeon-cheol and Kim Seul-gi endured with mental strength, and took first place in the pre-mission, overtaking Hong Han-seok-Mariam couple and Bae Min-gi-Park A-ryun couple, and were able to decide the bracket for this death match. In the 'Love Stop Line' that started in earnest, the one person who sent his or her stone closest to the end of the table by tapping his or her finger became the winner of the round, and all couples had to win to pass. Yoo Hyeon-chul and Kim Seul-gi, whose morale rose again after winning the pre-mission, concentrated their minds, but ended up passing in the order of Park A-ryun, Hong Han-seok, Bae Min-ki, and Mariam, and were unfortunately eliminated.
Reporter Tae Yuna, Ten Asia youyou@tenasia.co.kr