MUSIC
SEVENTEEN adds 1 concert in Bulacan to tour 'FOLLOW'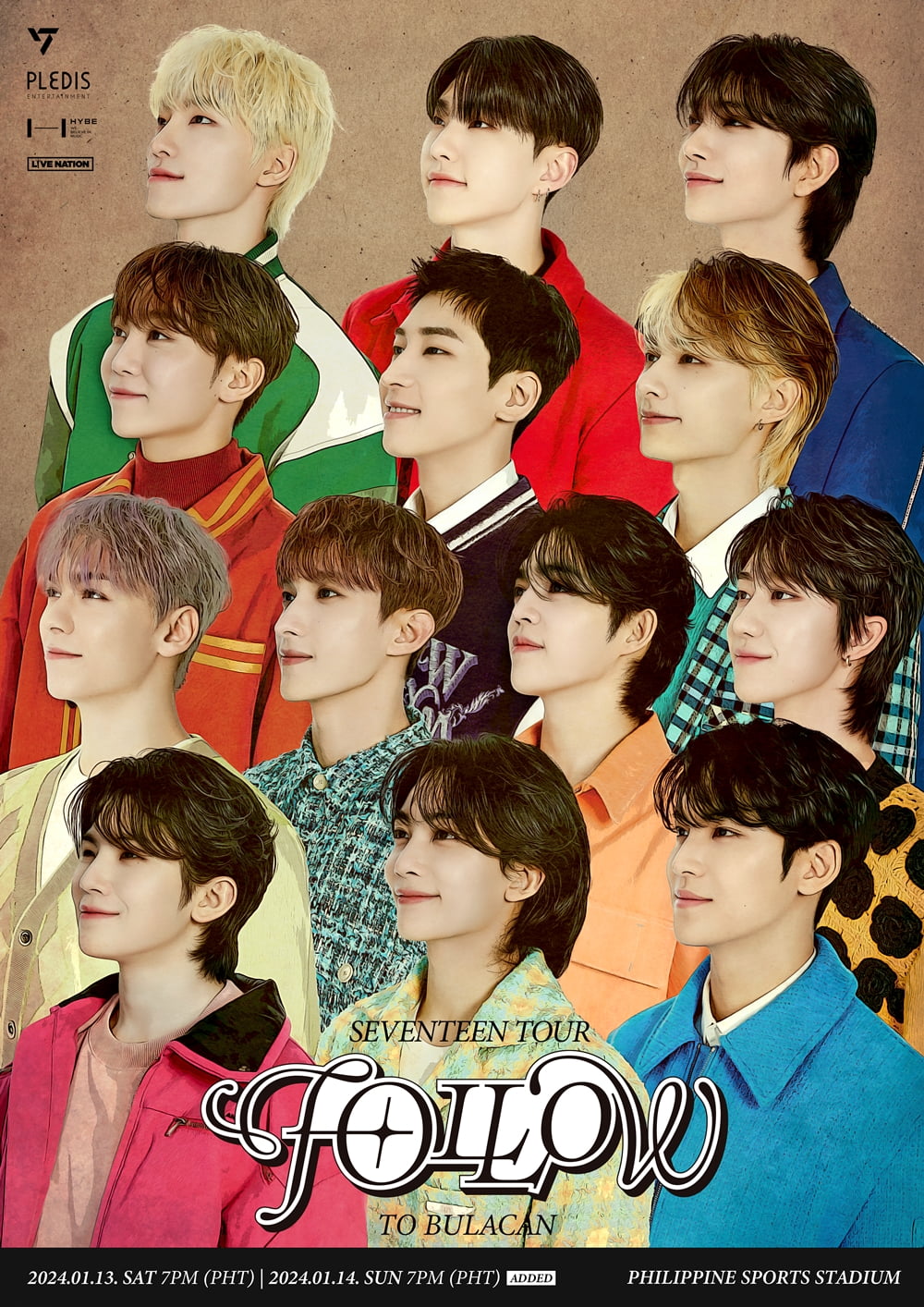 Group Seventeen (S.Coups, Jeonghan, Joshua, Jun, Hoshi, Wonwoo, Woozi, The8, Mingyu, DK, Seungkwan, Vernon, Dino) adds one performance to the 'FOLLOW' tour thanks to the enthusiastic support of fans. .
On the 14th, the agency Pledis Entertainment posted on SEVENTEEN's official SNS, "Thanks to the support of Carats (fandom name), one performance of 'SEVENTEEN TOUR 'FOLLOW' TO BULACAN' has been added. "Carats, we ask for your interest."
With the addition of one Bulacan performance, 'SEVENTEEN TOUR 'FOLLOW' TO ASIA' will be held in Bangkok, Thailand (Rachamangala National Stadium) on December 23-24 (hereinafter local time) and in the Philippines on January 13-14, 2024. A total of 6 performances will be held in Bulacan (Philippine Sports Stadium) and Macau (Olympic Sports Center Stadium) on January 20-21.
Before starting their Asian tour, Seventeen will continue their largest Japanese dome tour since their debut, 'SEVENTEEN TOUR 'FOLLOW' TO JAPAN', which kicked off at Tokyo Dome in Japan (September 6-7). This tour will be held at Veruna Dome (Saitama) on the 23rd and 24th, Vantelin Dome Nagoya on the 30th and December 2nd and 3rd, Kyocera Dome Osaka on December 7th and 9th and 10th, and Fukuoka PayPay Dome on December 16th and 17th. It is held in
Through the tour 'SEVENTEEN TOUR 'FOLLOW'', SEVENTEEN will meet fans through 20 performances in 9 cities including Seoul, Tokyo, Saitama, Nagoya, Osaka, Fukuoka, Bangkok, Bulacan, and Macau.
Meanwhile, Seventeen will attend the 13th 'UNESCO Youth Forum' held at the UNESCO Headquarters in Paris, France at 7:30 PM on the 14th (3:30 AM on November 15, Korean time) as a representative of the 'world youth generation'. A special session featuring speeches and performances will be held for approximately one hour. Through this speech, Seventeen will act as a messenger of hope for the 'world's youth generation' and will present the role that young people can play for sustainable development based on each member's experience.
Ryu Ye-ji, Ten Asia Reporter ryuperstar@tenasia.co.kr