MUSIC
La Poem, solo concert 'La Poem Symphony' successfully completed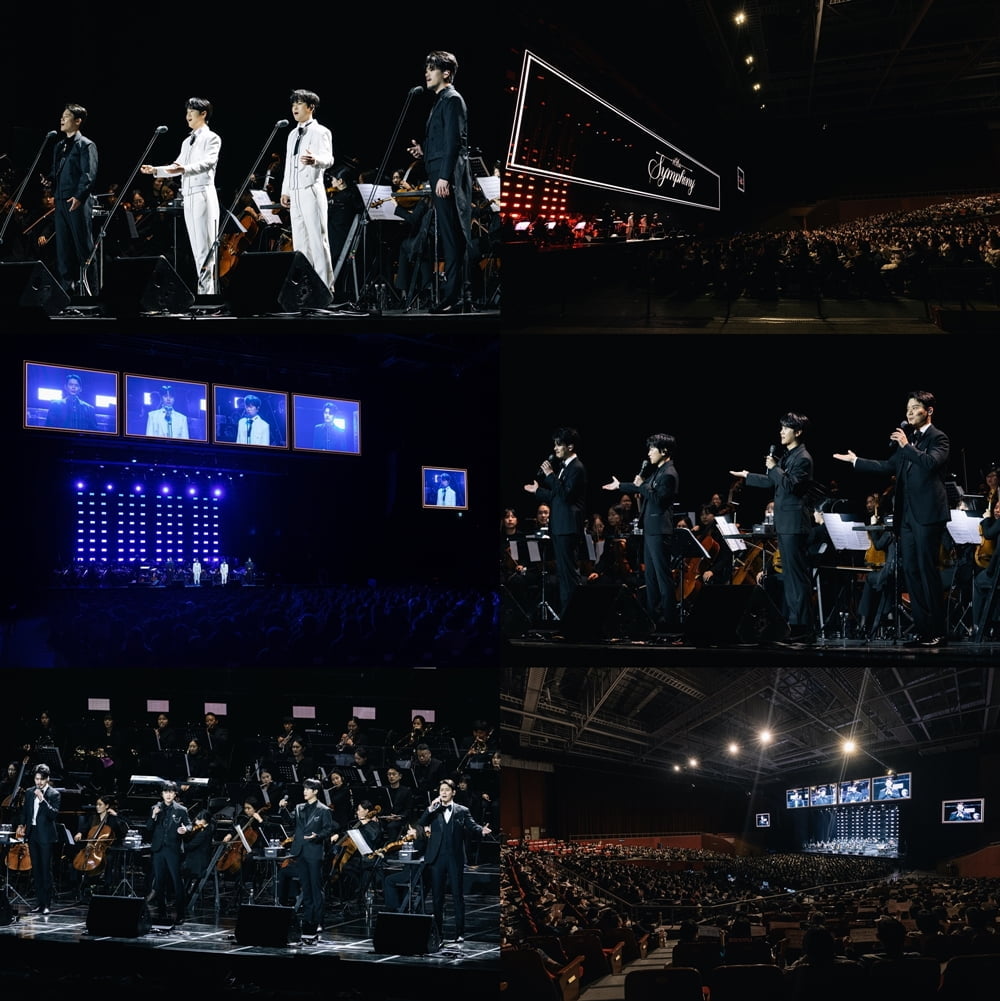 Crossover group LA POEM successfully completed a solo concert filled with the romance of fall.
La Poem (Park Ki-hoon, Yoo Chae-hoon, Jeong Min-seong, Choi Seong-hoon) held the 2023 solo concert 'LA POEM SYMPHONY' (hereinafter 'La Poem Symphony') at the Olympic Hall in Olympic Park, Songpa-gu, Seoul for two days from the 11th to the 12th and met with fans. La Poem presented a magnificent and beautiful live performance with a 60-member orchestra, befitting its title 'La Poem Symphony'.
On this day, La Poem appeared with the piano melody of 'Iintermezzo' and captivated the audience with a set list consisting of beautiful songs and famous classics. La Poem's premium harmony, stage, video, lighting, and performance came together to create a romantic stage. In addition, each member received a warm cheer and standing ovation from the audience for their solo stage that showed off their unique charms.
The highlight of the performance was the performance of songs included in 'Poetry, Poem, POEM,' the first original song album since debut, released last month. They performed a total of 6 songs on the theme of fall and love, including the title song 'Fallen Leaves', proving the fundamentals of 'Vocal Avengers'. 'Fairy Tale' and 'Mibyeol: Beautiful Farewell', which gave a thrill with a magical quartet, 'Oh, Love' and 'Run, You', which sang sad longing accompanied by piano playing, and 'Cheoseo' where you can feel the essence of autumn emotions. ' left a heavy impression with the performance of Korean original songs.
The second half of the performance added specialness to the 'La Poem Symphony Medley' consisting of 'My Way', 'Torna A Surriento', 'Moon River', 'Amapola', and 'Funiculi-Funicula'. In particular, the audience was entertained by the witty production of conductor Jeong Min-seong and conductor changing roles in the middle of the medley. La Poem, who engaged the audience with witty remarks until the end, performed flawlessly until the encore stage, completing a moving performance that filled the running time of about 2 hours and 30 minutes.
After finishing the performance, La Poem said, "Every moment from the process of preparing the Korean original song album 'Poetry·Poetry·POEM' to this performance was a truly valuable time. It was also a great honor to sing the works of people I respect, and tonight I "It feels even better that our songs resonate here. I'm proud to be La Poem, and I want to continue to be an artist that everyone who listens to our music can be proud of. Please show a lot of love for Korean songs and La Poem in the future," he said. reported.
Ryu Ye-ji, Ten Asia Reporter ryuperstar@tenasia.co.kr