MUSIC
Eunbi Kwon, Proving the title of 'Global Queen' with explosive live performances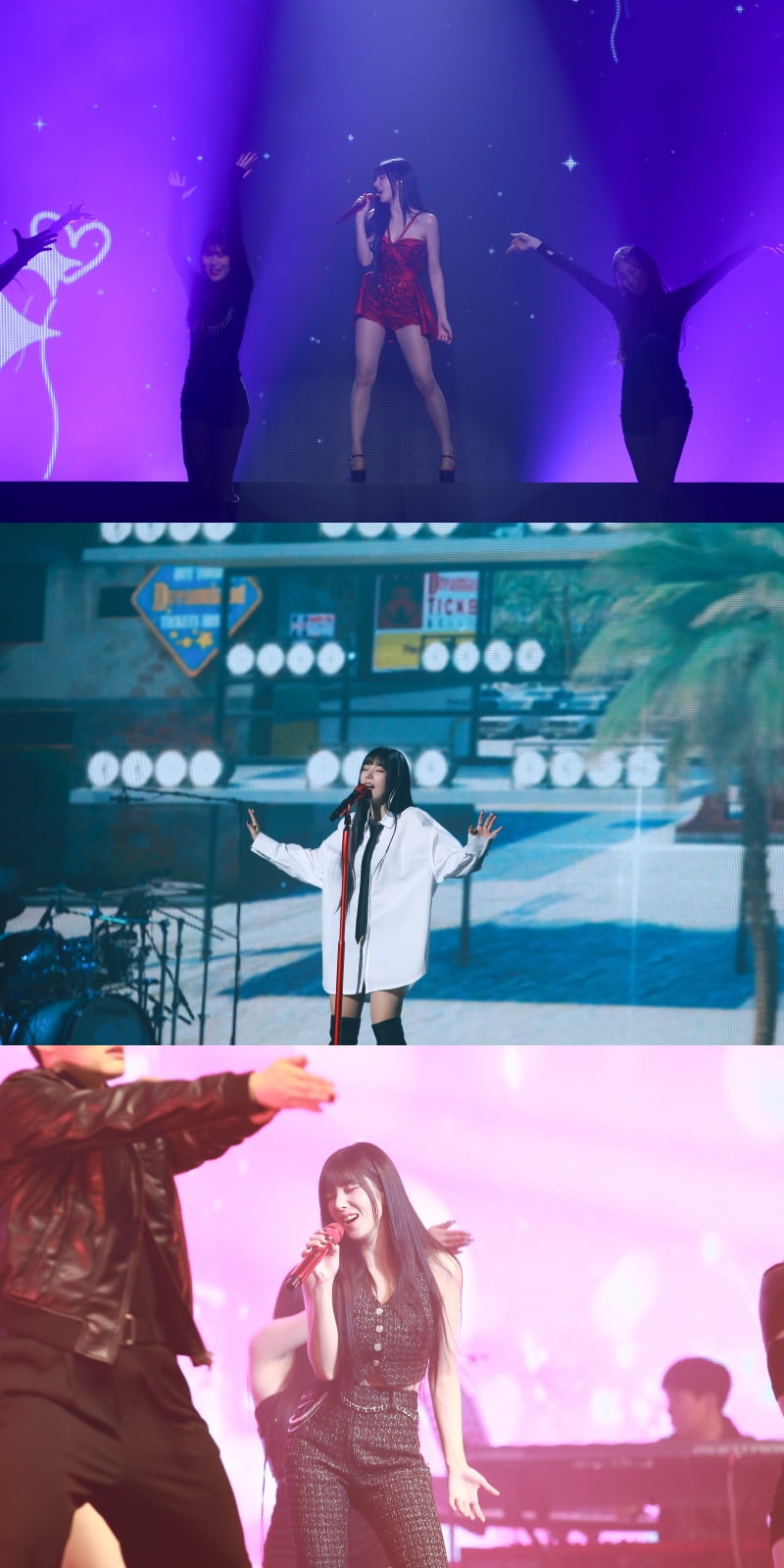 Singer Eunbi Kwon successfully completed her third solo concert.
Kwon Eunbi held the '2023 KWON EUNBI 3rd CONCERT 'QUEEN' (hereinafter referred to as 'Queen') at Blue Square Mastercard Hall in Seoul on the 7th and 8th and met with fans.
Kwon Eun-bi, who appeared sitting on a throne wearing a captivating red dress and a crown, overwhelmed everyone's attention from the moment she appeared with her elegant appearance befitting a 'global queen.' 'Queen' opened with a brilliant start by sequentially releasing the title songs 'Glitch' and 'Croquis' of the second mini album 'Color' released in April last year.
Kwon Eun-bi said, "I am happy to meet Ruby (Kwon Eun-bi's official fan club name) at my first solo concert in 10 months. I decided to title the performance 'Queen' to mean that I will be your 'Queen' all four seasons." Fans who filled the concert hall said, He gave a warm greeting to them.
This was followed by 'Underwater', the protagonist of the hot comeback myth, 'The Flash', which gave him the honor of winning first place on a music show as a solo artist, 'Flash', and 'Blue Eyes'. , 'Comet', 'OFF', 'Colors', 'Hi', 'Beautiful Night', 'Door', 'Simulation )' and 'ESPER', and other songs were sung passionately, heating up the performance.
In particular, Eunbi Kwon said, "It's a song that will be released later, but I'd like to let Ruby hear it first. I'll sing it alone today, but next time I may sing it with someone," and performed the unreleased new song 'Like Heaven' for the first time with a super spoiler. It made fans even more excited.
They also performed a cover of Japanese popular singer Aimyon's 'I Want to Convey Love', drawing an explosive response with a different charm from the original song.
In the middle of the performance, a video was played on the VCR that looked back on the brilliant history of artist Eunbi Kwon through her game character, from her days as a trainee to her group activities and her brilliant debut as a solo singer. Following her three debuts, the long process of being reborn as the 'Summer Queen' through various broadcasts, comeback syndrome, and water bomb was depicted one by one, leaving a touching impression.
In this performance, Melomance's Kim Min-seok, known as the 'eardrum boyfriend' in the music industry, and 'Trot goddess' Song Ga-in appeared as guests and performed a special stage. Kim Min-seok sang 'Drunk Confession' and 'Gift', and Song Ga-in sang 'Be Ga-in' and 'Seoul Moon' respectively, showing off his fantastic chemistry with Kwon Eun-bi, adding to the fun of the performance.
Finally, Kwon Eun-bi returned to the stage in response to fans' enthusiastic requests for an encore and sang additional songs 'Our Speed' and 'Eternity', burning energy until the end. Through the performance, which lasted for about 2 hours and 30 minutes, the fans made eye contact and worked together at close range, giving them meaningful memories that they will never forget for a lifetime.
Kwon Eun-bi, who successfully concluded her solo concert 'Queen' with enthusiastic cheers from global fans, said, "Every time I perform a concert, I feel very nervous and nervous as if it is my first time. I always do my best, but a part of me feels regretful, thanks to Ruby who supported me. "I was able to finish this performance well," he said.
She continued, "I received so much love this year. I've worked really hard since my debut until now, and I was able to not get tired because Ruby was with me at every moment. I'll show you how to improve further in the future, and I hope I can become a 'queen' in any field." "I will do my best. Let's meet for a long time in good health," he added, expressing his sincere gratitude to the fans who have been with him.
Reporter Junho Yoon, Ten Asia delo410@tenasia.co.kr