MOVIE
Will Kim Hae-sook and Shin Min-ah's '3 Days Vacation' captivate audiences with a healing fantasy at year-end theaters?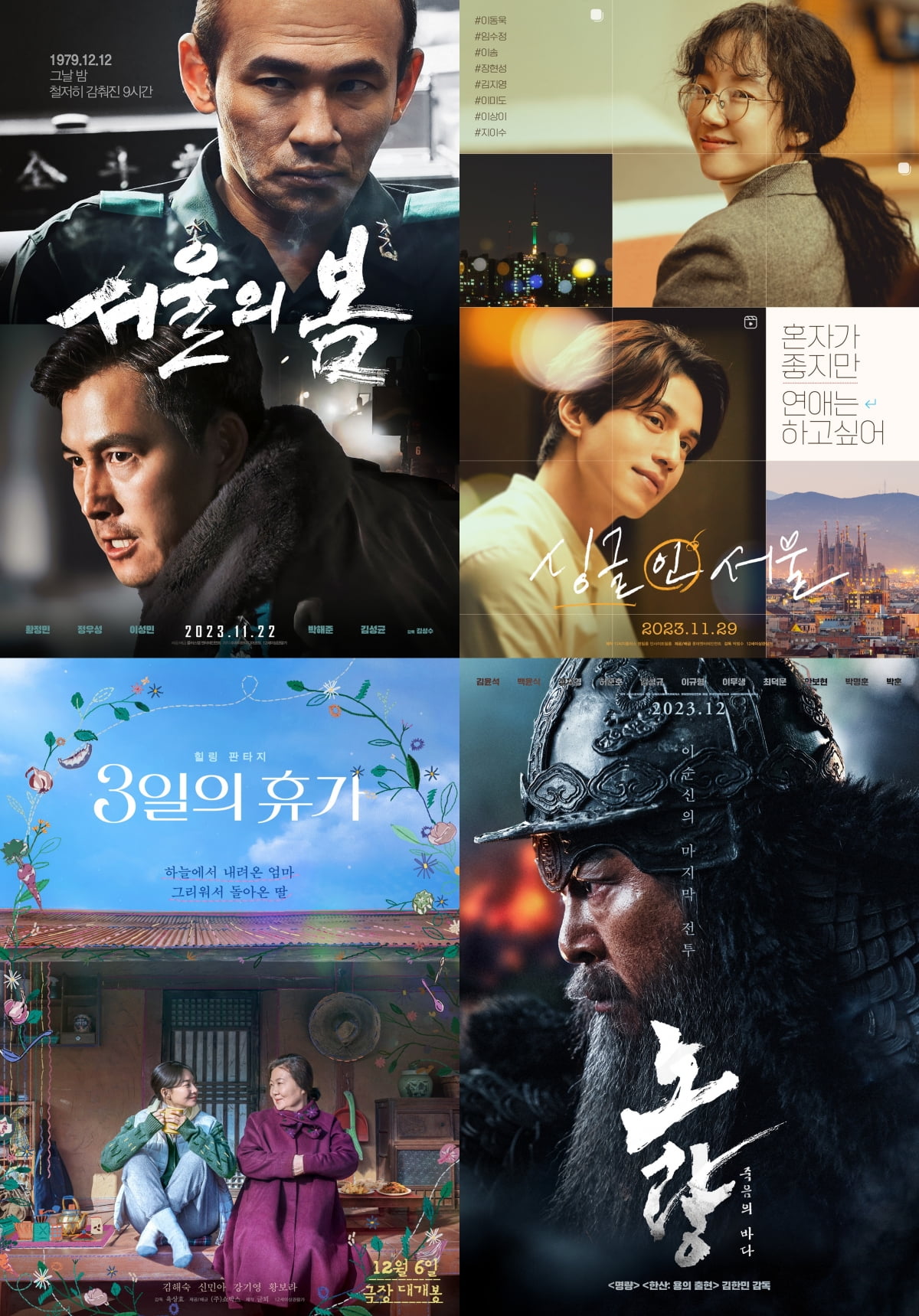 Actors Kim Hae-sook and Shin Min-a's healing fantasy film '3 Days Vacation' is attracting attention as the only healing fantasy among Korean films of various genres in theaters at the end of the year.
Korean films of various genres are scheduled to be released in theaters at the end of this year. First, in November, 'Spring in Seoul' (directed by Kim Seong-soo) and 'Single in Seoul' (directed by Park Beom-soo) meet the audience first. 'Spring in Seoul' is a movie depicting the 9 hours of desperate action to prevent a revolt by the new military forces that occurred in the capital city of Seoul on December 12, 1979, raising expectations for an intense story based on a true story. 'Single in Seoul' is a movie that tells the story of Young-ho, who likes to be alone, and Hyun-jin, the editor-in-chief of a publishing company who hates being alone, as they create a book about single life. It is a relatable, realistic romance.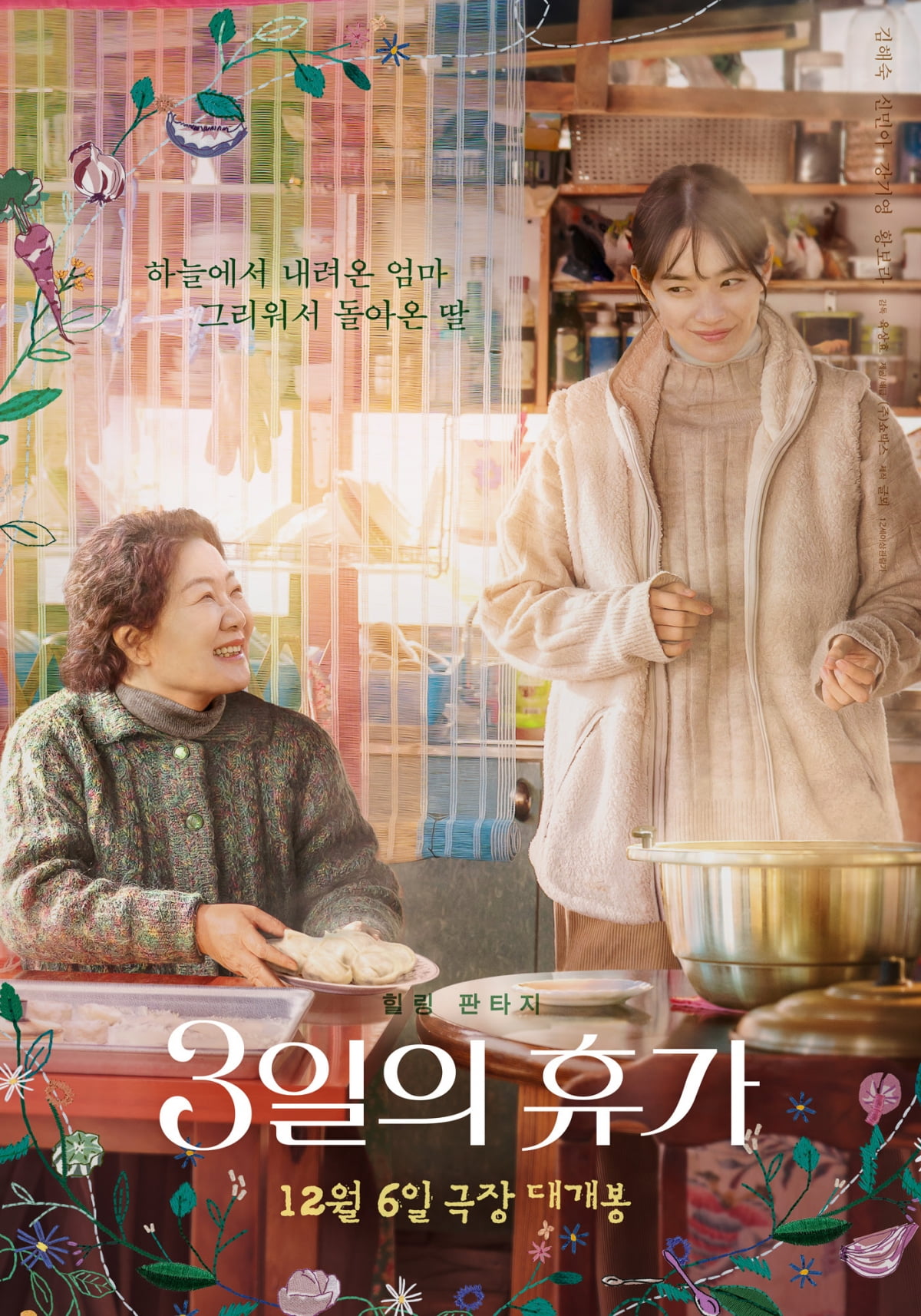 Next, the movie '3 Days Vacation' (directed by Yook Sang-hyo), which was confirmed to be released on December 6th, is the only healing fantasy film and is expected to provide a warm time to look back on the year with precious people. '3 Days of Vacation' is a healing fantasy film about mother Bok-ja (Kim Hae-sook), who is on vacation in the sky, and her daughter Jin-ju (Shin Min-ah), who runs a rice bar restaurant using her mother's recipes. It adds a novel fantasy setting to a family story that everyone can relate to, providing special healing. It makes you look forward to it.
In particular, Kim Hae-sook, who showed impressive acting in hot works such as the recent SBS drama 'Ghost' and JTBC's 'Strong Woman Gangnam-soon', and Shin Min-ah, who became an icon of healing through works such as tvN drama 'Our Blues' and 'Seaside Village Cha Cha Cha', are the first The mother-daughter chemistry shown attracts attention. Here, Kang Ki-young, who played the role of Woo Young-woo's mentor in the ENA drama 'Weird Lawyer Woo Young-woo', transforms into the role of a guide who helps Bok-ja on her vacation, and Hwang Bo-ra, who is active both on screen and TV with cheerful energy, plays Jin-ju's best friend Mi-jin. Increase synergy.
In addition, in the play, the feast of food that Jinju, the daughter who returns to the countryside and runs a restaurant, cooks using the recipes of her deceased mother, Bokja, not only delights the eyes of viewers, but also provides a time to reminisce about memories with loved ones. will be.
Lastly, 'Noryang: The Sea of Death' (directed by Kim Han-min), scheduled to be released in December, is the finale of the Yi Sun-shin trilogy project by vividly depicting Admiral Yi Sun-sin's final battle to completely annihilate the Japanese army trying to retreat from Joseon, seven years after the outbreak of the Japanese Invasion of Korea. is scheduled to be decorated.
Choi Ji-ye, Ten Asia Reporter wisdomart@tenasia.co.kr