MOVIE
Director Lee Hyuk-rae of the movie 'Yellow Door', "The 1990s were a blessing."
Interview with director Lee Hyuk-rae of the movie 'Yellow Door: Cinephile Diary of the End of the Century'
Released on Netflix on October 27th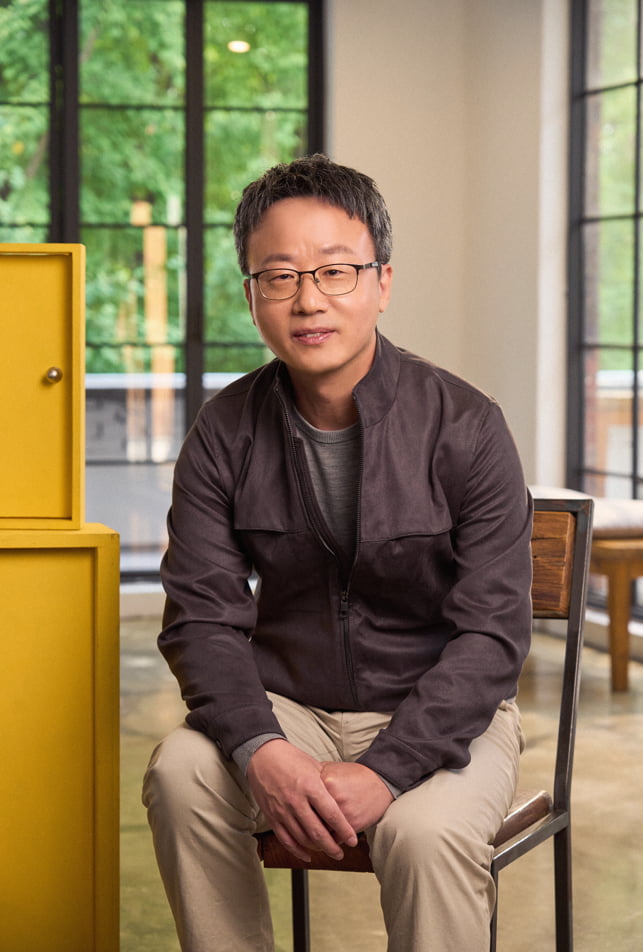 Lee Hyuk-rae, director of the documentary film 'Yellow Door: Cinephile Diary of the End of the Century', said that watching movies on VHS in the 1990s was a blessing.
On the 24th, director Lee Hyuk-rae was interviewed about the movie 'Yellow Door: Cinephile Diary of the End of the Century' at a cafe located in Samcheong-dong, Jongno-gu, Seoul.
'Yellow Door: Cinephile Diary of the End of the Century' is a documentary film that follows the memories surrounding the first short film of the young Bong Joon-ho and the era of film enthusiasts that members of the 'Yellow Door Film Institute', a community of cinephiles, recall for the first time in 30 years in the early 90s. Director Lee Hyuk-rae has directed the films 'Buzzing Afternoon' (1996) and 'Women with Sewing Machines' (2022).
Director Lee Hyuk-rae, a member of the Yellow Moon club and director, mentioned his impressions of watching Director Bong Joon-ho's first directorial work, the short animation 'Looking For Paradise', at the year-end party, and explained that that was the reason he wanted to make a movie. Director Lee Hyuk-rae said, "I wanted to see that movie again. It may have been a memory correction. It may be true that Director Bong Joon-ho didn't want to show it all because he was embarrassed. But I think I remembered that movie for 30 years in my own way. "There were some things that were different from what I remembered. It was fascinating," he said.
In the movie, actors Kim Hye-ja, Nae Sang, Woo Hyun, and editor-in-chief Joo Seong-cheol, who are not Yellow Moon members, appear as guests. Regarding the appearance of actors Woohyun and Ahn Ae-sang, "(As for casting), we casted teacher Kim Hye-ja, who happens to live across from Yellow Door. Actors Ahn Ae-sang and Woohyun have a deeper relationship with Yellow Gate than others. They are close friends with director Choi Jong-tae, who was the director of Yellow Door. "When director Choi Jong-tae was attending Yonsei University, actors Woo-hyun and Ahn Nae-sang appeared in his films. They often came to the Yellow Gate meeting," he explained.
He continued, "The most important moment was watching 'Looking For Paradise'. They both watched the movie together on the spot. Afterwards, actor Woohyun invested in 'White Man' (1994) and actor Ahn Ae-sang gave his first performance recorded on film. "I did. Actor Woohyun was an important person who even provided funding at the time, so he can't be said to be an outsider," he added.
'Yellow Door' is depicted in great detail from the scene of burning the DVD to the moment of finding the data with difficulty. This is different from the current situation where movie materials can be easily obtained. That is why the generation of the 1990s is called 'cinephile'. Director Lee Hyuk-rae said, "When making a documentary about movies, I wanted to capture something that symbolized that period. VHS was a somewhat disappointing and insufficient medium, but it was a blessing that I was able to see many movies thanks to VHS. Now, movies can be seen in theaters. "There is no difference between watching it and watching it at home, but in the early 90s, there was a world of difference. We did not release it right away, but made 1 to 3 copies of what was imported from abroad and watched the movie with that quality," he emphasized.
When asked what kind of era he thought the 1990s, which he passed through and which was probably full of nostalgia and romance, was, director Lee Hyuk-rae thought for a moment and answered: "If I were told to go back, I wouldn't want to go back. Perhaps, it was a time of great change and a time when I didn't know what tomorrow would bring. Foreign music was officially released, movies I had never seen before could be seen, and overseas travel was becoming more liberal. It was confusing, but I was lucky to have met people with whom I could create joy. The short-lived joy I had at that time was made into a movie called Yellow Door. I guess young people today are like that too. But we shared our favorite feelings, and after time passed, we made a movie called Yellow Door. "I think we can discover the value of meeting," he said, unfolding his tightly held feelings.
The movie 'Yellow Door: A Cinephile Diary of the End of the Century' will be released on Netflix on October 27th.
Reporter Ha-neul Lee, Ten Asia greenworld@tenasia.co.kr