MOVIE
6 films nominated for Best Picture at the 59th Grand Bell Awards revealed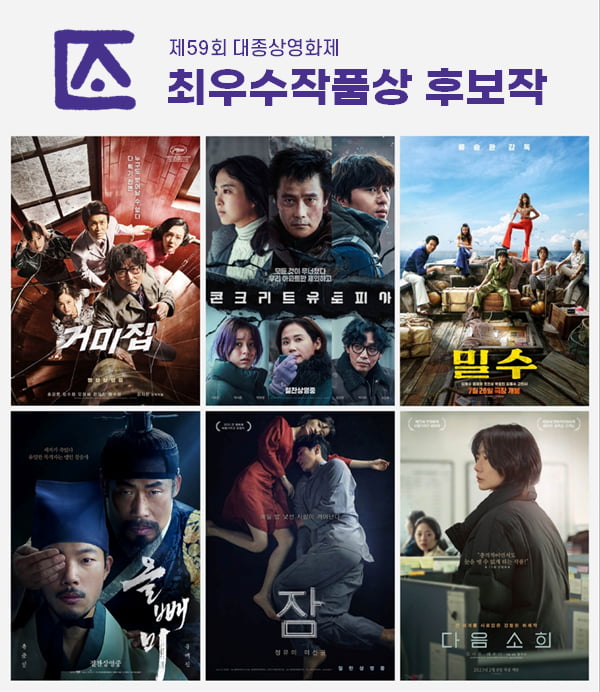 The 59th Grand Bell Awards revealed the nominees for the Best Picture Award.
The Grand Bell Awards Committee selected the Best Picture nominees for all domestic releases (including series) from October 1, 2022 to September 30, 2023 (including Chuseok releases in 2023).
This year's nominees include the films 'Cobweb' (director Kim Ji-woon), 'Concrete Utopia' (director Eom Tae-hwa), 'Smuggling' (director Ryu Seung-wan), 'Owl' (director Ahn Tae-jin), 'Sleep' (director Yoo Jae-seon), and 'Daum Sohee' Six works, including (directed by Jeong Ju-ri), passed the preliminary screening.
Lee Sang-woo, Secretary General of the Grand Bell Awards, said, "The pre-trial jury representing the domestic film industry and critics delivered to the committee the nominees for the Best Picture Award, which were selected through an independent review over the past month. The newly launched main judging panel and the 100-member national judging panel will ensure an impartial "We plan to finalize the Best Picture award through a process," he said.
The 59th Grand Bell Awards will be co-hosted with the Gyeonggi Arts Center for the first time and will be held on November 15.
Reporter Ha-neul Lee, Ten Asia greenworld@tenasia.co.kr