MOVIE
Movie 'COBWEB' perfectly recreates the 1970s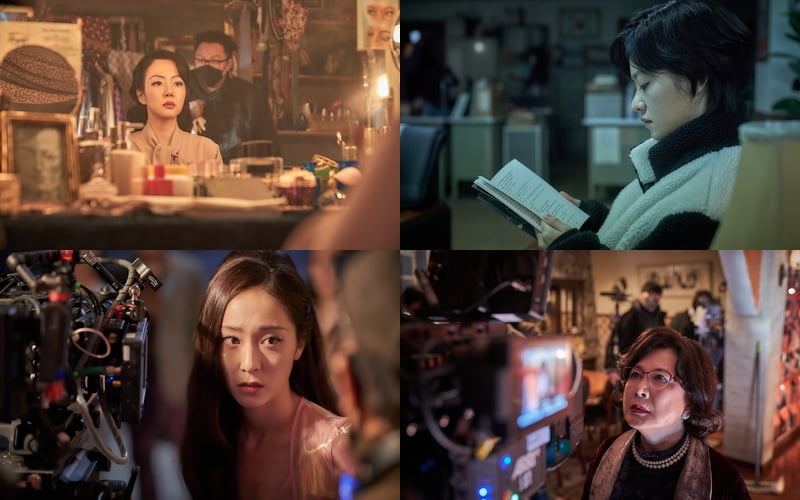 The movie 'COBWEB' (director Kim Ji-woon) released behind-the-scenes stills of actors Lim Soo-jung, Jeon Yeo-bin, Jeong Su-jeong, Park Jeong-su, and Jang Young-nam.
'COBWEB' is set in the 1970s, and director Kim Yeol (Song Kang-ho), who believes that if he just changes the ending of the movie 'COBWEB', which was already filmed, will become a masterpiece, he pushes the filming in a situation where the censorship and actors and producers who do not understand the changed content are on the verge of going crazy. A movie that tells a pleasant story.
In the released behind-the-scenes stills, Lim Soo-jung is shown as 'Immigrant', the lead actor in the movie 'COBWEB' and a veteran actor from the 1970s. Lim Soo-jung, who perfectly recreates the 70's, plans to further immerse the audience with her professionalism both when filming the movie 'Cobweb' and when waiting on set.
Jeon Yeo-bin, who plays Shin Mi-do, the successor to Shin Seong Film, the production company of 'COBWEB', appears to be concentrating on the script with a serious expression and is busy analyzing the character. Su-jeong Jeong, who plays the role of rising star 'Han Yu-rim', who monitors scenes in detail with director Ji-woon Kim, realistically completed the character of the 70s.
From Park Jeong-soo's history as the mother-in-law and veteran actor 'Mrs. Oh' to Jang Young-nam as 'Chairman Baek', who calmly talks about the reality that is different from the ideals of 'Kim Yeol' (Song Kang-ho), the representative of Shinsung Film.
It is said that Lim Soo-jeong and Jeong Su-jeong, who were called 'Big Sujeong' and 'Little Sujeong' at the filming site, boasted extraordinary chemistry. Lim Soo-jeong said, "I thought it would be nice to work together someday, and it was really nice to see that we appeared as the same actor in the movie 'COBWEB'. I am very excited because I think he is a junior who can show good acting in better works in the future. "It will happen," he said.
Jeon Yeo-bin said about Jang Young-nam, "We worked together so well that I felt an animalistic sense that we had something in common from the first filming. I had an exciting experience creating a new chemistry with 'Chairman Baek' as the thrilling sparks continued to clash."
Lim Soo-jung said about Park Jeong-soo, "As the best adult on set, the teacher took good care of not only the actors but also each and every staff member, and created a friendly atmosphere on set." In addition, Jeong Soo-jeong gave high praise, saying, "Teacher Jeong-soo Park is really lovely. He is very nice and charismatic."
The movie 'COBWEB' will be released on September 27th.
Reporter Ha-neul Lee, Ten Asia greenworld@tenasia.co.kr