ENTERTAINMENT
Jo Min-ah, cervical lumbar injury in car accident… son, concussion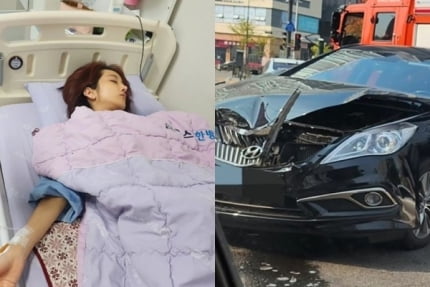 Cho Min-ah, a former jewelry worker, was involved in a traffic accident caused by a speeding car.
On the 4th, Jo Min-ah said, "I was involved in a car accident caused by a speeding car in an alley. "My fortune told me to be careful of car accidents that day, but I never thought I would get into an accident with the car I briefly rode on my way to school."
He continued, "Our precious powerhouse vomits more than 12 times a day due to concussion symptoms and has diarrhea continuously while playing. "I'm the only one who gets hurt and I should be the only one who hurts, but my heart is torn because the baby is hurting," he added.
Jo Min-ah said, "I am unable to sit or walk due to injuries to my cervical and lumbar spine, and I am suffering from extreme pain in my pelvis, knees, wrists, and ankles. My head is spinning, indigestion, and headaches are so severe that I have been suffering for nearly two weeks. "He said.
"I am sick with the baby, so even after being hospitalized, I have no time to take care of myself because I have to keep looking after the baby, but I hope the baby recovers quickly and doesn't get sick. "Please pray and support Kang Ho and I so that we can be healthy and happy again."
Jo Min-ah added hashtags such as "Morning way to school," "Traffic accident," "Lightning," "Please don't hurt me," "I'm in so much pain," "I've made a big mistake," and "Now let's just walk on the flowery path, baby."
Ryu Yae-ji, Ten Asia Reporter ryuperstar@tenasia.co.kr