ENTERTAINMENT
Han Ji-hye raps rapidly after seeing Moon Sang-min's 'Shroop' in person, "He's tall, handsome, and stands out."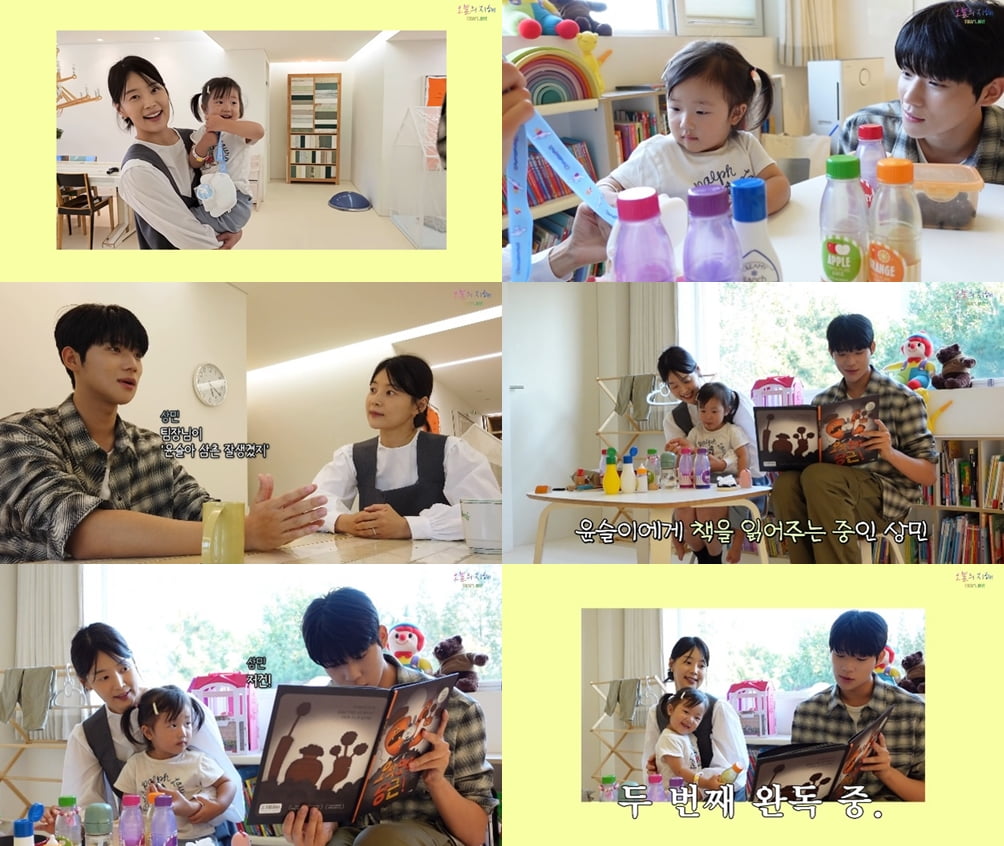 A special meeting between actors Han Ji-hye and Moon Sang-min took place.
It was revealed that Moon Sang-min, who had always loved Han Ji-hye's daughter, visited Ji-hye Han's house and had a friendly conversation with her.
On the 20th, a video titled 'The identity of the handsome older brother who came to visit shy 27-month-old Yoon Seul (feat. Actor Moon Sang-min)' was released on actress Han Ji-hye's YouTube channel 'Han Ji Hye'. In the video, Han Ji-hye said that she first saw rookie Moon Sang-min at her agency's year-end party and showered him with praise, saying, "He was tall, handsome, and stood out." He then said that he enjoyed watching the drama 'Shroop' in which Moon Sang-min appeared, without skipping a single episode, and also expressed his warm affection for his junior.
Han Ji-hye's 27-month-old daughter, Yoon Seul, played a big role in the meeting between the two senior and junior actors. A chance meeting in front of the house led to an invitation to Han Ji-hye's house, building a close relationship between seniors and juniors. Yoon-seul, who was shy, couldn't even look at Moon Sang-min for a while, making the viewers smile. However, Moon Sang-min, who read the book several times without giving up, finally succeeded in opening Yun-seul's heart, and at the end, they gave her a high five, giving her a heartwarming appearance as they became closer.
Meanwhile, Han Ji-hye recently made a special appearance in the Disney+ original series 'Han River', playing the role of 'Eun-sook', the sister-in-law of Kwon Sang-woo (played by Han Doo-jin), and received a positive response from viewers as she returned to her main job after a long time. The character, who lost her husband in an unexpected accident and is raising her son alone, was portrayed with detailed emotional expressions, increasing immersion. On the other hand, through KBS 2TV's entertainment show 'Newly Released Restaurant', he is meeting viewers with a more friendly and down-to-earth charm. Han Ji-hye, who shows not only high-level cooking skills but also the aspect of a 'childcare expert', won the championship with the 'Bulgogi Udon Hotpot' recipe in the 196th broadcast, and is gaining popularity as it is released as a convenience store product and meal kit.
As such, expectations are high for Han Ji-hye's future activities, who are actively communicating with the public through social media as well as appearing in dramas and entertainment shows.
Ryu Yae-ji, Ten Asia Reporter ryuperstar@tenasia.co.kr