ENTERTAINMENT
Actor Kim Young-dae held a knife in Pyo Ye-jin's arms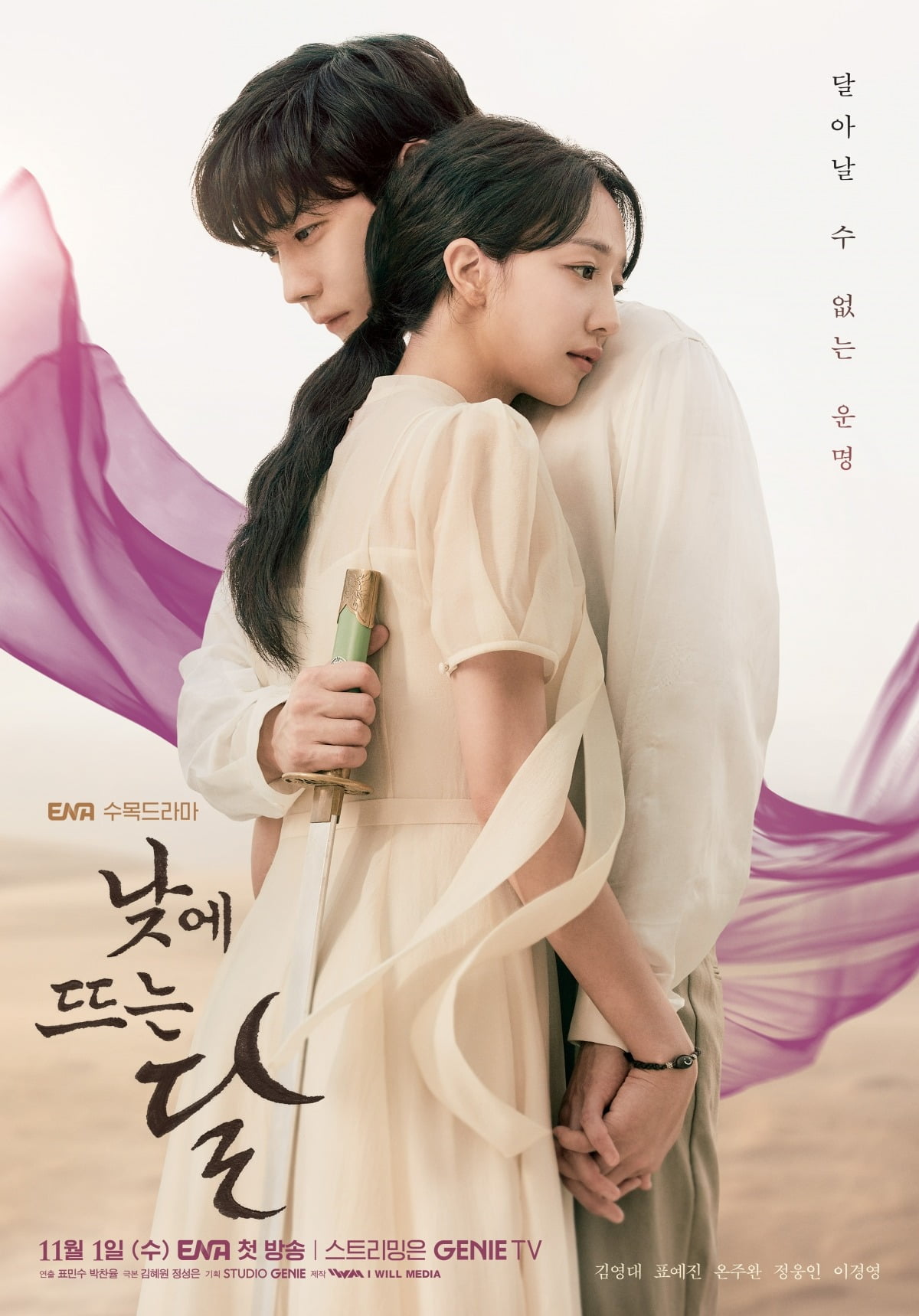 The main poster for 'The Moon Rising During the Day' has been released.
ENA's Wednesday-Thursday drama 'Moon Rising During the Day' is a dangerous and heartbreaking reincarnation romance between a man whose time has stopped after being murdered by his lover, and a woman who has lost her memories of her past life and has passed on indefinitely.
The released main poster depicts Han Joon-oh (Kim Young-dae) and Kang Yeong-hwa (Pyo Ye-jin) with a poignant emotion. First, the sight of Kang Yeong-hwa leaning on Han Jun-oh's broad shoulder with a faint look on his face attracts attention. In addition, the two hands holding each other's faces create excitement and foretell a sad romance between the two. Next, the face of Han Jun-oh, lost in thought while holding Kang Young-hwa tightly in his arms with one arm, catches the eye. While the deep eyes and facial expressions touch the heart, the sword held in the hand holding the loved one creates a strange atmosphere. In particular, unlike the two people wearing modern clothes, the sword, which appears to be an item from the Silla period, hints at their unbreakable relationship from 1,500 years ago, like the copy "A fate that cannot be escaped," and stimulates curiosity about the narrative that will unfold in the future.
Meanwhile, in 'The Moon That Rises During the Day', Kim Young-dae and Pyo Ye-jin attract attention by playing two roles, Han Jun-oh/Do-ha and Kang Yeong-hwa/Han Rita, respectively. The two play the roles of Doha, a Silla general who took the lead in destroying Gaya, and Hanrita, a Gaya nobleman who survived as the lone survivor. They are expected to bring tears to the eyes as they portray a former lover who meets a tragic end as a result of falling in love when he should not. . Trapped in an endless cycle of reincarnation, they meet top star Han Jun-oh and miracle firefighter Kang Yeong-hwa, and become entangled in an unexpected accident, raising expectations for a full-fledged hateful romance.
ENA's Wednesday-Thursday drama 'Moon Rising During the Day' will be aired for the first time on ENA Channel at 9pm on Wednesday, November 1, following 'Kidnapping Day'.
Ten Asia Reporter Kim Seo-yoon seogugu@tenasia.co.kr