ENTERTAINMENT
YG Treasure successfully completes Fukuoka fan meeting tour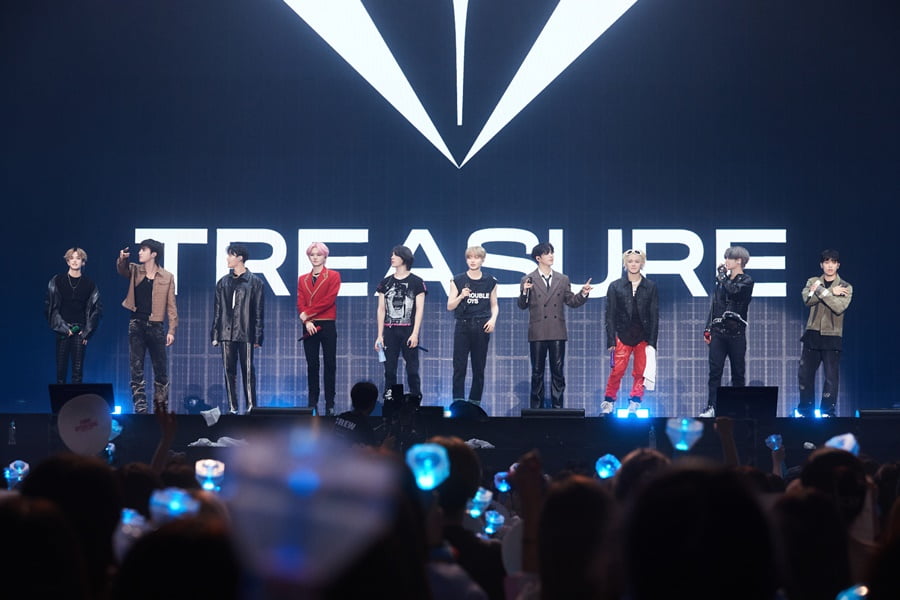 YG Treasure got off to a good start by heating up Fukuoka, the first city of their Japanese fan meeting tour.
Treasure held '2023 TREASURE FAN MEETING~HELLO AGAIN~' at the Fukuoka International Center on the 1st and 2nd. It was a brilliant start to Japan's first fan meeting tour, which boasted 5 cities and 20 meetings.
As it is being held in Fukuoka, member Haruto's hometown, this fan meeting has already received attention from local fans. Accordingly, amidst fierce competition, all tickets were sold out the day before, and thanks to fans' requests, additional tickets were quickly sold out, demonstrating explosive local popularity.
The fan meeting on this day became an even more special memory as Haruto and Asahi served as MCs. He told various stories, starting with his impressions of visiting Fukuoka for the first time in 10 months. It became more familiar to fans through various corners such as quizzes related to the 'TREASURE WORLD MAP', which contains the journey of the first Japanese arena tour, and team battle games.
In addition, the concert-like scale and rich set list raised the excitement of the concert hall to its peak. The members appeared on a moving car and went around every corner of the audience singing 'LOVESICK' and 'Here I Stand'. Next, they thrilled fans by presenting a parade of hit songs, including the title song 'BONA BONA' from their 2nd full-length album, which was loved by sweeping the top spots on music album charts such as Japan's Line Music, Oricon, and Billboard Japan.
Treasure said, "I was nervous because it was my first fan meeting, but seeing the smiling faces of the fans made me lose track of time and had fun. I am happy because I feel like I have become friends with the fans as we communicate closely. We will work hard to create more memories in the future." I said thank you.
Following Fukuoka, Treasure will be held at Hyogo Prefecture Kobe World Memorial Hall from September 8 to 10, Yokohama Pia Arena MM from September 16 to 18, Nagoya Aichi Prefecture International Exhibition Center from September 23 to 24, and September 30 to October. On the 1st, they move to Tokyo Ariake Arena. Then, on November 12th, the finale will be held at Tokyo Dome, known as the stage of dreams.
Meanwhile, Treasure recently released its 2nd full-length album 'REBOOT' and is actively engaged in activities. The album's domestic sales and overseas exports combined exceeded 1.71 million copies (based on Circle Chart), making it the first album to become a million-seller. Building on the momentum, it is expected that the music video and newly arranged sound source of the b-side song 'BOMB' will be released in September, sparking a surge in popularity.
Ryu Yae-ji, Ten Asia Reporter ryuperstar@tenasia.co.kr