ENTERTAINMENT
Lee Dong-hwi and Jung Ho-yeon laughed at the challenge, just appearing in the heart.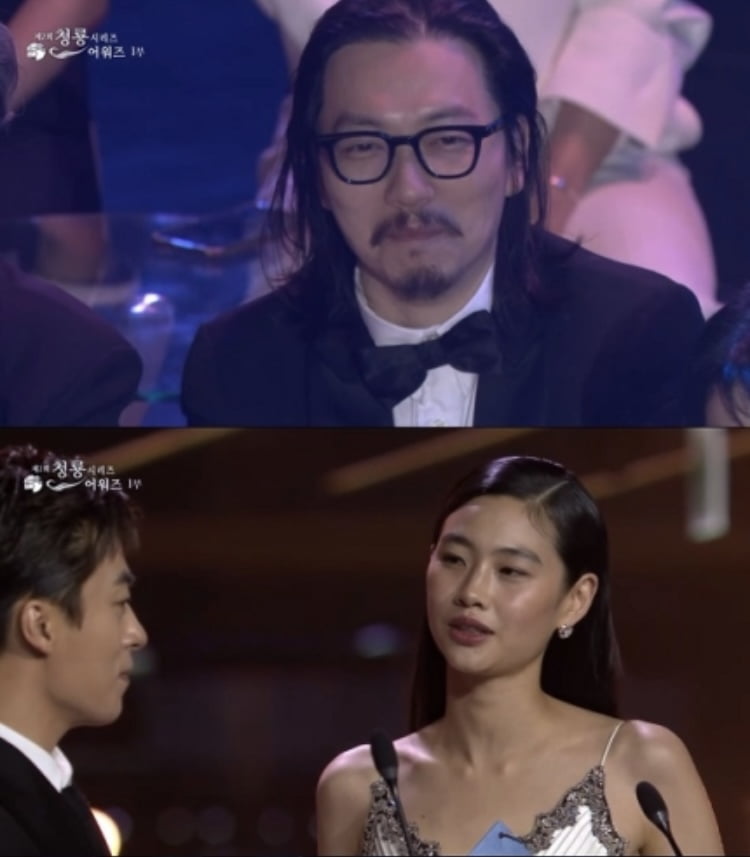 Actor Lee Dong-hwi smiled heartily when he saw his lover, model and actor Jeong Ho-yeon.
On the 19th, at the 2nd Blue Dragon Series Awards held at Paradise City, Yeongjong-do, Incheon, Kyo-hwan Koo and Ho-yeon Jeong attended as the presenters of the New Male and Female Actor Awards.
On this day, when Jeong Ho-yeon appeared as the presenter, Lee Dong-hwi looked at him with a smile on his lips.
Jeong Ho-yeon congratulated Koo Kyo-swan, saying, "Senior, I heard that you were promoted in season 2 of 'DP'." Koo Kyo-hwan created a warm atmosphere by replying, "It's not long before the discharge. Please look forward to it."
Jeong Ho-yeon said, "As a 'DP' fan, I will work hard to cheer for her." Koo Kyo-hwan said, "If there is a wish, I would like to come to this place with Ho-yeon by doing the same work."
In response, Jeong Ho-yeon made a mistake, saying, "Me too. I'm also at the Best Picture Award with my seniors." At this time, Lee Dong-hwi laughed at Jeong Ho-yeon's mistake.
Koo Kyo-hwan replied, "It would be nice to receive the Best Picture award as well."
Meanwhile, Lee Dong-hwi and Jung Ho-yeon have been openly dating for eight years.
Reporter Ryu Ye-ji and Ten Asia ryuperstar@tenasia.co.kr