ENTERTAINMENT
Actor Shim Hyeong-tak changed clothes 4 times in 4 hours only for his wedding with his wife Saya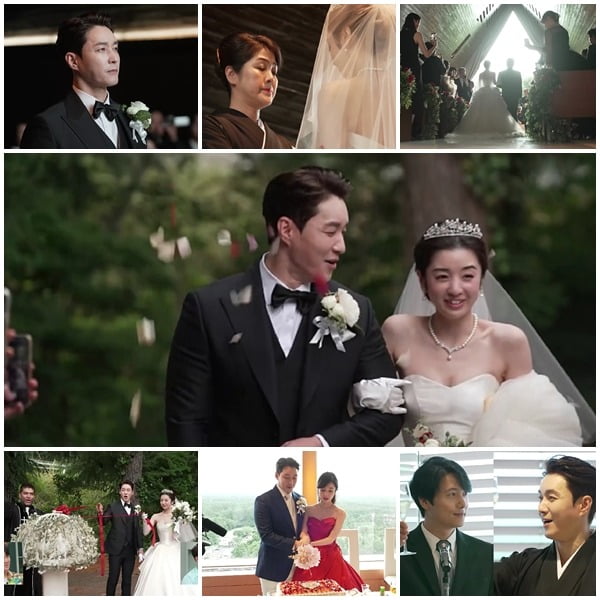 The scene of Shim Hyung-tak's 'Japanese wedding' will be revealed for the first time on air.
In the 76th episode of Channel A's 'Men's Life These Days - Groom's Class (hereinafter referred to as 'Groom's Class'), which airs on the 9th, actor Shim Hyung-tak visits the hometown of his 'Japanese wife' Saya Hirai and holds a wedding ceremony amid everyone's blessings.
Shim Hyung-tak, who appeared in the studio that day, showed off the ring on the fourth finger of his left hand and boasted, "We finally got married in Japan." Subsequently, the scene of Shim Hyung-tak's wedding in Japan is revealed through a video, and 'mentor' Lee Seung-cheol, who saw it, praised Shim Hyung-tak's tuxedo look, saying, "It feels like a Japanese actor." Shim Hyung-tak immediately said, "I am a face that can be eaten (?) in Japan" and exudes a "sense of hard work", making the studio a sea of laughter.
With the wedding ceremony finally starting at a wedding hall with a fantastic view of Mt. Fuji, the 'groom' Shim Hyung-tak proudly appears and the bride's entry sequence continues. At this time, Saya's mother approaches her daughter and makes those who watch the special Japanese meal together cry. Also, when the figure of the father walking down the wedding road holding Saya's hand came out, Lee Seung-cheol said, "Our eldest daughter is 34 years old. It's something I have to do if I have a little bit," he says with anguish.
When the ceremony was over, Shim Hyung-tak said, "It's just the beginning." These days, it has been simplified, but my father-in-law is a person who values tradition, so I did everything." In fact, Sim Hyung-tak and his wife stand in front of the guests in four different outfits, including the wedding dress, kimono, and hanbok, following the main ceremony. In addition, at the reception, a cartoon theme song plays as the background music, and Shim Hyung-tak's 'best friend actor' Lee Sang-woo also participates in the 'Friendship Congratulatory Speech', surprising everyone. Shim Hyung-tak immediately bursts into tears at Lee Sang-woo's heartfelt congratulatory speech, and when the special moment prepared by his father-in-law for the 'Korean son-in-law' unfolds, he eventually sheds tears that he cannot control.
Kim Seo-yoon, staff reporter seogugu@tenasia.co.kr