ENTERTAINMENT
Hanhae, a rapper, enters a new apartment without loan after living in Seoul for 10 years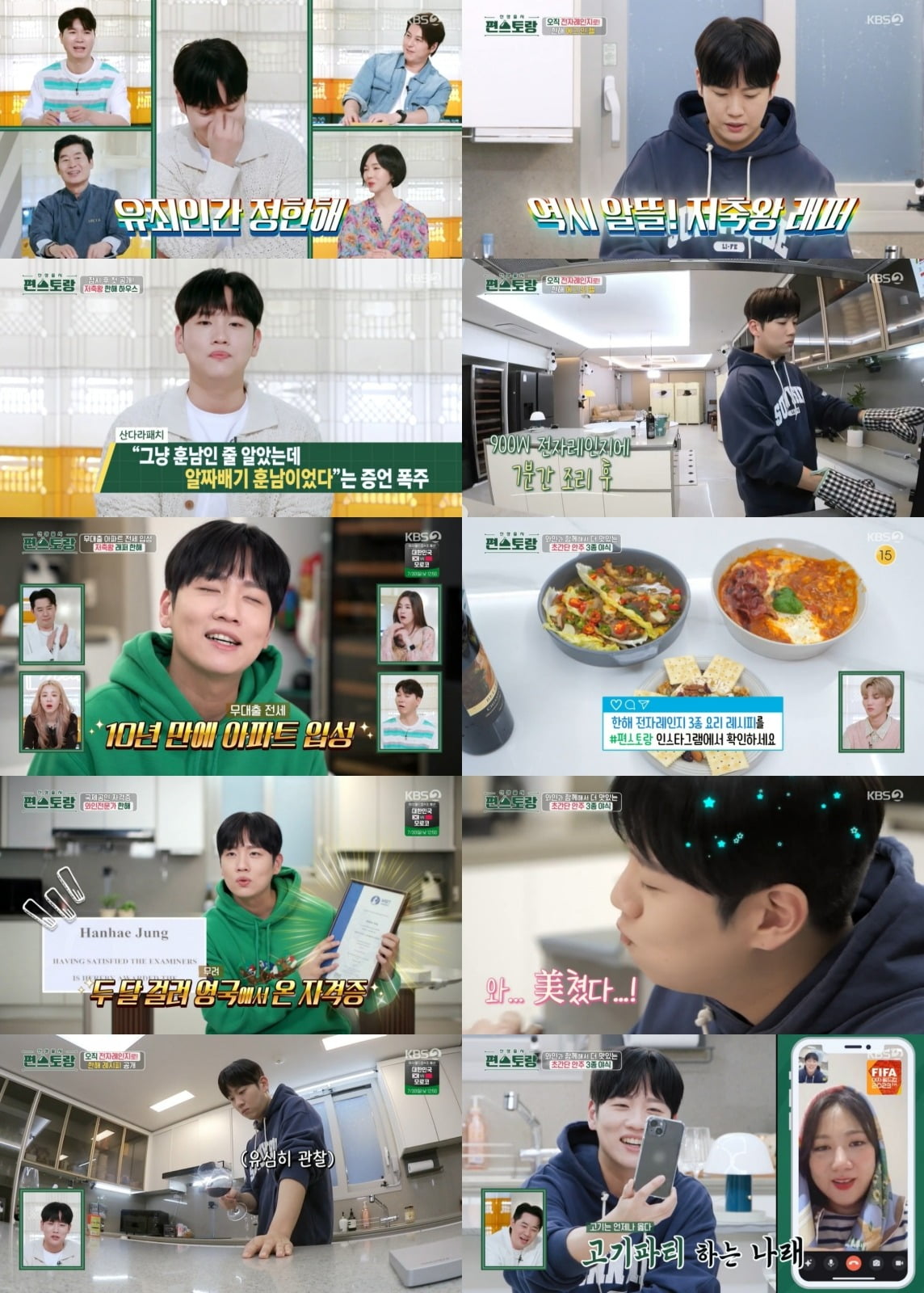 Rapper Hanhae showed off his unexpected charm.
According to Nielsen Korea, a ratings research company on the 29th, KBS 2TV's 'Pyeonstorang' (hereafter referred to as 'Pyeonstorang'), which aired the previous day, recorded a nationwide rating of 5.2%, up from the previous week. On this day's broadcast, Hanhae, who had been with 'Pyeon Restaurant' as a special MC, threw a vote to become a special chef. Hanhae, who is famous for being well versed in wine to the extent that he even acquired an internationally recognized license, introduced super-simple side dish dishes that are perfect for wine. In this process, we were surprised by the reveal of the guilty person Hanhae, which we did not know. I thought he was just a handsome man, but he was a proper young man.
On this day, Hanhae finished his schedule late at night and returned to his recently moved house. It is a newly built apartment boasting a spacious living room and even a niche view of the Han River. On one side, there is a wine cellar that stores precious wines of the year. Hanhae took out 5 paper bankbooks and said, "It's a little embarrassing, but it's my product. Because I don't believe in getting rich quick, I didn't do stocks or coins, I saved as much as I earned and took a pension," he said.
Hanhae continued, "In Seoul, I moved to a semi-basement, a gosiwon, and a studio. Then, for the first time in my life, I robbed all of this bank account and came to an apartment without a loan," he said with a proud smile. One year, he entered a new apartment on a chartered basis with no loan after living in Seoul for 10 years. In the face of a healthy year, the 'Pyeonstorang' family poured out admiration and praise, saying, "He is a healthy young man" and "The Savings King rapper is unrivaled."
The healing point of the year of the young man is to return home after a schedule and enjoy your favorite wine with delicious food. On this day, after choosing the wine I wanted to eat, I started making snacks that fit it. Hanhae expressed his confidence, "I'm not as good at cooking as other side chefs, but I have my own recipe." And Hanhae's confidence was proven by his simple yet stylish side dishes.
Hanhae made Egg in Hell, a snack that captivates the taste buds of the MZ generation, with simple ingredients such as frozen dumplings, tomato sauce, milk, eggs, and bacon. I also made braised pork feet and cabbage using leftover vegetables and pork feet that I had delivered the day before and kept in the refrigerator. A simple brie cheese grill was also completed. What drew attention was that Hanhae made all three of these side dishes in a microwave oven without cutting or using fire. Chef Lee Yeon-bok also praised Hanhae's unique cooking sense, saying that he is accustomed to microwave cooking as he lives alone.
A year in which I enjoyed healing while eating my favorite wine and delicious snacks that go well with it. Then the cell phone rang. Hanhae's best friend Park Na-rae contacted Hanhae to recommend wine to eat with her best friends. Usually, celebrities such as Shin Dong-yeop and Park Na-rae also receive wine recommendations from Hanhae. 'Pyeon Restaurant' MC Boom manager also said that he drank wine after being recommended by Hanhae, and said, "It was really delicious", certifying Hanhae's wine ability.
Kim Seo-yoon, staff reporter seogugu@tenasia.co.kr