ENTERTAINMENT
"CEO touches important parts" Seven adult pictorial models complain of damage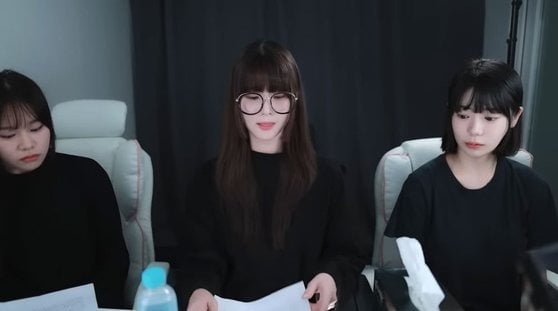 Adult pictorial models revealed that they had suffered from habitual sexual assault and sexual harassment by their agency representatives. The representative is said to be denying the allegation.
Adult pictorial model Kang In-kyung recently revealed through a live broadcast on her YouTube channel that Mr. Jang, CEO of Art Gravia, an adult pictorial production company, has been continuously sexually assaulting a number of affiliated models. On this day's broadcast, Jangju, Uyo, and Sira, models from Art Gravure, who filed a complaint against Jang to the police, appeared together to reveal the details of the damage.
Jangju said, "For a long time, I was habitually victimized by crimes such as forced harassment, pseudo-rape, and rape by the representative of Art Gravure." Since the first damage, it has been suffered for a long time, so it has been suffered many times."
Jangju said, "In a filming that took place at a hotel in Gyeonggi-do around February 2020, CEO Jang said, 'Lie down with your legs on the bed' during filming." revealed He explained that whenever CEO Jang tried to molest him, he expressed his displeasure and refused, but this behavior continued.
"CEO Jang tried to justify his actions by saying, 'I'm helping you to shoot well. Close your eyes and feel it. Why don't you just think of me as your boyfriend and enjoy it?'" "It's not good, I just helped. I don't do that to other models. This is a secret between the two of us. You should never tell anyone else."
Uyo also revealed that he had been sexually harassed and said, "Every time I was subjected to these kinds of acts, I clearly expressed my intention to refuse. Even so, the CEO said, 'It's hard if you refuse in this way. I would never do this with other models. I'm doing this because you're special," he said over and over again."
"I've been living with the thought that 'if I just endure it, nothing will happen', but when I think about the contract period, I think a lot of 'will I just die?'" he said. And, I couldn't say it because I was afraid of the hakoji who would come to my house and do it."
Shira confessed, "I've also suffered multiple damages over a long period of time. I was raped several times, and when I rebelled, they suppressed me."
Currently, in addition to these, 7 former and current models who worked at Art Gravure are exposing the fact of damage through social media. Jangju and Kang In-kyung claimed that minors were included among the victims. The video also conveyed the voice of the minor testifying to the fact that he was victimized.
On the 21st, they filed a complaint against Jang on charges of habitual rape, habitual similar rape, habitual forced harassment, and illegal camera shooting.
Reporter Ryu Ye-ji and Ten Asia ryuperstar@tenasia.co.kr