TV
Lee Yeon-kyung, "My assistant director husband said he was a celibate, but only got married for 6 months."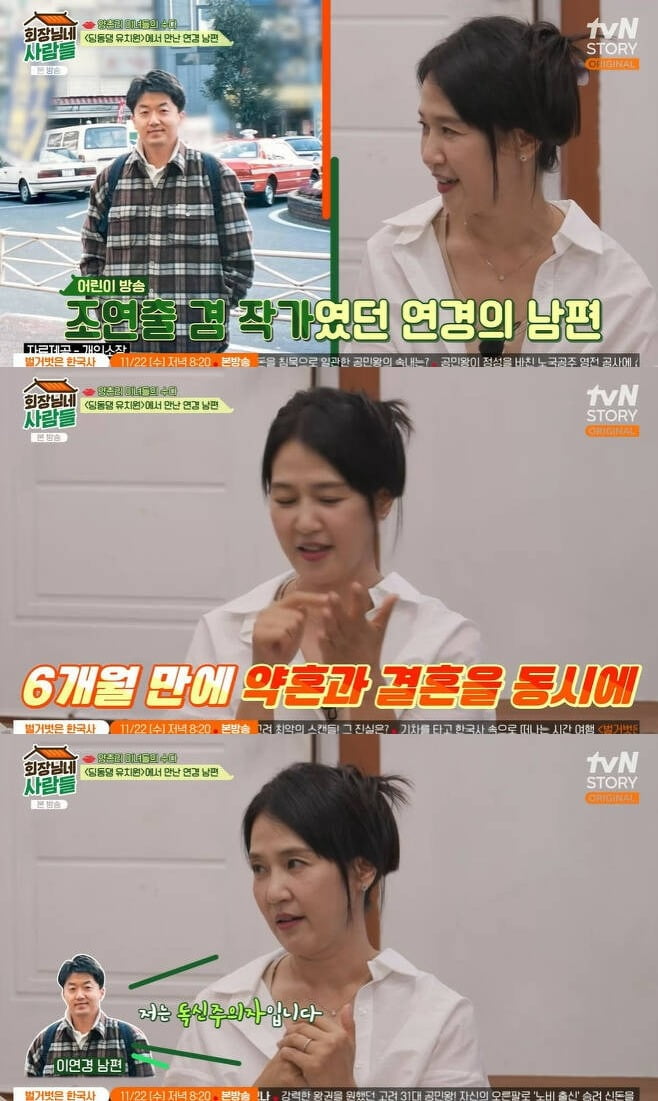 Singer Lee Yeon-kyung revealed her love story with her husband.
Singers Lee Yeon-kyung and Won Mi-yeon appeared as guests on the tvN STORY entertainment show 'The Chairman's People', which aired on the 20th.
On this day, Lee Yeon-kyung said, "I got married when I was 26," and that her husband was an assistant director and writer at EBS' 'Ding Dong Dang Kindergarten' at the time. He said, "We ran into each other every time we came to the broadcasting station. There was only one coffee vending machine on the second floor in the broadcasting station, and I encountered it there. "We met naturally while drinking coffee and got engaged and married at the same time six months later," he recalled.
He then said, "He said he was a celibate. I was young at the time, so we met without any pressure, but one day, after eating, he said he had somewhere to go and asked me to go home. "I said no because it was burdensome, but he said, 'I just need to show my face to my mom,' so we met and said hello and came out, and the marriage story came up the next day."
Singer Won Mi-yeon said she met her husband, who was a broadcasting station engineer at the time, while hosting a traffic broadcast in Busan. "Usually, when people ask a question, they get an answer, but my husband just nodded. "I was curious about his voice because he didn't speak," he said. Also, I needed to find a house in Busan, but I didn't know the geography, so I asked my husband if he knew any real estate nearby, and the next day, he pulled out a list of real estate properties by neighborhood. "My husband drove me and took me to look at the house." Thanks to my husband, I found a house in Busan. "I didn't know the Busan accent well, so I acted as a manager," he said.
He said, "Around that time, hearts started to appear in my eyes. My father developed pneumonia and was admitted to the intensive care unit the next day. The father's wish was for his eldest daughter to get married. "To give him strength, I declared, 'Dad, I will overcome this illness, be discharged from the hospital, and I will marry Chief Park,'" he said.
Taeyuna, Ten Asia Reporter youyou@tenasia.co.kr