TV
Wife who squandered 80 million won in loan without her husband's knowledge says, "Unlucky"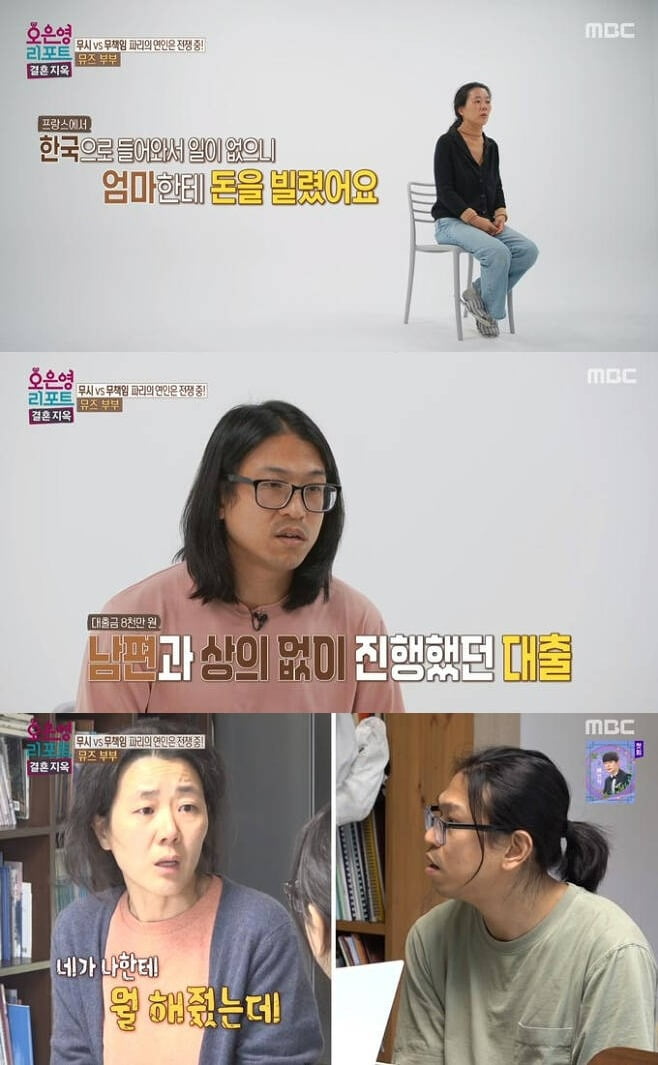 The 'Muse couple' showed serious conflict over an 80 million won loan.
On MBC's entertainment show 'Oh Eun-young Report - Marriage Hell', which aired on the 20th, Taiwanese husband Chen Wei-chi and his Korean wife Jang Ju-yeon, who have been married for 8 years and have decided to get married because they love the sound of the piano, appeared on the show. They were a musician couple, with the husband majoring in piano accompaniment and the wife majoring in flute.
My husband was a talented musician who graduated at the top of his class from a world-famous music college. However, he came to Korea for his wife, and was currently selling online lecture videos of his music school friends who had become professors to make money.
The wife complained of financial difficulties, saying, "I have only received 3 or 4 paychecks. We had almost no income during our marriage." Her husband even sent her 1.1 million won more than her monthly salary of 4.5 million won. In response, the husband said, "The daily transfer limit for my Taiwanese bank account was 2.8 million won. So, every time the transfer limit was lifted, I sent 2.8 million won." The reason for sending more money than his salary was, "Because my wife likes me when I send more. I don't have enough money for my wife." "I kept transferring money as much as I could because they gave it to me. My bank account is going into negative territory," he said.
The two were also in a situation where they had to repay a loan of 80 million won taken out in the name of the wife's mother. The wife said, "I had no work since I came to Korea, so I borrowed money from my mom. My mom took out a house mortgage and borrowed 100 million won, and she took 20 million won and sent me 80 million won." My husband was at a loss, saying, "It may be several decades, but I have to keep repaying the 600,000 won."
The wife even tried to start a lodging business by building a house with money borrowed from her mother, but said, "I couldn't do it because I didn't have enough money, so I ended up using it for living expenses." He spent 80 million won, including 10 million won on a trip to Australia, 15 million won on car payments, 10 million won on a fence, and 20 million won on clearing the ground to build a house.
The wife said, "I didn't spend the money to do that in the first place. I was trying to make money here," and to her bewildered husband, she said, "Then you can take out a loan and get some money. If I say one word, you talk more. That's really unlucky." He even hurled insults at me. When my husband became frustrated and said, "I'm talking about it because I have to pay it back. Why don't you talk about it when you have to pay it back?" he sobbed and said, "You're like XXX! What did you do for me?"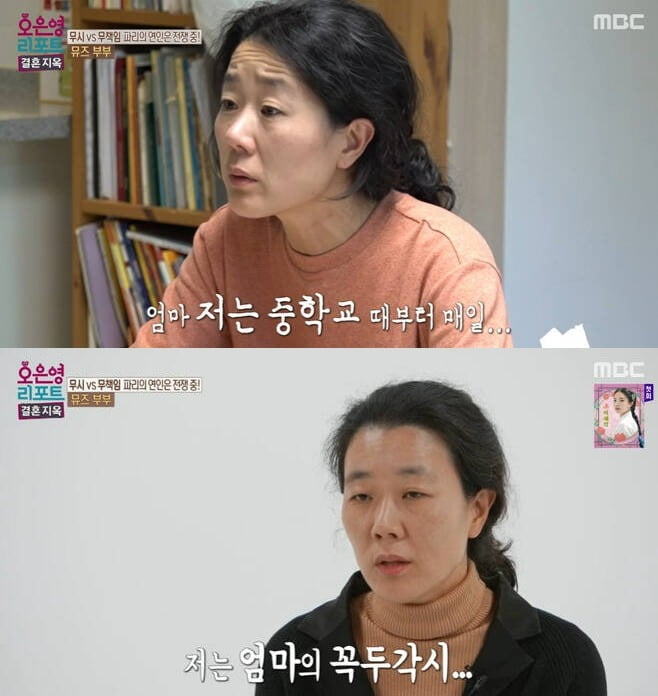 The wife said that it was difficult to separate from her mother since she was young and that she "slept with my mother until I got married." The wife complained that even the son she gave birth to must be raised according to the mother's wishes, saying, "I am like my mother's puppet."
In an interview with the production crew, the wife said, "My mother is flashy and thinks it's important to be seen by others. I majored in music, which she liked, but she turned her back on me because I couldn't get into the university she wanted. She did that because she wanted to get what she wanted from me. "I think so. I'm not interested in what I like or dislike," he said.
At the same time, the wife shocked the mother by saying, "I've wanted to die every day since middle school," and "When I open my eyes, all I want to do is go out and die," and even attempted self-harm as a child.
Taeyuna, Ten Asia Reporter youyou@tenasia.co.kr