TV
Park Ji-hoon, slightly lowered charming bangs... Dual personality in 'Fantasy Sonata'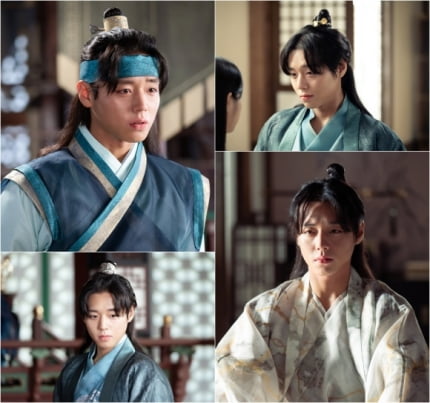 Actor Park Ji-hoon appears as the two-faced prince.
The production team of KBS2's new Monday-Tuesday drama 'Fantasy Sonata' (written by Yoon Kyeong-ah, directed by Lee Jeong-seop) released the first still cut of Park Ji-hoon on the 21st. In particular, the contrasting moods of the two personalities representing light and darkness, as well as the dignity and beauty of a country's crown prince, capture attention.
'Fantasy Love Story', based on the popular webtoon of the same name, is a fantasy historical drama romance between a man with two conflicting personalities and the woman who loves him, between fresh love and fierce obsession.
Park Ji-hoon plays two characters, Prince Sajo-hyeon and Ak-hee, and plays two roles for the first time since his debut as an actor. Sajo Hyeon, who has beautiful visuals and a smart brain, works as a fashion designer in a low-street clothing store while hiding his identity. His other personality, Ak-hee, is a person who has the talent to charm people, but is cursed to feel pain as if his entire body is being torn apart when touched.
I wonder what kind of story a man with two completely opposite personalities will create as he becomes entangled with the people around him, and what will happen at the end of the acute conflict that arises within him.
In addition, expectations are also rising for the special and heartbreaking story with Yeonwol (Hong Ye-ji), a descendant of a fallen dynasty who lives as an assassin and unknowingly becomes the crown prince's concubine.
Attention is focused on what kind of performance Park Ji-hoon, who has been recognized for his solid acting skills in 'Weak Hero' and 'Blue Spring from a Distance', will show in 'Fantasy Sonata'.
'Fantasy Sonata' is the sequel to 'Wedding Battle' and will first air in January 2024.
Ryu Ye-ji, Ten Asia Reporter ryuperstar@tenasia.co.kr