TV
Jay's son, Junbeom, was the grandson of a rich man with 900 pyeong of land.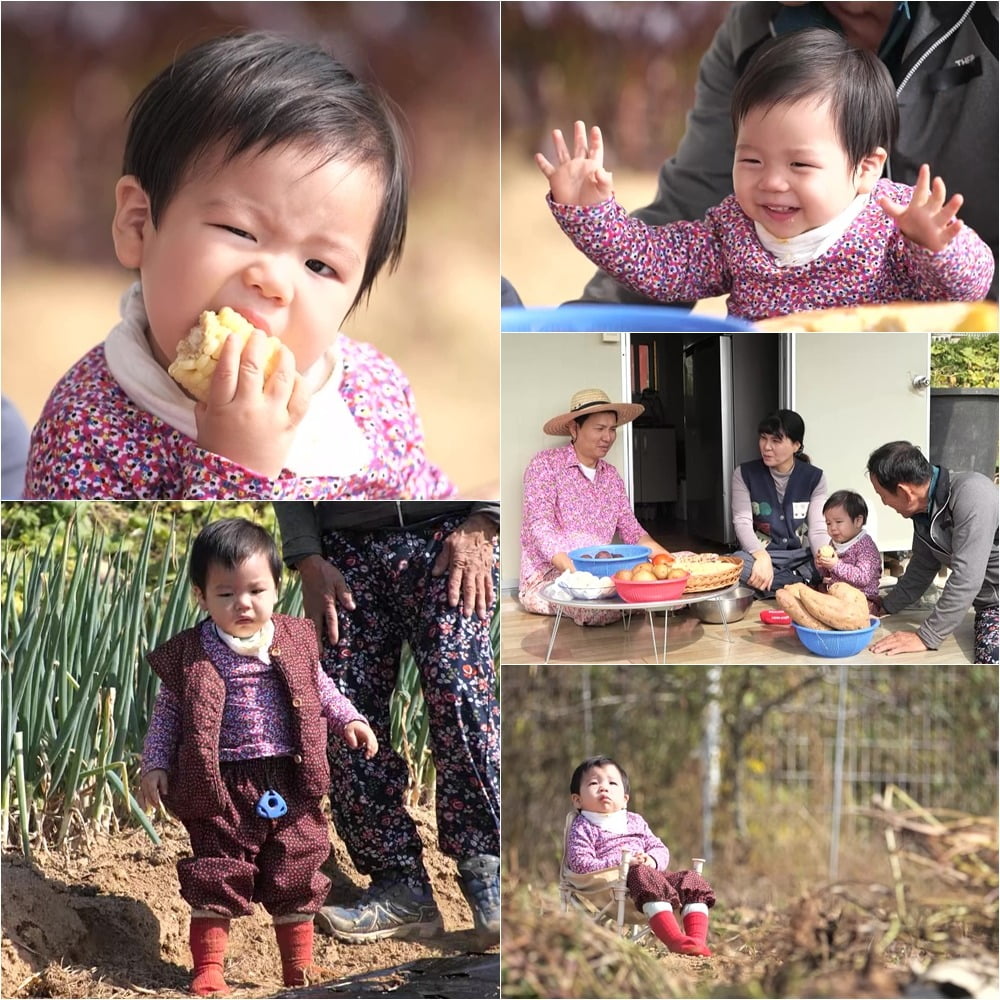 Hong Hyun-hee and Jay's son, Jun-beom, perfectly pull off the floral patterned overalls fashion.
The 502nd episode of KBS2's entertainment show 'The Return of Superman' (hereinafter referred to as 'Superman'), which will be aired on the 21st, is 'Shall we leave? In the 'Our Travel' episode, which is narrated by So Yoo-jin and Choi Kang Chang-min, 15-month-old Junbeom enters the field of his father Jay-Sun and his grandmother and grandfather, and falls in love with the organic Gohwang crops. Among them, Junbeom is attracting attention as he is said to be conquering a 900 pyeong field with his cuteness that even wears work pants.
In the released stills, Jun-beom is wearing a cute outfit, even wearing colorful overalls, which catches everyone's attention. Junbeom is fully dressed in floral fashion from head to toe and is standing in a dignified pose as if he is absorbed in field work at any moment. The unmistakable appearance of the 'rural kid chairman' brings a happy smile. In addition, Junbeom is full of powerful cuteness with his chubby 'ankleless' that looks like a sweet potato just dug out of the field, raising expectations for Junbeom's growth as his charm improves day by day.
On this day, Jun-beom's grandmother admired Jun-beom's growth, saying, "It seems like only yesterday that Jun-beom was born, but he has already grown up and came to the field." As if responding to this, Jun-beom enjoys a bountiful harvest of organic sorghum crops grown by his grandmother and grandfather. Junbeom is said to be holding a plump waxy corn with his bracken hand and biting into the corn kernels with a brave expression like a baby tiger, surprising his father Jay-Bun and his grandmother and grandfather. Moreover, as the son of his mother Hong Hyun-hee, who is well-known for her mukbang, Jun-beom earned the name of 'Mukjjang' by taking over all kinds of crops, including chestnuts, potatoes, and persimmons, all at once. Accordingly, interest is growing in the organic mukbang that baby tiger 'General Beom' Jun-beom will show.
Jun-beom's grandfather opens up a new world of off-roading by putting Jun-beom on a field sled that he handmade from red rubber sleds. Junbeom spreads happiness by responding to his grandfather's gift with a smile as bright as a sunflower. We are looking forward to seeing Jun-beom show off his even more adorable smile, boasting 100% synchronization with his father Jay-Won when he smiles and with his mother Hong Hyun-hee when he eats.
Episode 502 of 'The Return of Superman' will be broadcast at 8:30 pm on the 21st.
Taeyuna, Ten Asia Reporter youyou@tenasia.co.kr