TV
Chef Ho-young Jeong sells out 40 billion won in sales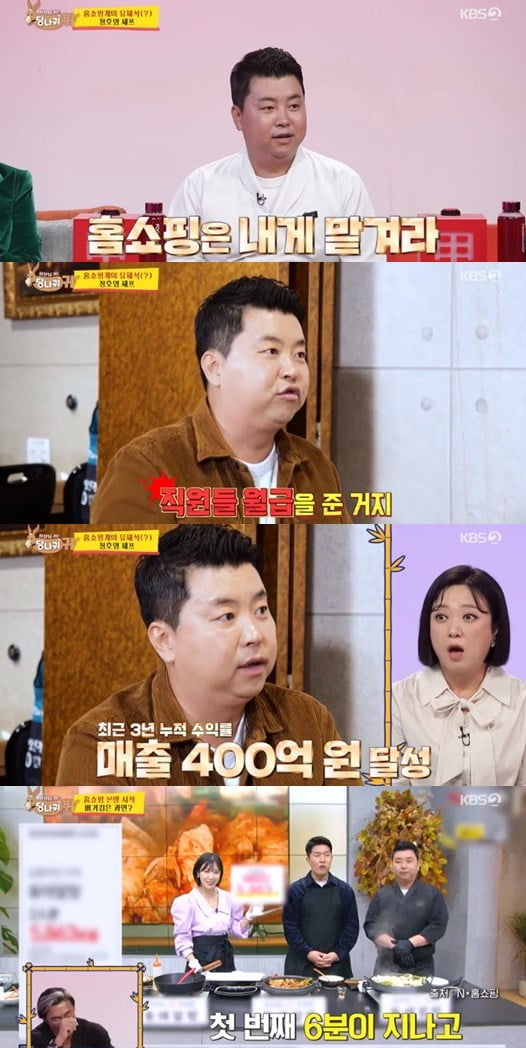 Chef Jeong Ho-young started eating training for Kim Byeong-hyun to advance into home shopping.
Jung Ho-young appeared on KBS 2TV's entertainment program 'The Boss's Ears Are Donkey Ears' (hereinafter referred to as 'Donkey Ears'), which aired at 4:45 on the 19th, and met Kim Byeong-hyun, who dreams of becoming a home shopping jackpot.
On this day's broadcast, Jeong Ho-young met Kim Byeong-hyun, who is interested in home shopping, and shared the secret to his success, attracting attention. When Kim Byung-hyun asked how home shopping profits were made, Jeong Ho-young said, "It was difficult during COVID-19. He boasted of his unique qualifications by mentioning, "I paid my employees' salaries through home shopping."
In addition, Hoyoung Jeong surprised everyone by boasting of the sold-out record, saying, "I sold over 40 billion won in the last three years." Next, Ho-Young Jeong showed off a mukbang demonstration to train Byeong-Hyun Kim, making it more fun to watch.
Hoyoung Jeong took a refreshing sip of the hot pollack and seaweed soup and said, "You know what! "It feels cool even though it's hot," he said, showing his appearance as a 'home shopping master'. Ho-young Jeong stimulated the taste buds of viewers by demonstrating everything from sales tips for taking orders to eating techniques for salted shrimp and noodles.
Later, when the day of the home shopping live broadcast arrived, Hoyoung Jeong began pre-rehearsal with Byunghyun Kim. Jeong Ho-young watched Kim Byeong-hyun anxiously during pre-filming, and when the live broadcast began, he showed a professional appearance without appearing embarrassed, attracting attention.
Meanwhile, Hoyoung Jeong plans to continue his activities in various fields in the future.
Ryu Ye-ji, Ten Asia Reporter ryuperstar@tenasia.co.kr