TV
Big Bang's Daesung's return to terrestrial broadcasting was canceled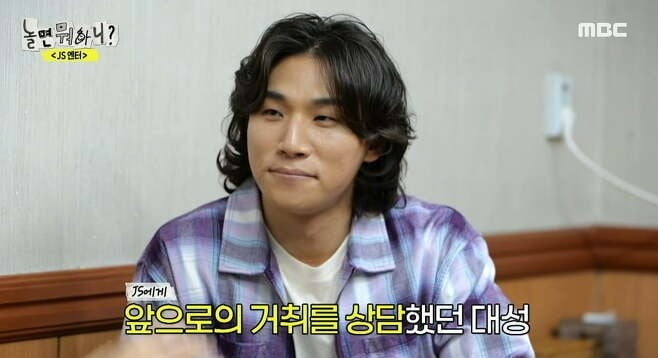 Following Young K, Kim Jong-min joined, and the final member of the 6-member One Top was confirmed.
On the MBC entertainment show 'What Do You Do When You Hang Out?' that aired on the 18th, One Top began recording their debut song 'SAY YES', and new members Young K and Kim Jong Min, each with different charms, joined, raising expectations for One Top's debut. The appearance of Big Bang's Daesung, another auditionee and his return to terrestrial entertainment after 12 years, ended up being a one-off.
The broadcast on this day recorded a viewership rating of 4.9% among households in the metropolitan area. The best moment was the scene where new member Young K appeared and greeted JS Entertainment's first unity rally, and recorded the highest viewership rating of 5.5%.
One Top members JS (Yoo Jae-seok), Haha, Joo Woo-jae, and Lee Yi-kyung gathered in the recording studio and met the composer and lyricist of 'SAY YES'. The main characters were Ryan Jeon, who created numerous hit songs for the popular girl group Ive, and Sunwoo Jung-ah, famous as a singer-songwriter. Ryan Jeon said, "'SAY YES' is a song that feels like, 'Just say the word and I'll listen.' He explained about the song, saying, "Here, Seonwoo Jung-ah created the lyrics perfectly." He then said to the members who were worried about recording, "It is refreshing when new results emerge from something unexpected. He added his support by saying, "Please only call me according to your color."
Haha took the lead in recording, but expressed difficulties due to the difficult tempo and high pitch. The next recorder, Lee Yi-kyung, showed a better performance than Haha, but JS asked, "Why is it such a 'Your Highness~' tone? "It's the voice of a subject looking for His Majesty," he said, causing laughter. At this time, Young K, who had been selected as the main vocalist, arrived at the recording studio in crisis. Haha welcomed him, saying, "I gained a thousand soldiers and ten thousand horses." Ryan Jeon, who was worried about the members' shocking singing skills, also smiled brightly and said, "It's okay." "It's okay," he said, revealing his true feelings and making people laugh.
Young K, who entered the recording studio immediately, quickly mastered the lyrics and captured everyone's hearts with his skills worthy of a main vocalist. However, Joo Woo-jae, who started recording after Young K, suffered from a series of out of tune notes. Ryan Jeon said, "You have a beautiful voice. "If you put in a little more effort, you can advance to the sub-main," he encouraged. JS, who was teasing the members, showed off his 'naekwan singing style' and devastated the recording studio with laughter. Joo Woo-jae teased him by saying he was "the number one naekwan," and Lee Yi-kyung imitated JS and scoffed at him. Ryan Jeon said, "It's okay. He comforted them by saying, "There is no problem at all because I see the potential," and the members promised to practice singing and meet again.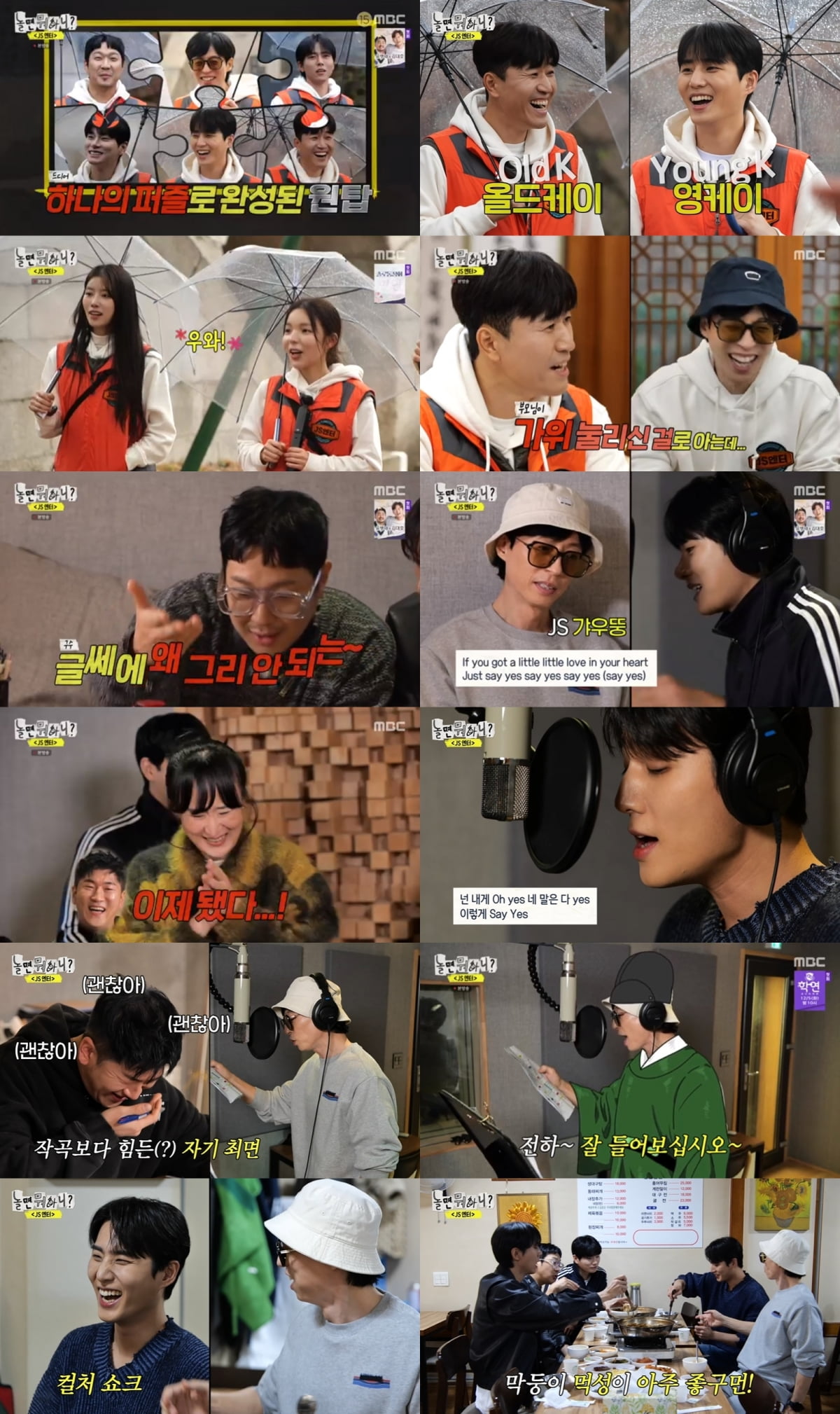 After finishing recording, the One Top members had their first dinner at an ecological stew restaurant. The older brothers' interest in the youngest, Young K, was intense. Although Young K was a little embarrassed by the barrage of questions from his brothers, he set the spoon first and even showed a good appetite, winning all the love from his brothers. Joo Woo-jae, who recommended Young K to JS, showed his closeness by boasting, "Young K is a big eater." Lee Yi-kyung expressed her closeness with Young K by resembling a 'fox statue', and even drew attention by resembling their appetite for eating ecological snow. Haha, who was watching Young K, said, "I really like it in many ways. He showed his love for the youngest by saying, "You are the right friend" and "You speak beautifully."
Next, a JS Entertainment unity rally was held where One Top and Juju Secret (Park Jin-joo, Lee Mi-joo) gathered in one place. JS stimulated curiosity by announcing the addition of a new member. The last member of One Top to reveal his identity was Kim Jong-min. Kim Jong-min introduced himself by saying, "I'm Kim Jong-min, thanks to your popularity." JS explained his position by saying, "I'm a dancer and sub-vocalist." Haha called Kim Jong-min, who joined after Young K, 'Old K', and JS decided that Kim Jong-min's stage name was 'Old K'.
With the first JS Entertainment full-member meeting held, new members Young K and 'Old K' Kim Jong-min introduced themselves. First, Young K got used to the new world of entertainment, getting tired of the members' pressure questions and practical jokes. JS said, "You will experience something here that never happened at JYP." Next, 'Old K' Kim Jong-min introduced himself. Kim Jong-min talked about a dream he had for a long time, saying, "Since I'm in a mixed group, I wish I could try being in a male group." Also, when asked what Koyote member Shinji said about joining ONE TOP, Kim Jong-min said, "I said it was great and that I did a good job. "I didn't catch it and I didn't regret it."
Haha said, "I have a lot of questions about Young K. "What is a prenatal dream?" Young K said, "I appeared in my father's dream as an angel blowing a trumpet." Kim Jong-min then revealed his prenatal dream, saying, "I believe (my parents) were pushed by the scissors," causing the scene to burst into laughter.
The trailer released at the end of the broadcast showed members having time to write self-profiles. In addition, they were also shown taking on a dance challenge, raising expectations for a fun-filled unity competition.
Meanwhile, Daesung was booked without detention on charges of causing the death of a person in a traffic accident due to negligence while driving his car across the southern end of Yanghwa Bridge in Seoul in 2011. However, because the deceased first had an accident due to drunk driving and Daesung had a second accident, Daesung was acquitted at the time.
Later, in 2017, he was embroiled in suspicions that a sale arrangement was being conducted with an illegal entertainment establishment staffed by female helpers in a building he purchased in Gangnam. In 2019, the police even captured specific circumstances in which prostitution was arranged, but Daesung explained that at the time of purchase, tenants had already moved in and business was underway, and that they were not properly aware of the illegal business practices of the companies in question.
Taeyuna, Ten Asia Reporter youyou@tenasia.co.kr