TV
Jeong Un-yong "Drinked 10 bottles of soju, 364 days a year → was in a coma for 5 days after heart surgery"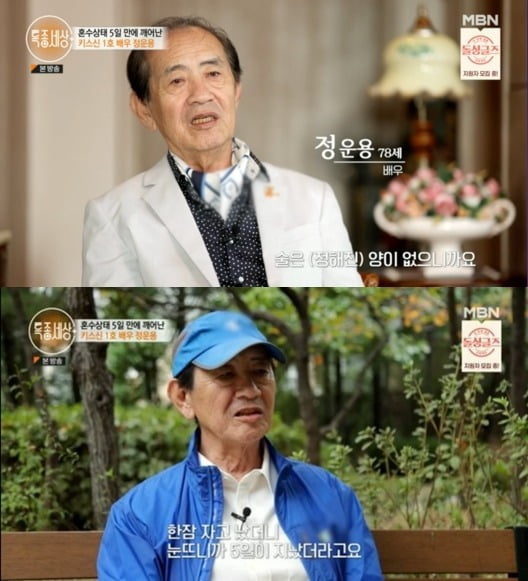 Actor Jeong Un-yong revealed the reason why he underwent heart valve transplant surgery.
In the 609th episode of MBN's documentary 'Scoop World', which aired on the 16th, actor Jeong Un-yong, who had the first kiss scene, appeared.
On this day, Jeong Un-yong revealed that his wife, a former Miss Korea and 12 years his junior, had been away from home for several days. He said, "Normally, my wife does all the housework. Today, I think I went to my daughter's house because I was upset. It's been 3 or 4 days."
The reason my wife left home was because of alcohol. Jeong Un-yong's son said, "He said he wouldn't drink medicinal alcohol with his family, but he had a drink or two while he was at a gathering. He didn't think it would be noticeable, but his mother knew. Even the people who told him not to do it were very upset because it was very stressful. "He said.
Regarding the amount of alcohol he drinks, Jeong Un-yong said, "I usually drink 5 to 10 bottles of soju, 10 to 20 bottles of beer, and two or three bottles of liquor," and added, "I only drank 364 days out of the year." He said, "I almost never do it, but sometimes people misunderstand. If I come home late, they think I'm drinking. It's only enough to be used as eye drops, but it's also recognized as drinking."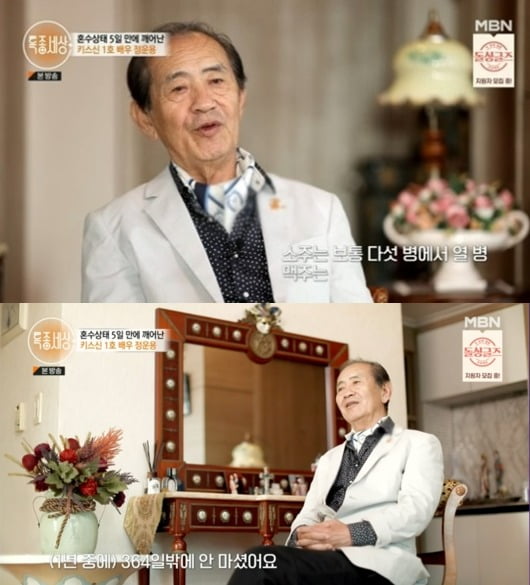 Son Un-yong Jeong recalled, "About four years ago, my father underwent heart valve surgery. After a thoracotomy, they found that there was a problem on the other side, so we transplanted two valves. The surgery took longer than expected and was a difficult surgery."
Jeong Un-yong said he drank soju even two days before being admitted to the hospital. It was revealed that he underwent major surgery that lasted over 15 hours and fell into a coma for five days, suffering from death. He continued, "Six months after the surgery, small problems began to appear in my body. Inflammation occurred in the area, so I went to the emergency room several times when I had a fever at night. As I repeated this process, my physical strength decreased significantly, so my family asked me to refrain from drinking. "I said that," he explained.
Jeong Un-yong expressed his regret and gratitude, saying, "My wife took care of me without using a caregiver while I was in the hospital."
Taeyuna, Ten Asia Reporter youyou@tenasia.co.kr