TV
Kim Dae-ho's wedding pictorial revealed, his partner is a famous comedian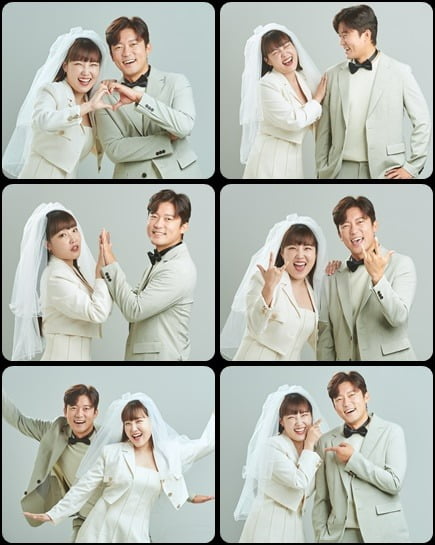 The wedding photo shoot of announcer Kim Dae-ho and comedian Lee Eun-ji was revealed.
Among the MC poster shooting sites released by MBC's 'Solo Reunion Hakyeon' (hereinafter referred to as 'Hakyeon'), a couple photo of announcers Kim Dae-ho and Lee Eun-ji is a hot topic. In particular, the two people use bow ties and veils to pose as a couple full of love, arousing the curiosity of those who look like they are taking a wedding photo.
In the shooting site shorts that were also released, Lee Eun-ji showed herself leading the photoshoot with a confident pose and confident eyes like a self-proclaimed dating expert, while announcer Kim Dae-ho happily participated in the photo shoot with a shy smile on his face. Eun-ji Lee was wary of the popular announcer Dae-ho Kim and asked if she could touch her body. To which Dae-ho Kim replied, "You can touch me however you want," the scene erupted in laughter.
The two took a special reunion photo while enjoying the 'feeling of going from friends to a couple'. The new bride, Lee Eun-ji, led Kim Dae-ho, who seemed very nervous, with her overflowing wit and happy energy. Announcer Kim Dae-ho said that he was especially excited about this shoot because he had previously expressed his desire to participate in a dating program.
'Academic Love' is a program created by ordinary people who find love at a reunion and MCs who predict whether they will become a couple. Lee Eun-ji, a dating expert with a sharp wit, and Kim Dae-ho, an invincible free man looking for his destined love, will play an active part in 'Hakkyeon' along with Lee Seok-hoon, Yoo Byeong-jae, Kwon Eun-bi, etc., as a school performer cheering on the love of classmates.
'Solo Reunion School Association' will be aired for the first time on December 5th at 10 PM.
Taeyuna, Ten Asia Reporter youyou@tenasia.co.kr