TV
Ji Chang-wook and Shin Hye-sun, take a breath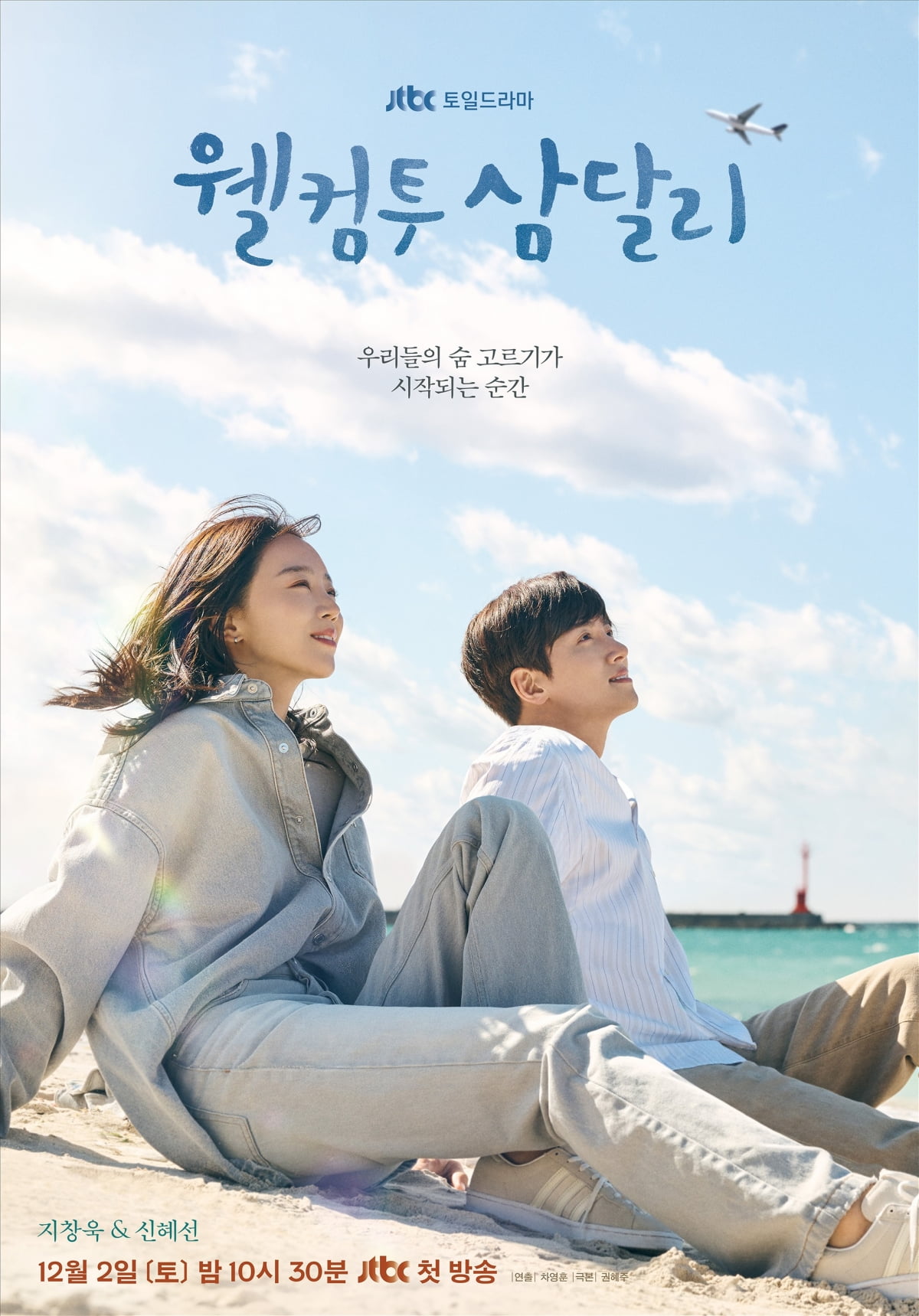 The main poster for JTBC's new Saturday-Sunday drama 'Welcome to Samdali', marking the beginning of Ji Chang-wook and Shin Hye-sun's 'taking a breather', has been released.
On the 14th, the main poster for JTBC's new Saturday-Sunday drama 'Welcome to Samdali' was released. 'Welcome to Samdali' is about Samdal (played by Shin Hye-seon), a dragon born in a stream at the foot of Hallasan Mountain, who loses everything and falls, returns to the arms of his hometown with Yong-pil (played by Ji Chang-wook), who cherished the stream, and finds love while catching his breath. Pure partner romance.
The released main poster shows a leisurely moment between Cho Yong-pil (played by Ji Chang-wook) and Cho Sam-dal (played by Shin Hye-sun), who are resting on a beach in Samdali, a place where the blue sea spreads endlessly. Just looking at the sight of two people feeling the warm sunlight and breathing in the refreshing breeze in this clean, local area will automatically put your complicated mind at peace.
There is a teaching that the three women divers of Jeju Island consider important. "Don't be greedy today, just stay for as long as you can." This means that in the seemingly peaceful but dangerous sea, you should not be greedy and hold on for as long as you can, and when you can't hold on any longer, come up to the water where you started and catch your breath. This core theme that runs through 'Welcome to Samdali' is also revealed in the poster's copy, "The moment we begin to catch our breath."
Samdal, who left for Seoul dreaming of becoming a dragon, lived an intense life ever since. To pursue his dream of becoming a photographer, he went through a rigorous life as an assistant in the difficult fashion photography world, and was finally able to rise to the top. He ran with all his might for his career, but an incident led to a serious fall. Samdal heads to Samdal-ri, a stream he never wanted to return to.
There, Yongpil, his destined partner, wants to become a stream where Samdal, who is exhausted in body and mind and covered in wounds, can rest in peace. It was an unwanted comeback, but Samdal and Yongpil will learn how to catch their breath in the warm embrace of the stream. The story of those who try to stand up with their feet firmly planted on the ground without being swept away by the busy world with no time to come to their senses is expected to provide a warm moment for viewers as well.
The production team said, "If you have been so busy this year with no time to catch your breath, I hope you will have some time to catch your breath and recharge with Yongpil and Samdal of 'Welcome to Samdali' at the end of this year. The tranquility that the words 'hometown' and 'gaecheon' bring, We are putting a lot of effort into visual beauty to fully capture friendliness and warmth. Please look forward to the first broadcast of 'Welcome to Samdali,' a drama that will help you feel at ease without even realizing it as you laugh and have fun in your hectic daily life." He said.
'Welcome to Samdali' will premiere on December 2nd as a follow-up to 'Strong Woman Gangnam-soon'.
Kang Min-kyung, Ten Asia reporter kkk39@tenasia.co.kr