TV
Kwak Beom, full of laughter from the first day of his regular appearance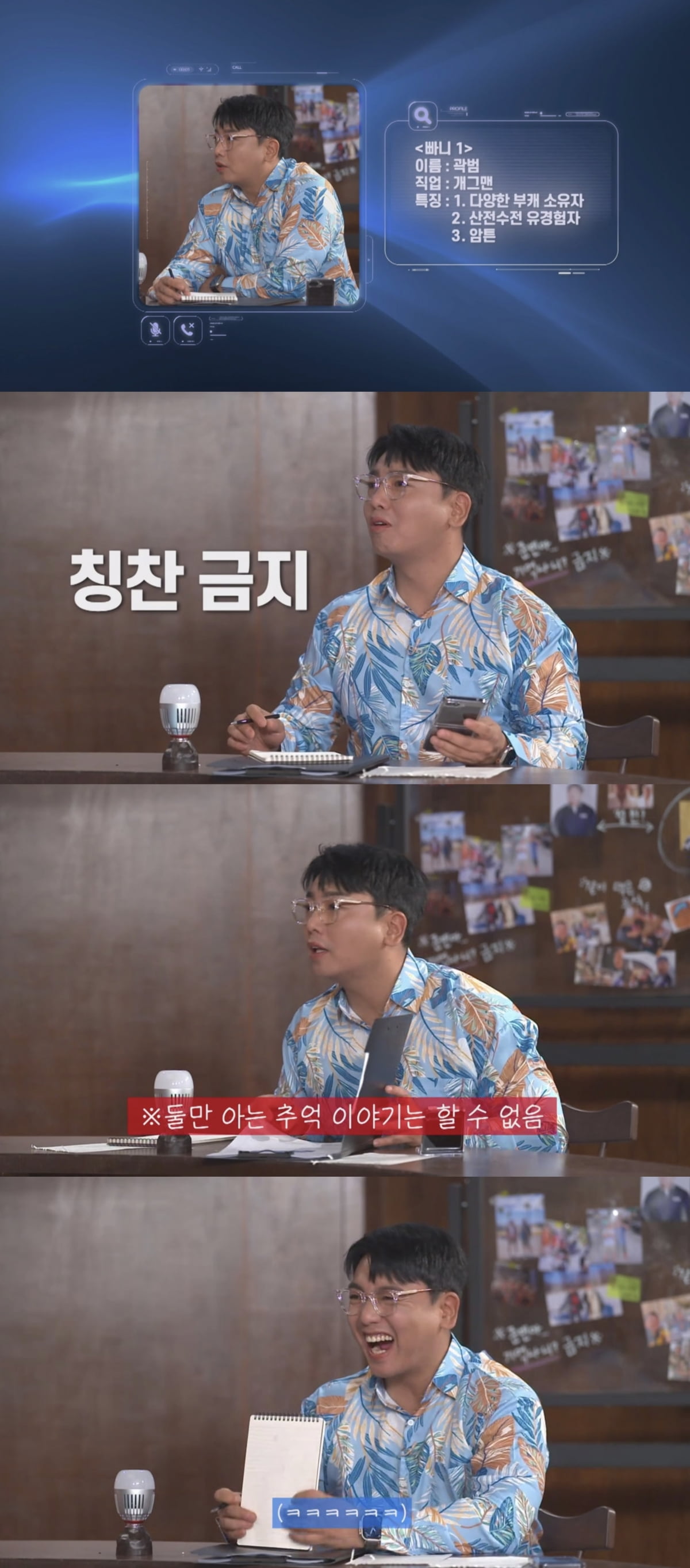 Comedian Kwak Beom stole the show with his unique presence from the first broadcast of his regular appearance.
Kwak Beom announced the news of being fixed as 'Search Midan' in 'Search Me' (STUDIO
'Search Me' is a reality entertainment show in which the player (main character) guesses the 'real acquaintance' between the 'real acquaintance' and a panel of 'fake acquaintances' who perfectly imitate the acquaintance.
On this day's broadcast, which had the theme of guessing about travel YouTuber 'Pani Bottle (Park Jae-han)', a 'real acquaintance' of travel YouTuber Kwak Tube (Kwak Jun-bin), Kwak Beom transformed into 'Pani 1' and showed off his entertaining sense from the first broadcast. .
Kwak Beom, who showed great confidence as a 'sub-character master', immediately showed his identity to Kwak Tube as soon as he greeted him for the first time and appeared embarrassed, causing laughter.
Beom Kwak soon embarrassed Kwak Tube by revealing his unrivaled reputation as a 'sub-character master'. He demonstrated wit by quickly catching the characteristics of a real Pani Bottle, instantly absorbing the character and showing extraordinary professionalism that confused even those watching.
In particular, Beomman Kwak's active and energetic reactions became a 'laughter cheat' and doubled the fun of the broadcast. In the conversation with the panelists, niche gags were presented with the right laugh code at the right time, and viewers' curiosity was answered through detailed feedback, further increasing immersion.
Kwak Beom, who made his debut on the stage of a comedy concert in 2012 and has since gained explosive popularity with 'Mad Monster' and has built a wide fandom, has recently been active by creating various 'sub-characters' through the YouTube channel 'Bread Song Guk'.
In addition, through his appearance on 'Search Me', he is further highlighting his presence by performing an ingenious ad-lib parade with powerful eloquence that does not empty the audio throughout the broadcast, raising expectations for his future activities.
Meanwhile, 'Search Me', in which Kwak Beom regularly appears, is released every Monday and Tuesday at 12 PM on U+ Mobile TV, and starting from the 16th, it will be broadcast on KBS 2TV every Thursday at 9:45 PM.
Ryu Ye-ji, Ten Asia Reporter ryuperstar@tenasia.co.kr