TV
'Wedding Battle' faces a decline in viewer ratings again... self lowest humiliation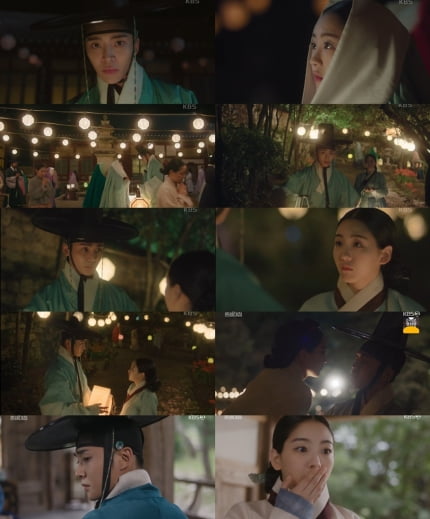 'Wedding Battle' starring Rowoon and Jo Yi-hyun received a disappointing report card.
According to Nielsen Korea, a viewership rating research company, on the 14th, the 5th episode of KBS2's Monday-Tuesday drama 'Wedding Battle', which aired the previous day, recorded a viewership rating of 3.5% (hereinafter based on households nationwide). This is a 0.4% point decrease from the previous broadcast of 3.9%, and is the lowest viewership rating.
On this day's broadcast, Shim Jeong-woo (Ro-roun) and Jeong Soon-deok (Jo Yi-hyun) conducted the 'First Snow Meeting' operation, the first step of the 'Park Maeng's Three Sisters' wedding project, at Seonhwasa Temple in Chopil, and it was interesting to see them developing strange feelings for each other. raised it. Shim Jeong-woo recognized Jeong Soon-deok with his bare face before transforming into the wife of the female lead and said, "I'm better off now," which made people's hearts flutter. Soon-deok Jeong then took the lead in the 'Tapdori of Love', and Sim Jeong-woo, who followed Jeong Soon-deok to the 'exciting section' that crosses between the two towers, had a hard time feeling chest pain from the excited atmosphere of young men and women around him. Surprised by this, Jeong Sun-deok blocked Shim Jeong-woo's path and blocked other people's gaze, and as he made his way, he reassured Shim Jeong-woo by saying, "If you are in pain, tell me right away. I will be your shield."
Afterwards, Shim Jung-woo found Jeong Soon-deok struggling to get her back off the tree, so he took the back off the tree. Due to the height difference between the two, they got into a hug-like posture, and Jeong Soon-deok couldn't take his eyes off Sim Jeong-woo for a moment, creating excitement. And Sim Jeong-woo talked to the miners in a corner of the 'Wall of Darkness' where the miners gathered and took notes on each of their characteristics. In particular, Miner No. 24 Yoon Boo-gyeom (Choi Kyung-hoon), the first love of Jeong Soon-deok's sister-in-law Jo Ye-jin (Oh Ye-joo), attracted attention by evaluating him as a person 'full of a distorted sense of entitlement'.
Meanwhile, Soon-deok Jeong began briefing Dr. Maeng's three sisters about today's operation and even cheered them up by shouting the slogan, "Let's seize the present and live in harmony!" As promised, the three sisters approached the dark wall where the miners were after completing the pagoda, but suddenly a fight broke out among the miners and they found themselves in an awkward situation. Sim Jeong-woo then brightened the mood with a romantic daegeum performance, and thanks to this, Dr. Maeng's three sisters successfully attempted the 'First Snow Meeting' mission. Jeong Soon-deok gave the outstandingly beautiful first child, Maeng Ha-na (Shin Jung-hye), a lotus flower lantern in her hand and coached her to choose herself. When the second child, Maeng Du-ri (Park Ji-won), began to walk, she beat the drum with all her might, which gave a sound similar to a beating heart, to attract the miners. It led to an illusion. Moreover, as Maeng Du-ri disappeared, attention was paid to Yun Bu-gyeom, who was moving towards it. Lastly, Jeong Soon-deok instructed the third child, Maeng Sam-sun (Jeong Bo-min), to spray essence extracted from spring flowers on her wrists, neck, and hem of her skirt and walk. In addition, she placed fish etc. in the middle of the path to create a halo effect due to scent and lighting. However, Maeng Sam-soon started sneezing due to an allergy to flowers, and the lighting accentuated the unsightly appearance, causing the miners who approached him to run away due to the scent, which was unfortunate.
After Maeng Ha-na left to take care of her mother after finishing 'First Snow', Maeng Sam-soon ran away to avoid Jeong Soon-gu (Heo Nam-joon) who was approaching from afar, and Maeng Du-ri injured her ankle while chasing Maeng Sam-soon and coincidentally reunited with Lee Si-yeol (Sang-yeon Son). . Lee Si-yeol hugged Maeng Doo-ri so that she could receive treatment, and Maeng Sam-soon gave a strange atmosphere by approaching Jeong Soon-gu, saying that he understood when Jeong Soon-gu warned him that he could be put to death if he was taken to Hanseongbu.
Shim Jeong-woo was sad that the third of Dr. Maeng's three sisters did not succeed in the 'first snow meeting', but he took out two sky lanterns from his sleeve, promising the next time. When Jeong Soon-deok lost the lantern while trying to light it, he handed her the rest of the lanterns he had. . The moment Shim Jeong-woo looked at Jeong Soon-deok who was making a wish while blowing a balloon, Soon-deok Jeong turned his head and made eye contact with Sim Jeong-woo. Sim Jeong-woo felt his heart pounding and said, 'Isn't this a foreshadowing of the kiss I read about in the novel?' He closed his eyes tightly without realizing it, heightening his anticipation. However, Soon-deok Jeong suddenly ran away and disappeared, saying, "I'll see you in Gaekju in three days, sir," and Jeong-woo Shim couldn't help but feel disappointed, causing laughter.
On the other hand, Mrs. Park (Park Ji-young)'s expression hardened after hearing from her younger brother, Byeongpan Park Bok-gi (Lee Sun-won) that it was her in-laws' bachelor, Jung Soon-gu, who opened the door to the newspaper store for Maeng Ha-na, and she also became suspicious of Shim Jeong-woo's involvement in matchmaking for Dr. Maeng's three sisters. It heightened the sense of ominousness. Moreover, Mrs. Park became suspicious of Sim Jeong-woo's plot when Jeong Sun-gu, whom she met on her way home, explained that he had opened the door to the newspaper store at the request of Gyeongwoonjae Ui-bin. And Jeong Soon-deok, who was left behind with Jeong Sun-gu, heard Jeong Sun-gu say that although it is true that Gyeongwoonjae Uibin is eccentric and angry as rumored, he does not seem to be a bad person, recalling Sim Jeong-woo, who used to have a bad expression when he cursed an angry man in the past, and said, 'Eosa Nari and Gyeongwoonjae Captain' I misunderstood, saying, 'Do you know him?'
On the other hand, Mrs. Park expressed concern to her husband, Left Councilor Cho Young-bae (Lee Hae-young), saying that it seemed like Sim Jeong-woo was helping the king by acting as matchmaker for Dr. Maeng's daughters. When Jo Young-bae said that he would tie Sim Jeong-woo with his brother and send him into exile, she said, "Rather than exile, Geun-seok would rather be a tutor." "How about taking him as a teacher?" he said, raising tensions by revealing his intention to keep Sim Jeong-woo close and watch over him. Lastly, Shim Jeong-woo meets Mrs. Park and receives an offer from Jeong Sun-deok's son, Jo Geun-seok (Kim Si-woo) as a tutor. The ending of 'Shocking Face to Face' between Shim Jeong-woo, who turns around at the appearance of Jo Geun-seok, and Jeong Soon-deok, who discovers Sim Jeong-woo, unfolds, raising expectations for the next episode. It created curiosity.
Ryu Ye-ji, Ten Asia Reporter ryuperstar@tenasia.co.kr