TV
Jeong Yu-min, blackening is at its peak... Instantly becoming a romance goddess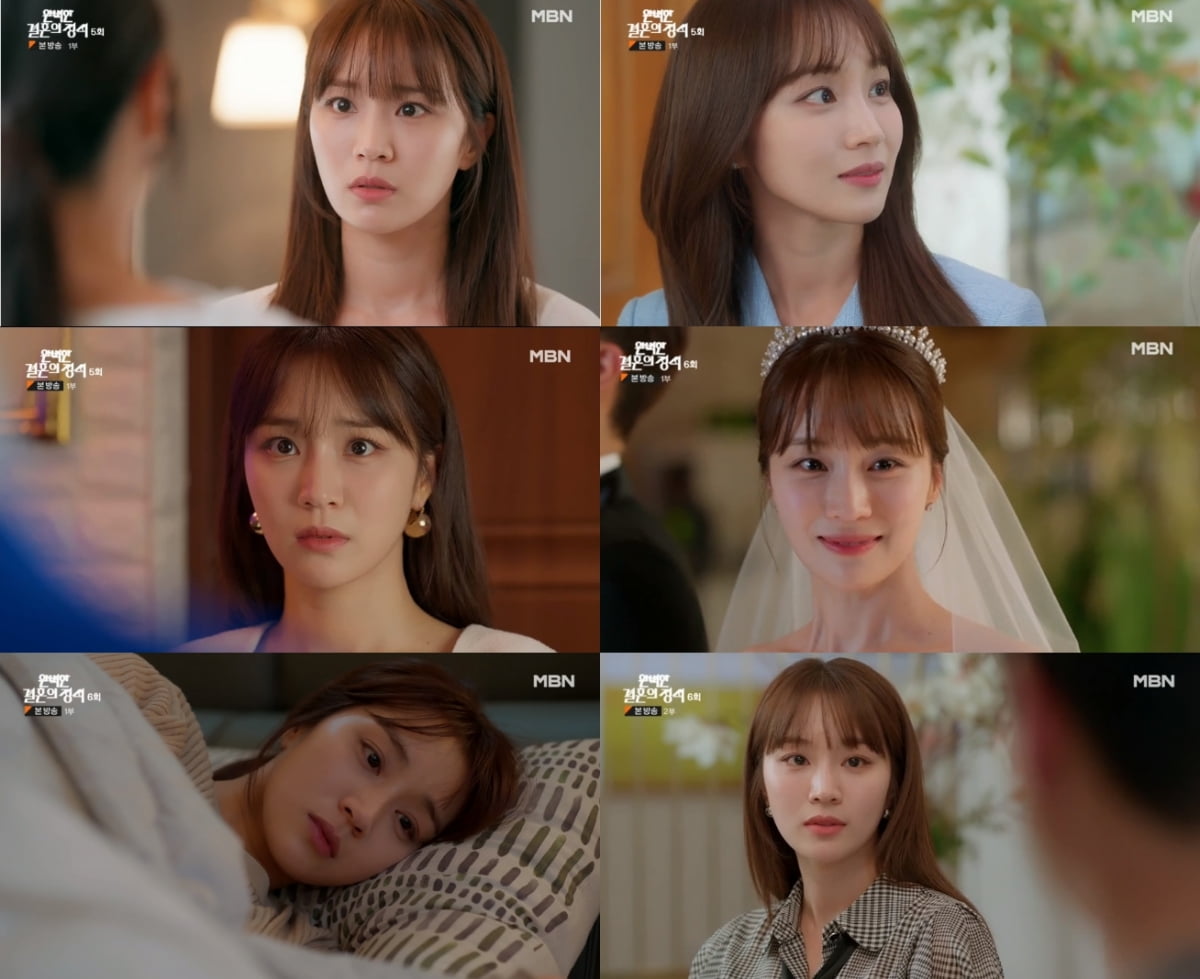 Actor Jeong Yu-min shook the small screen by dramatically depicting the anger and sadness of 'Han Lee-ju', who is in conflict after learning the surprising truth.
In the 5th and 6th episodes of MBN's weekend mini-series 'The Perfect Marriage' (directed by Oh Sang-won/written by Lim Seo-ra/produced by Jidam Studio), which aired on the 11th and 12th, Han Yi-ju (played by Jeong Yu-min) married Seo Do-guk (played by Seong-hoon). While preparing, a twist unfolded as the secret of birth was discovered.
When Han Yi-ju found out that her fiancé, Seo Do-guk, was carrying a trauma deep in his heart, she felt sympathy for him. Han Yi-ju was smart enough to come up with an answer to win the favor of Seo Do-guk's grandmother, Prince Lee (played by Ban Hyo-jeong), who was testing her, but she looked disappointed when Seo Do-guk threatened her not to meet his older brother Seo Jeong-wook (played by Kang Shin-hyo). The part clearly showed the change in her emotions as she gradually moved beyond the business relationship and came to love him.
Han Yi-ju was hurt by the cold and uncooperative attitude of her family with only a few days left until her wedding. The sight of Han Lee-ju, who was intimidated by the blatant disregard of her stepmother Lee Jeong-hye (played by Lee Min-young) and stepsister Han Yu-ra (played by Jin Ji-hee), and was unable to smile happily even while trying on the wedding dress, was heartbreaking. Jung Yu-min made viewers sympathize with Han Lee-ju by delicately depicting the inner side of Han Lee-ju, who is running for revenge but deep inside she misses the love of her family.
In addition, the scene where Han Yi-joo is shocked when she realizes the cruel truth attracted the attention of the home theater. Han Yi-joo, who visited the mental hospital where her grandfather Han Woon-jae (Lee Byeong-jun) was admitted, hurriedly hid herself when her stepmother Lee Jeong-hye came to visit, and through a conversation between the two, she learned that she was not just an adopted child, but her father Han Jin-woong's (Jeon No-min) biological daughter. done. Han Yi-ju, who grew up feeling alienated and lonely as an outsider for a long time, suddenly changes into sharp anger and a desire for revenge, leading to a gripping development.
In episode 6, Han Lee-joo's 'blackening' began as he decided to destroy everything that had been bothering him. Just before the wedding, Han Yi-ju said to Seo Do-guk, "I will ruin my family and Hanul Group with my own hands. "Can you help me?" he said, expressing his desperation. As the wedding ceremony began, Han Yi-ju said, 'Today, I swear in front of everyone gathered here. Lee Jeong-hye repeated, "I will completely destroy you," marking the beginning of a cruel revenge plot.
Jung Yoo-min also showed the aspect of a 'romance queen' by expressing the emotional changes of a character who slowly opens her heart to the love that seeps into her even in a painful and lonely situation. The day after the wedding, Han Yi-ju, who left for Gangneung alone, felt lonely for some reason, and was thrilled when she found Seo Do-guk, who came to visit her. Han Yi-ju, whose top priority was revenge, continued to push him away, but little by little, she opened her heart to Seo Do-guk, who continued to approach her. However, "Ordinary things are the most difficult for me. The scene where he refuses to accept even the little happiness he is allowed, saying, "I've never lived like that before," caused a bitter sigh.
The two people, who finally confirmed their feelings for each other, spent the night together, and Han Yi-joo became stronger, relying on Seo Do-guk, who extended his hand and told him to use her to his heart's content. Han Lee-joo's increasingly bold and confident attitude, such as learning that his stepmother had secretly sold his work and made a profit, demanding payment for it, and asking his father to inherit the gallery managed by his mother, gave him a thrill of pleasure. .
In this way, Han Yi-ju takes one step at a time to seek revenge, raising expectations for the future story even more. In addition, the romance between Han Yi-joo and Seo Do-guk, which began to deepen as they confirmed their feelings for each other, added excitement to the intense revenge drama and raised the heart rate of the viewers. Jeong Yu-min's passionate performance, which perfectly portrayed a variety of emotions, including anger, frustration, revenge, and the love that blooms through the cracks, shined and increased immersion.
Immediately after the broadcast, viewers responded with comments such as "I feel like I met the character of Jung Yu-min's life," "Jung Yu-min's tearful acting is really good," "I cry because I empathize with Lee Joo," "The more I look at Lee Joo, the prettier she gets," and "I admire Jung Yu-min's brilliant acting." Praise was given to Jeong Yu-min's outstanding performance, who led the play.
Jung Yu-min's performance, which boasts 200% synchronization with the character, can be seen in MBN's weekend mini-series 'The Perfect Marriage', which airs every Saturday and Sunday at 9:50 p.m.
Ryu Ye-ji, Ten Asia Reporter ryuperstar@tenasia.co.kr