TV
Park Eun-bin, viewer ratings drop despite perfect duet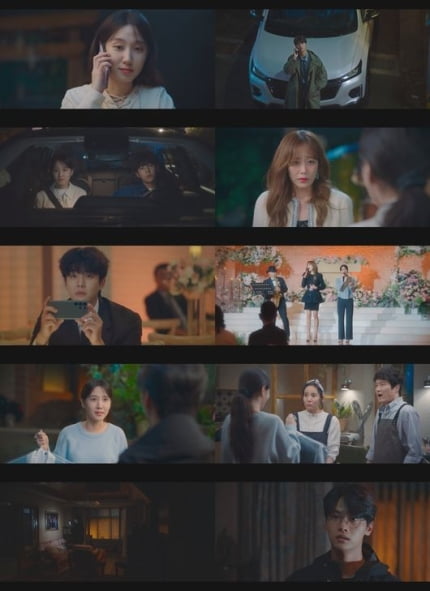 Park Eun-bin achieved a perfect duet with Kim Hyo-jin.
In the 5th episode of 'Diva on an Uninhabited Island' (written by Park Hye-ryun and Eun-yeol / directed by Oh Choong-hwan / planned by Studio Dragon / produced by Baram Pictures and Kakao Entertainment), which aired on the 11th (Saturday), Seo Mok-ha (played by Park Eun-bin) meets her eternal idol Yoon Ran-ju (played by Kim Hyo-jin). ) and the long-awaited first duet stage, melting the hearts of viewers with beautiful harmony.
Seo Mok-ha bought a cell phone, obtained a driver's license, and was reborn as Yun Ran-ju's manager. Seo Mok-ha went to pick up the company car to accommodate Yun Ran-ju's broadcasting schedule and saw that Yun Ran-ju's album was being collected. Even if Yun Ran-joo made a comeback, Lee Seo-jun (played by Kim Joo-heon), the CEO of RJ Entertainment, had taken care in advance to ensure that total album sales would not exceed 20 million copies.
Last night, Yun Ran-ju, who heard about this from Lee Seo-jun, also sought another way to overcome this crisis. Before transferring to RJ Entertainment, Hwang Byeong-gak (played by Song Kyung-cheol), the CEO of his former agency Suga Planning, had the right to release the album, so he met with him and tried to persuade him. However, Hwang Byeong-gak took this as an opportunity and asked Yun Ran-ju to come sing a congratulatory song for his daughter's wedding.
Yun Ran-ju, who cannot sing, is so frustrated that she unknowingly takes out her anger on Seo Mok-ha. He said to Kang Bo-geol (played by Chae Jong-hyeop), who was watching him humiliatingly, "It's because I'm so upset and frustrated. "It's okay because I was next to you at that time, and it's not because you really hate me that you're angry, so it's nothing, so it's okay," he said, protecting Yun Ran-ju.
Seo Mok-ha called Yun Ran-ju and asked her to come to Hwang Byeong-gak's daughter's wedding, mentioning that he became a fan after hearing her sing 26 years ago. In Seo Mok-ha's words, Yun Ran-ju recalled memories of her old teacher, CEO Hwang Byeong-gak, who gave up everything to raise her as a singer. He then cautiously gained courage after hearing Seo Mok-ha's earnest support, saying, "I will protect and cover everything, so come no matter what."
Finally, the duet performance between No. 1 fan Seo Mok-ha and singer Yun Ran-ju was completed. The two completed a beautiful harmony to the saxophone performance of Hwang Byeong-gak, who made Yun Ran-ju a top star. The song of Seo Mok-ha and Yun Ran-ju, who looked into each other's eyes and gradually built up the notes, was touching.
Seomokha expressed his overwhelming feelings toward Yun Ran-ju, who expressed gratitude, saying, "I crossed off one thing from my bucket list." Yun Ran-ju's eyes were filled with regret and affection as she looked at Seo Mok-ha, who was happy to see her even though she was the target of her anger. In addition, Yun Ran-ju recovered her relationship with CEO Hwang Byeong-gak by clearing up old feelings, giving a foreboding that the green light would be given for the album's re-release.
Meanwhile, the whereabouts of Seo Mok-ha's old friend Jeong Ki-ho (Moon Woo-jin), who disappeared, was gradually becoming clear. Kang Woo-hak (Cha Hak-yeon), who felt suspicious of Jeong Jeong-ho's father Jeong Bong-wan (Lee Seung-jun), followed him and discovered a childhood image of himself and his younger brother Kang Bo-geol in a family photo hanging in the house. Even the brothers' mother Song Ha-jeong (played by Seo Jeong-yeon) was present, surprising everyone.
Meanwhile, Seo Mok-ha fell into great confusion when Song Ha-jeong repeated what Jeong Ki-ho said a long time ago. Feeling doubtful, I cautiously asked Ha-jeong Song, who was standing in her sleep, "Do you know a friend named Jeong Ki-ho?" Curiosity is rising about what the truth is hidden in this family.
On this day, the 5th episode of 'Diva on an Uninhabited Island' recorded an average viewer rating of 6.2% and a maximum of 7.8% for households in the metropolitan area, and an average of 5.4% and a maximum of 6.7% for households nationwide, ranking first in the same time slot on cable and comprehensive channels both in the metropolitan area and nationwide. (based on paid platform integrating cable, IPTV, and satellite / provided by Nielsen Korea).
The 6th episode of tvN's Saturday-Sunday drama 'Diva on an Uninhabited Island', which is accelerating Park Eun-bin and Kim Hyo-jin's life-changing project and the search for the missing 'Jung Ki-ho', will be aired at 9:20 pm on the 12th (Sunday).
Ryu Ye-ji, Ten Asia Reporter ryuperstar@tenasia.co.kr