TV
Jang Ye-won expressed confidence, saying that she could flirt just by drinking water when she was in her 20s.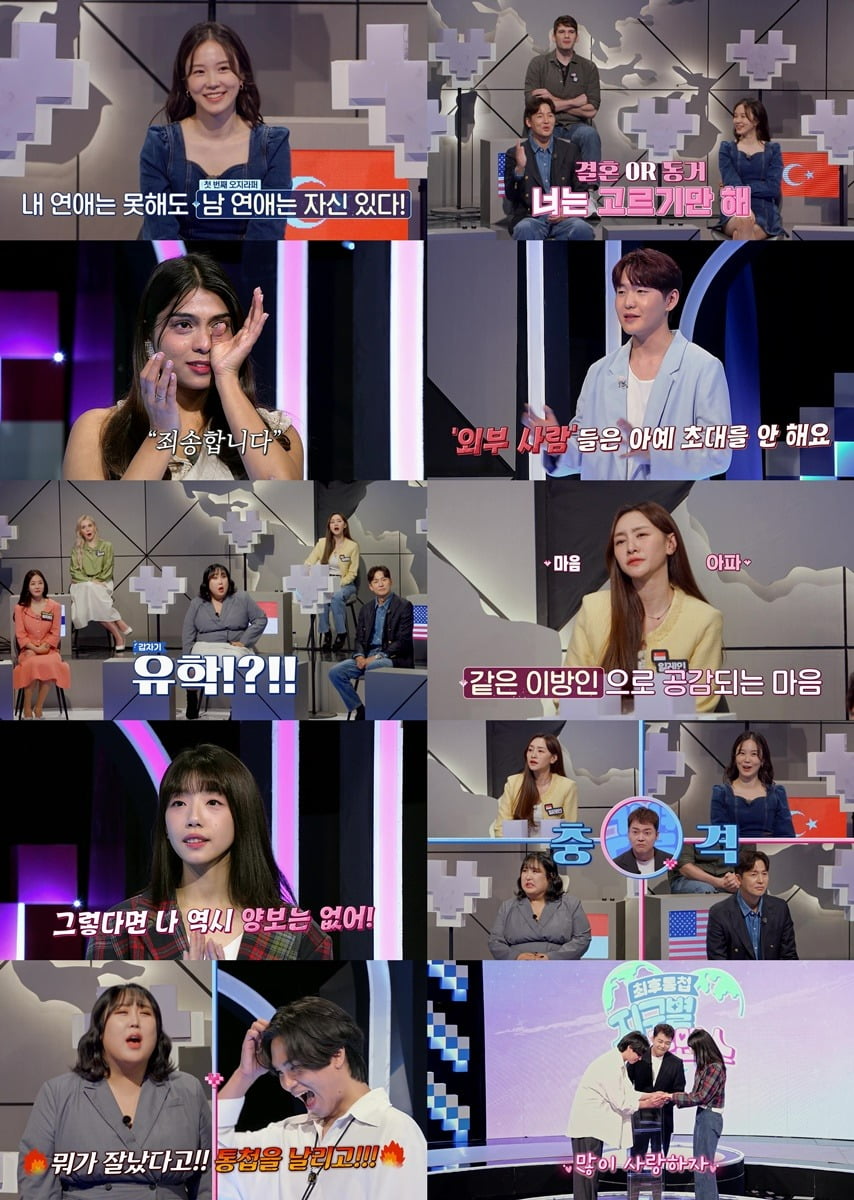 In 'Romance Around the Globe', a Korean boyfriend who wanted to postpone marriage rejected his Indian girlfriend's offer to live together and ultimately chose to break up, causing sadness among those who love dating.
In the 3rd episode of 'Ultimate: Romance by Earth' (co-produced by ENA, Channel S / hereinafter 'Romance by Earth'), which aired on the 10th, Jang Ye-won, 'couple matching expert' Seong Ji-in, Karl (USA), and AlphaGo (Turkiye) A large number of new dating Ojirapers were brought in to provide more diverse dating counseling. Jang Ye-won, a self-proclaimed flirting expert, revealed her experience as a dating expert from the beginning, saying, "When I was in my 20s, I could flirt just by drinking water."
The first woman to worry about, a 28-year-old Indian girlfriend, confessed that she had been dating her 24-year-old Korean boyfriend for three years and that she was worried about whether her boyfriend would be a suitable candidate for marriage. This is because the two were having a conflict over the timing of their marriage. The Indian girlfriend said, "At the beginning of our relationship, I asked my boyfriend to tell me if I was planning on not getting married or getting married later. "I think dating without marriage is a waste of time," he said, revealing that the ultimate goal of dating is marriage. Afterwards, my boyfriend promised to get married in the first year of dating, and gave me an ultimatum, saying, "Since I decided to meet an older woman, I have to accept an early marriage," and "If I can't get married right away, let's start living together within this year." However, her boyfriend refuses to marry early or even live together. My boyfriend said, "I am dreaming of studying abroad in England for about a year and a half. "It's difficult to live together because we have to save money," he said. In response, the satire understood the girlfriend's position, saying, "You may want to live together because you are worried that if your body becomes distant, your heart may grow distant."
At the same time, it was revealed that the reason the boyfriend could not live together was because of his parents' opposition. My girlfriend said, "I also persuaded my parents and received permission for an international relationship. But my boyfriend can't convince his parents. Living abroad is difficult. "The culture and language are all different, but I feel so lonely," he said, frustrated. Regarding this, my boyfriend explained, "I am currently receiving financial support to study abroad, but he said he will stop supporting me if we start living together." In response, Jang Ye-won added her opinion, saying, "I wonder if cohabitation is really necessary even though my parents are against it."
The boyfriend even attended his girlfriend's sister's wedding in India, and the girlfriend's family already considers the boyfriend as part of their family and encourages them to live together. On the other hand, the girlfriend was upset about the fact that she had never attended her boyfriend's family gathering throughout their relationship. Moreover, my boyfriend said, "The atmosphere in the house is that family events are held only among family members. "We don't invite people from outside at all," he said. For a moment, the studio became cold due to the boyfriend's remarks referring to his girlfriend as an 'outsider'. The Indian girlfriend finally shed the tears she had been holding back, causing everyone to sigh. Jang Ye-won also choked back tears, saying, "I was in tears too, but I held back." The girlfriend added to her sorrow by mocking herself and saying, "You don't allow us to live together, but I wonder if you will allow us to get married."
At the moment of the final decision, the opinions of dating lovers were divided, with 6 people supporting the meeting and 3 people recommending breaking up. Lee Jeong-jin cheered, saying, "I'm working hard, so I think we'll be able to meet happily," but Cha Hee-yeon, a 'psychological analyst,' said, "When couples with different timelines meet, the person in a hurry will give up. He expressed an opposing opinion, saying, "I think my girlfriend will suffer more." Meanwhile, while the girlfriend said she would continue dating, the boyfriend never showed up at the studio, causing a shock. Afterwards, the boyfriend said, "It was difficult to start living together within this year, so we didn't move forward. "I think we need to find a new way instead of blaming our parents," he said, making people cheer for the future of the international couple.
The second story attracted attention because it was first submitted by a boyfriend. My girlfriend smiled brightly, saying she didn't know my boyfriend was dissatisfied with me, but she stiffened coldly at her boyfriend's ultimatum, "If you're not going to have children, let's reconsider our marriage," creating tension. My boyfriend shared his concerns, saying, "My stance is, 'If you're going to have a child, you should have one.'" In response, the girlfriend said, "I'm happy enough with just the two of us." "I heard that if I can't give birth, an artificial male womb has been developed," he said, adding, "I'm still not confident about taking a break from my career or feeling responsible as a parent." Jang Ye-won also sympathized with this, saying, "My younger sister is also postponing childbirth for her career after getting married." In response, Seong Ji-in said, "I thought they would get along with each other and not break up, but then they got married and divorced. "I saw it a lot," he said, making domestic couples nervous.
In addition, the two people were feeling disappointed due to their polar opposite personalities. The boyfriend said he was having a hard time because of his individualistic girlfriend. "She has a strong tendency to 'what's mine is mine and what's yours is yours.' "Even when I eat, I only bring my own cutlery," he said, eliciting gasps from dating lovers. Satire said, "This is a problem," and Jeon Hyun-moo was shocked, saying, "Isn't this a quarter?" On the other hand, the girlfriend countered that she was tired because of her overly emotional boyfriend, causing a stir at the scene. The girlfriend said, "I am far from emotional. "If you look at the sky and say it's so pretty, it starts to consume your brain," she said, confessing that it was difficult because she had to always be nervous to understand her boyfriend's feelings. Jang Ye-won also sympathized with this, saying, "If the emotions become too much, I think I will get tired of talking."
Afterwards, at the time of the final decision of the dating lovers, 2 people supported the meeting, and 7 people recommended breaking up, which was shocking. However, although the two had different values regarding children, they decided to continue their love. My girlfriend said, "Except for childbirth, I need to fix everything else." My boyfriend said, "I want to have children, but I will be satisfied with the happy present rather than the future. "I will respect my girlfriend's strong opinion because I heard it," he said.
Kim Ji-won, Ten Asia reporter bella@tenasia.co.kr