TV
Nam Ji-hyun, high school student with short hair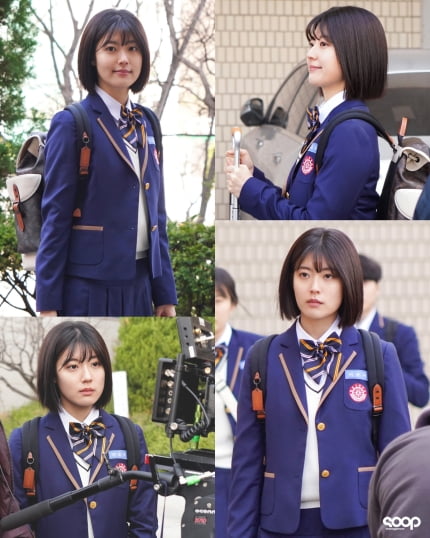 Actress Nam Ji-hyun transformed into a high school student in 'Hi Cookie'.

On the 9th, management agency Management Soop released behind-the-scenes photos from the filming of actress Nam Ji-hyun's U+ Mobile TV original drama 'Hi Cookie' (written by Kang Han, directed by Song Min-yeop).

In the drama 'Hi Cookie', Nam Ji-hyun played the role of Choi Soo-yeong, a girl who faces her own desires in a swamp where she jumps into a swamp to save her younger brother who is in danger. Sooyoung, who becomes an employee of Hi Cookie, plays Lee Eun-seo, a high school student disguised to infiltrate Jeonghan High School, leading to an unpredictable and exciting development.

Nam Ji-hyun's appearance as Lee Eun-seo in the released photo attracts attention. Nam Ji-hyun showed off the visuals of a high school student by wearing a bob hairstyle and school uniform that had never been shown before. The neat and tidy styling further highlighted Eunseo's image of acting confidently and without being discouraged in any situation.

In this way, Nam Ji-hyun delicately depicts the complex inner feelings of ambivalence when she sees herself enjoying the normal life she had dreamed of despite the crisis situation of her younger brother being in a coma. Attention is being paid to the story that Nam Ji-hyun will lead, as to whether Soo-yeong, who faces another crisis due to the betrayal of Ho-ho (played by Choi Hyun-wook), whom he had no doubt about being on his side as his only helper, will be able to overcome the difficulties and save his younger brother.

Meanwhile, 'Hi Cookie' is a drama that tells the story of an elite high school being engulfed by dangerous homemade cookies that make people's dreams and desires come true with just one bite. It was released on the 23rd of last month and has a total of 10 episodes.
Ryu Yae-ji, Ten Asia Reporter ryuperstar@tenasia.co.kr