TV
Song Min-jun won unanimously at the 1st Mochang Song Festival.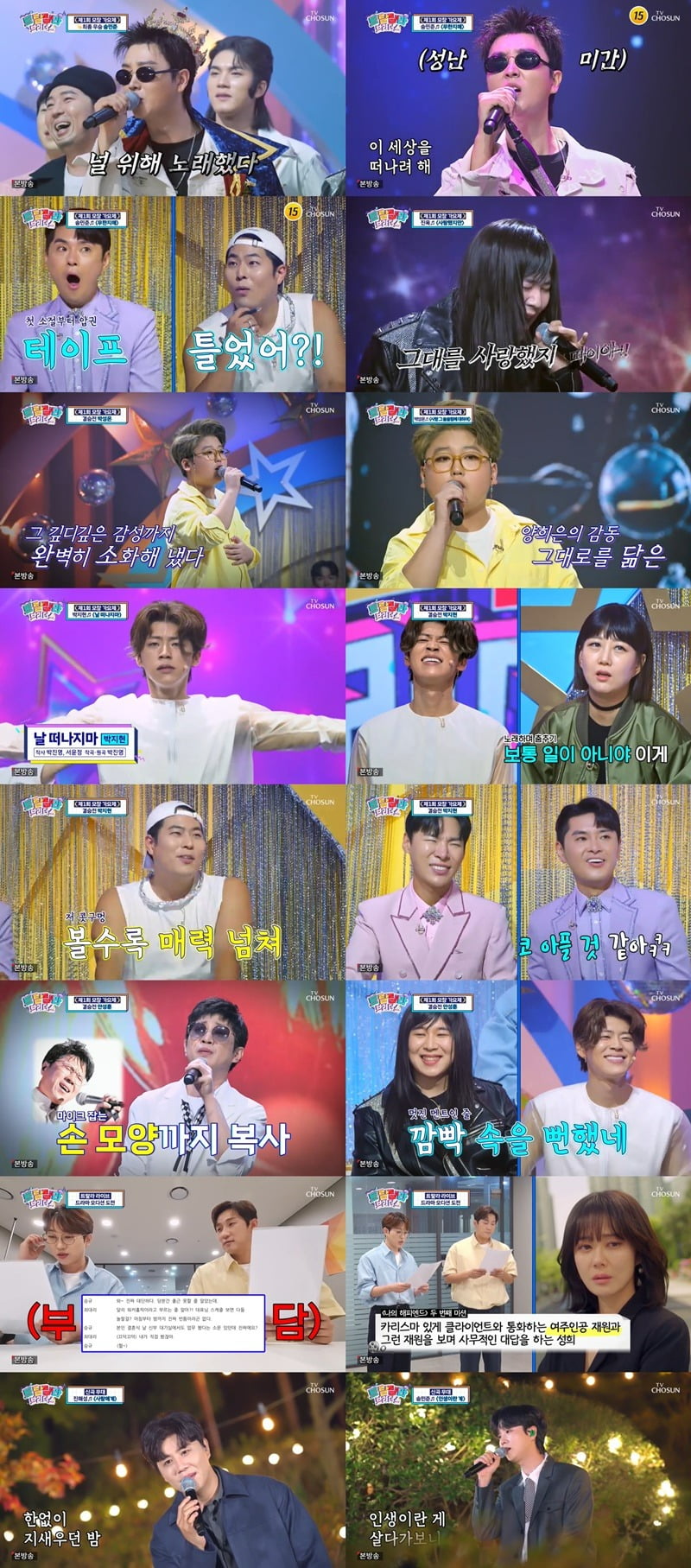 'Tralalala Brothers' Song Min-jun won the 1st Mochang Song Festival.
According to Nielsen Korea, a viewership rating research company, TV CHOSUN's 'Tralala Brothers', which aired on the 8th, recorded a nationwide viewer rating of 4.6%, ranking first among all daily comprehensive programs and first among all channels in the same time slot. The highest viewer rating at the moment was 5.4%.
On this day's broadcast, the second story of the 1st Mochang Song Festival was depicted. In the last broadcast, Ahn Seong-hoon transformed into Cho Yong-pil, Choi Su-ho transformed into Song Dae-gwan, Park Ji-hyun transformed into JYP, Jin Hae-seong transformed into Na Hoon-ah, Park Seong-on transformed into Yang Hee-eun, Yoon Jun-hyeop transformed into Elvis Presley, Na Sang-do transformed into Kim Heung-guk, and Jin-wook transformed into Kim Kyung-ho. The nine members of Trot Brothers surprised the judges and viewers by imitating everything from their breathing to their appearance and singing style with 200% synchronization.
On this day, the long-awaited final stage was revealed. Seong-Hoon Ahn, Ji-Hyun Park, Seong-On Park, Min-Jun Song, and Jin-Wook advanced to the finals. Ahn Seong-hoon, who transformed into the king of singers Cho Yong-pil, moistened the autumn night with emotion through the performance of 'That Winter's Tea House'. Even the shape of Cho Yong-pil's unique microphone-holding fingers was reproduced.
Park Ji-hyun, who even recreated JYP's vinyl fashion and nostrils, drew rave reviews for her performance of 'Don't Leave Me', which was full of passion and detail. Park Seong-on, who transformed into Yang Hee-eun, simultaneously showed off her electrifying singing ability and song interpretation ability on the stage of 'About the Loneliness of Love'. Park Seong-on even imitated Yang Hee-eun's breathing, as if each line was similar. The judges had tears in their eyes at the emotion that was hard to believe for a 14-year-old.
Jinwook, who transformed into rock legend Kim Kyung-ho, passionately sang 'Though I Loved You'. 'Though I Loved You' is considered the most difficult song among Kim Kyung-ho's songs. Jinwook brought goosebumps to the audience with his singing ability that went back and forth between his soft voice and his true voice. The judges could not hide their surprise, saying, "You could be fooled even if it was Kim Kyung-ho's performance."
The judges continued to express exclamations throughout the performance, saying, "This is not an ordinary music festival," as the stage exceeded expectations. Meanwhile, Song Min-jun won the final championship unanimously. Song Min-jun, who transformed into Kim Jeong-min, copied Kim Jeong-min's angry eyebrows and mouth shape at the level of copy and paste. Song Min-jun reached the level of imitating Kim Jung-min's unique pronunciation and created a famous scene. MC Jang Yoon-jung couldn't keep her mouth shut as she imitated Kim Jung-min, saying, "He took me back to my memories in a time machine."
On this day's broadcast, Ahn Seong-hoon and Na Sang-do's drama audition challenge was depicted. The two participated in the audition for the TV CHOSUN drama 'My Happy End' starring Jang Na-ra and Son Ho-jun, which will be aired in December. Seong-Hoon Ahn recreated Cho Seung-Woo and Kim Hye-Soo from the movie 'Tazza', and Na Sang-Do recreated a famous scene from the movie 'Wind'. The two then challenged themselves to an impromptu script reading and were embarrassed and sweaty after hearing sharp feedback. The passionate acting of these two people, which is hard to watch with your eyes open(?), brought big laughter to the living room. What were the audition results like? It will be revealed on next week's broadcast.
On this day's broadcast, Jin Hae-seong and Song Min-jun's new song performance was also performed. The special performances of Jin Hae-seong's 'To Love' and Song Min-jun's 'This Thing Is Life' provided a great moment.
Kim Ji-won, Ten Asia reporter bella@tenasia.co.kr