TV
Kim Yong tears, "I feel guilty about the death of the late Choi Jin-young, I came to you the day before the sad news."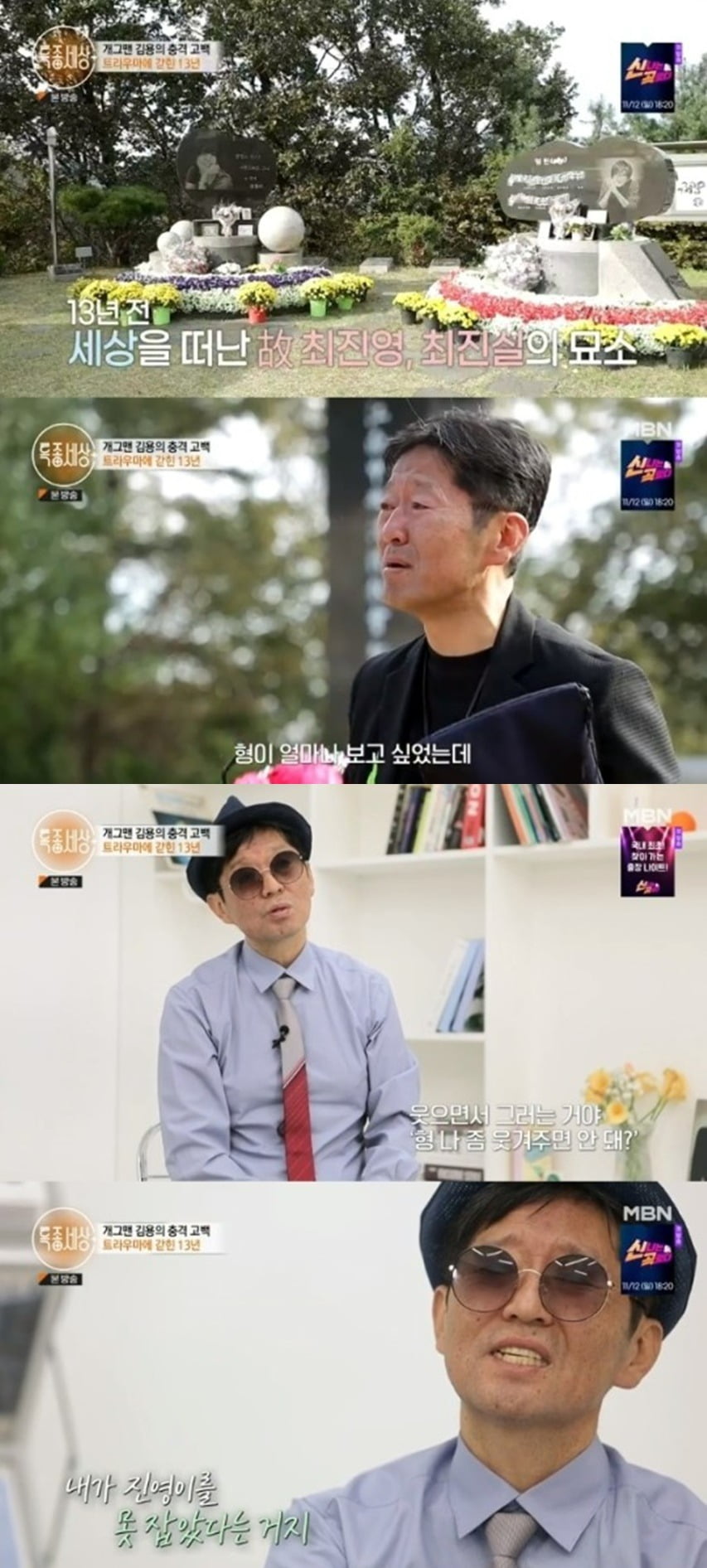 Comedian Kim Yong confessed his guilt over the deaths of the late Choi Jin-young and Yang Jong-cheol.
In the 607th episode of MBN's 'Scoop World', which aired on the 2nd, the story of comedian Kim Yong, who has been suffering from trauma for 13 years, was revealed.
Kim Yong, who debuted as the youngest comedian at the age of 20, also achieved great success in the restaurant business. However, after investing a large amount of money in the business, he lost all his money. The amount of damage was more than 1 billion won in today's terms.
Kim Yong confessed that he also had extreme thoughts, saying, "Every time I fail, I go down further and lower. I went down to the basement, and later I went to Seoul Station and Yongsan Station. I suffered from depression, panic disorder, avoidance of people, and bipolar disorder."
On this day, Kim Yong visited a park cemetery in Yangpyeong, Gyeonggi-do. He shed tears and said, "My brother came too late. Why are you there? I should be there." This grave was where Choi Jin-young was buried along with his older sister Choi Jin-sil. Kim Yong confessed, "I'm sorry. It's been 13 years since I came. I was sorry in the end because I couldn't protect you. I'm really sorry for not being able to protect you."
Kim Yong, who is said to have formed a relationship through being a senior in the military, said, "He listened to my concerns the most. He was like a real brother. He was so happy to meet me. Whenever I had an accident, I always called Jinyoung. I think we got along well. I feel like half of me is falling apart." said.
Regarding the reason why he was never able to find the grave, he said, "I think it was a little after 12 o'clock at night. Suddenly, I got a call from 'Choi Jin-young,' so I felt anxious when I answered it. He said, 'Where are you?' and then said, 'I'll take a taxi and go right now.' . He smiled and said, 'Hyung, can you make me laugh?' He had fun and laughed. He said, 'Thank you, brother. Thank you for always making me laugh when I was having a hard time.' He suddenly said he was going to the bathroom and stormed out."
The next day was the day Choi Jin-young made an extreme choice. Kim Yong blamed himself, saying, "I just shed tears endlessly. What I'm really sorry about is that I didn't catch it."
He also considered the death of comedian Yang Jong-cheol to be his fault. He confessed, "It's the same with Yang Jong-cheol. He drank with me until the end and then got into an accident the next day. I can't forget the looks in their eyes. I felt a sense of guilt, not guilt."
Taeyuna, Ten Asia Reporter youyou@tenasia.co.kr