TV
Baek Jong-won opens a Korean restaurant in a closed store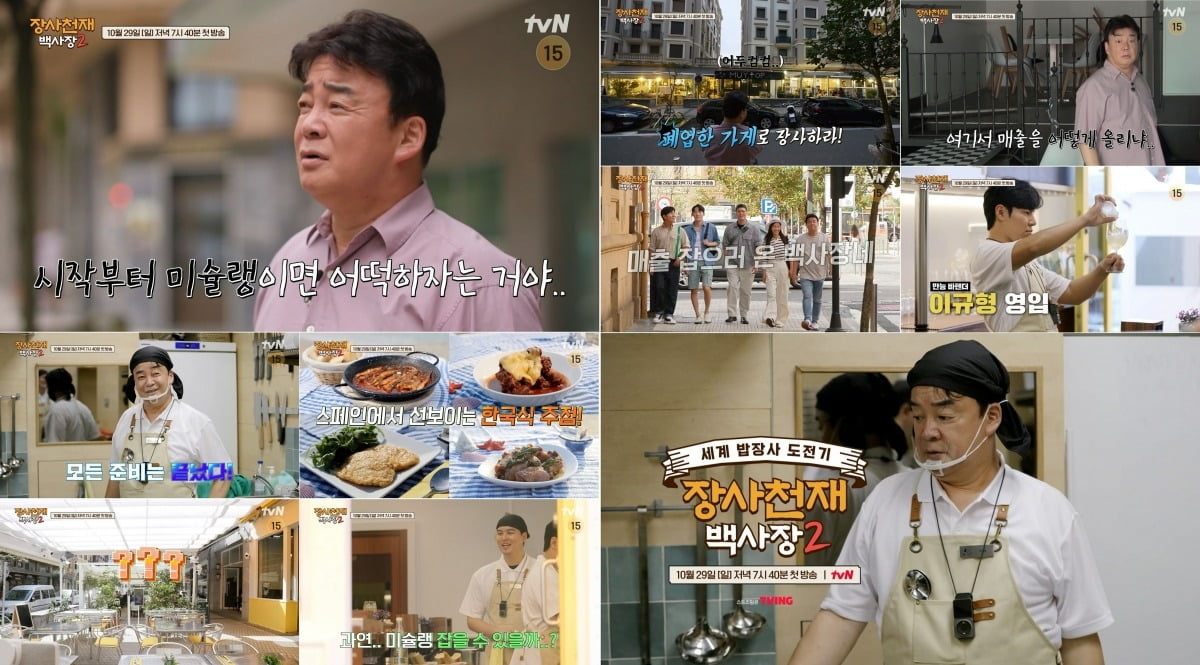 tvN's 'Business Genius Baeksajang 2' revealed another 'Mission Impossible' given to Baek Jong-won through the first preview video today (24th). The challenge is to increase sales by opening a business in a closed restaurant in the representative food alley of San Sebastian, Spain, the city of Michelin. Even Baeksajang, the business genius of the world, is wondering whether cardiopulmonary resuscitation is possible in a store where he is struggling, saying, "How can I increase sales here?"
'Business Genius Baeksajang' is 'Baek Jong-won's Challenge Story of the World Restaurant', in which Baek Jong-won, a restaurant management expert, takes on the challenge of starting a business and running it in a wasteland of Korean cuisine. In Season 2, we set out to conquer San Sebastian, a gourmet city in Spain with the largest number of Michelin restaurants per unit area in the world, as a franchise. However, in this video, competition with Michelin and simultaneous operation of the first and second stores were not enough, and another challenge was revealed. He started his business by opening a restaurant in a store that had already failed and closed down in San Sebastian's representative food alley, which is lined with Michelin restaurants. We were given the 'Mission Impossible' to start a Korean restaurant in the worst location and gain an upper hand in sales against fierce competition.
Baek Jong-won was in agony after checking the location conditions of the first store. "What if we were Michelin from the beginning? "How are we going to increase sales here?" he said, full of worry. For such a white beach, genius employees who will recreate the glory of season 1's Naples, Italy episode appear majestically on the streets of San Sebastian. Lee Jang-woo, John Park, and Kwon Yuri, who were called the 'Baekbangers', led the Baekban House to success with a fantastic chemistry, and stepped up to provide support. In addition, 'all-round bartender' Lee Kyu-hyung has been newly hired and is expected to show outstanding performance. Baek Jong-won, accompanied by such a reliable staff, starts a Korean-style pub, actively reflecting the local characteristics of the developed 'bar' culture, as he enjoys meals with alcohol.
However, contrary to the confident prediction that "it will be a big hit," no customers were seen inside the store, raising curiosity. Employees worry that "customers are not coming," and Baeksajang Beach regrets, "But I think I came here in the wrong place." Will Baek Jong-won, a 'business genius' who increased sales by targeting customers with various strategies in season 1, be able to overcome the crisis and gather customers to create a 'big hit' story this time? I am looking forward to the start-up period.
The production team said, "Reflecting the local food culture, Baeksajang and genius employees will open a Korean-style bar. "This is why we hired Kyu-hyung Lee as a bartender," he explained. "But San Sebastian is a city of gastronomy where the locals have a very high level of taste. Every other house has a Michelin restaurant. Please look forward to what kind of menu and strategy Baeksajang will use here to win the game. "From the first episode, a business challenge unfolds that exceeds your expectations," he said.
'Business Genius White Sand Beach 2' will premiere on October 29th at 7:40 PM.
Taeyuna, Ten Asia Reporter youyou@tenasia.co.kr